LITTLE VILLAGE — Mayor Brandon Johnson visited with some newly arrived migrants and local leaders on the Southwest Side Tuesday afternoon, pledging "real leadership" from his office to tackle the ongoing crisis.
The newly minted mayor stopped by the Near West Side (12th) District police station, 1412 S. Blue Island Ave., where dozens of migrants have been staying since coming to the city in recent weeks. Johnson also went to Piotrowski Park in Little Village, 4247 W. 31st St., which opened over the weekend as a respite center to hold about 200 migrants.
Johnson said he has been briefed regularly during the transition and recently spoke with federal leaders about how every level of government needs to help. In one of her final acts in office, Mayor Lori Lightfoot declared a state of emergency to make it easier for city agencies to respond.
Nearly 9,000 migrants have come to Chicago since August, many fleeing economically devastated nations like Venezuela and Colombia. Many have been bused to the city from Texas, although some came via one-way plane tickets.
Hundreds of people have been staying at police stations, but even those are growing too crowded, increasing the need for the city to open more shelters.
Johnson called the ongoing political stunt to send migrants to Chicago "wicked" and "unconscionable."
"I'm here today because I needed to see it firsthand," he said. "It is clear that police stations and respite centers — that's not the goal."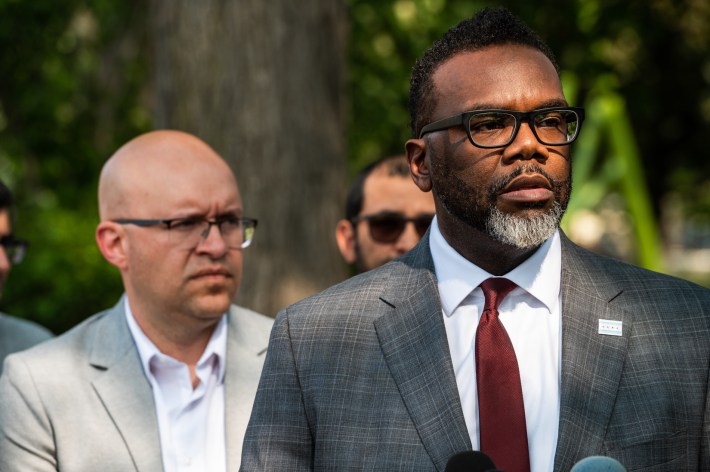 Johnson said there is a coalition of people who are working to address this housing crunch and foster conversations in neighborhoods where there's been pushback to temporary shelters, like in Woodlawn and South Shore.
"It's no secret that the Black community in this city has suffered under austerity budgets that have caused true economic despair, and we are in a position now to bring communities together," Johnson said. "We have to make sure that we take care of our residents and family members who are here, while also making sure the families who wish to call Chicago their home, that they're served, as well."
As part of his first round of executive orders Monday, Johnson created the role of deputy mayor for immigrant, migrant and refugee rights. He said Tuesday he wants to fill the role as soon as possible.
Johnson said the deputy mayor would be responsible for bringing city leaders closer to the community and tapping into resources the city has yet to use. He did not specify what those resources are.
"I am committed to making sure that there is real leadership in the office of the mayor to provide the type of support so that we have a real plan in place," he said.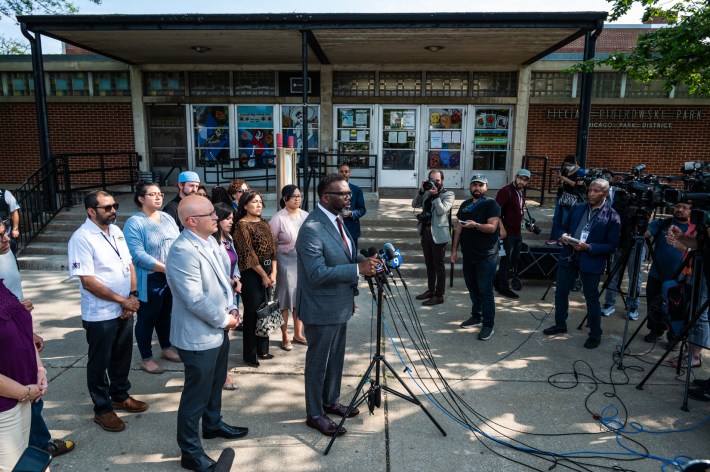 Johnson didn't say definitively if he's considered bringing in the National Guard, which Lightfoot said was a possibility with the state of emergency order.
"Whenever you're dealing with the National Guard, you have to be clear about what their mission is, and you also have to be thoughtful about how long and how much it's going to cost," he said. "These are considerations that before any decision is made, that that has to be determined."
Listen to "It's All Good: A Block Club Chicago Podcast":