SOUTH SHORE — As a South Side high schooler, Desmon Yancy learned firsthand what it's like to be mistreated by police.
That experience helped spark his work as a community organizer. He advocated for the city's first civilian-led board overseeing the Police Department, which in turn fostered some of the political and community connections that supported his successful bid for City Council.
Yancy defeated 10 challengers and edged out Martina "Tina" Hone in the April 4 runoff to succeed longtime Ald. Leslie Hairston in the 5th Ward.
Hairston, who is retiring after 24 years in office, endorsed Yancy to be her replacement.
Yancy said he will draw on his activism around police accountability, his experience helping South Side neighbors bring needed resources to their community and the music of Stevie Wonder when he takes office for his first term next week.
Yancy also takes over a ward where housing affordability and displacement are central issues with the development of the Obama Presidential Center in Jackson Park.
"This is a momentous victory — this is the first time the 5th Ward has elected a Black man to represent it," Yancy said as he declared victory. "I'm just honored more than anything to represent the 5th Ward."
Who Is Desmon Yancy?
The youngest of five children, Yancy grew up near Chicago Vocational High School. He mostly lived with his father, Anderson Yancy Jr., a police officer. His mother, Barbara Yancy-Fisher, a devout Christian, was "active and in the picture," and he lived with her in metro Detroit from 6th to 8th grade, he said.
Anderson Yancy gave his son "a very important word" about interactions with the police when he was an adolescent: "Tell them your father is a police officer, and call [Anderson] immediately."
The young Yancy saw this as a potential "get-out-of-jail-free" card, he said. But after a fight broke out his senior year at Kenwood Academy, officers threw him against a car and harassed him in view of his peers, and he learned quickly that his father's advice "didn't work out in my favor."
That formative moment, where Yancy felt "powerless," stayed with him. He later co-founded the Grassroots Alliance for Police Accountability, which united with the Civilian Police Accountability Council to successfully pass the Empowering Communities for Public Safety ordinance through City Council in 2021.
That ordinance comes into play now, as a community-led commission will help choose the next police superintendent for the first time.
"I'd also think about that with my work around police accountability. It's not always about the very public harm, like when someone gets shot by police …," Yancy said. "It's these smaller, day-to-day interactions that happen in communities that have helped to put distance between the community and the police when it comes to [creating] a public safety system that supports all."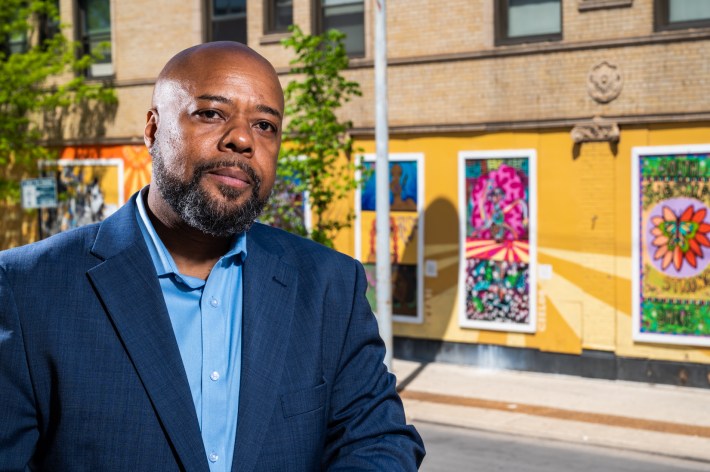 Yancy's first job was at Hyde Park Video Movie Center on 55th Street, which touted itself as the first video store on the South Side. Customers included poet Gwendolyn Brooks, Carol Moseley Braun — the first Black woman senator — and then-5th Ward Ald. Larry Bloom, Yancy said.
Yancy went on to work in sales and sales management before starting work as a community organizer.
Through that work, Yancy built relationships with alderpeople, including Jeanette Taylor of the nearby 20th Ward and North Side Alds. Matt Martin and Maria Hadden, he said.
Yancy then organized with the Inner-City Muslim Action Network, where he worked on projects in Englewood like the Go Green on Racine development and the campaign to reopen the Racine Green Line stop, he said.
A DJ on and off since the '80s and a multi-instrumentalist, Yancy's Ibanez five-string bass guitar has "always brought me calm," he said.
Stevie Wonder's "Songs in the Key of Life" — a record Yancy has owned since childhood — speaks directly to Yancy's outlook on life, he said. With its themes of love, Black empowerment and Black beauty, it's an album he'd choose "to explain music to someone who never heard music before," he said.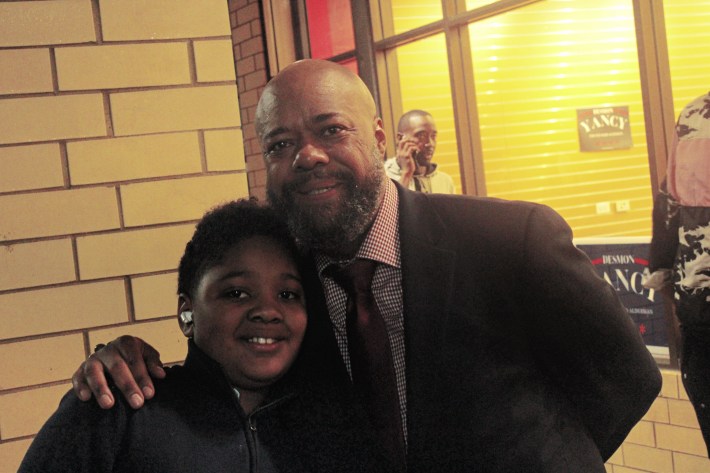 Plans For His First Term
Yancy will represent a ward which includes parts of Hyde Park, Woodlawn and South Shore. The area is a hotbed of economic and political attention as the Obama Presidential Center is being built in Jackson Park.
Socioeconomic concerns like displacement and gentrification are the most pressing issues relating to the Obama Center, which will be a "wonderful monument to the former president," Yancy said.
Yancy supports a community benefits agreement ordinance proposed by local housing activists, which would, among other things:
Reserve all city-owned vacant lots in South Shore for affordable housing.
Create a pilot affordable housing program for South Shore that requires 60 percent of housing developments to be reserved for extremely low-income households — for example, a four-person household making less than $31,250 per year.
Use the Chicago Housing Authority's acquisition program to buy and convert new developments into public housing.
Spend more than $60 million on programs benefitting South Shore residents, like a rent assistance program, a loan fund for buying and rehabbing vacant homes, a homeownership program similar to one approved for Woodlawn in 2020 and others.
Activists have called for City Council to pass a community benefits agreement ordinance since Barack Obama roundly rejected demands that his foundation sign such an agreement before building the Obama Center.
Yancy expects the Obama Foundation to prioritize "the voice of the community" as it builds the center, which is expected to be finished in 2025, he said.
Yancy declined to say how successfully the former president's foundation has met those expectations so far, as he's only had "preliminary conversations" with officials there, he said.
Yancy's work on Go Green on Racine — a project to bring a fresh market, housing, reentry services and more critical services to Englewood — will inform his approach to equitable development in the 5th Ward as the Obama Center opens, he said.
"When you think about the needs of a community and having that translated into actual policy to support those needs, [Go Green on Racine] shows that it works," Yancy said. "I want to steward some more conversations … around development along 71st Street and in greater South Shore."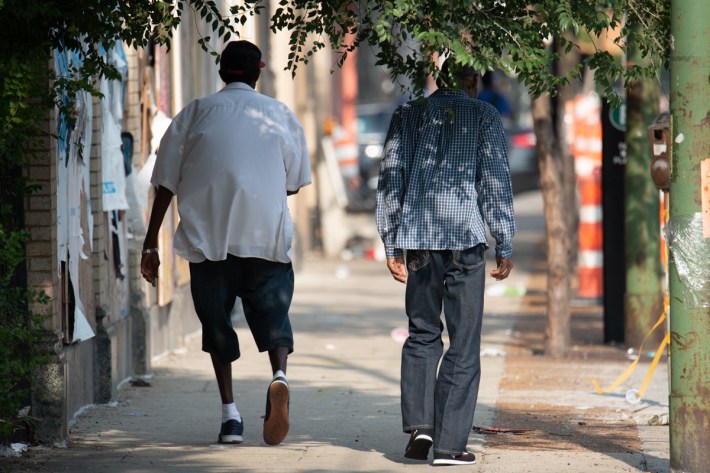 Public safety was a centerpiece of Yancy's campaign platform, and an immediate priority will be to "keep people safe in a summer, where we typically have spikes in violence in our neighborhood," he said.
During the campaign, Yancy spoke to a need for effective policing near 71st Street and Jeffery Boulevard in the short term, as well as investment in long-term solutions like mental health resources, community-based violence prevention and youth employment opportunities.
An incident last month in South Shore, in which someone fired dozens of shots near 71st and Jeffery as O'Keeffe School of Excellence students headed home on a sunny day, underscores the need for these safety solutions and more, Yancy said.
"Seniors were telling me … it [felt] like a really good day to be out running errands, and this happens," Yancy said. "It brought people crashing to reality in that we've got a lot of work to do in figuring out how to keep people safe."
A long-stalled proposal to overhaul two golf courses in Jackson Park and South Shore, which has the backing of golf legend Tiger Woods, is another hot-button issue in the 5th Ward.
There are golfers in the ward "who want improvements to the golf course but don't want to be frozen out of it because of costs," while other residents want to avoid gentrification and feel resources "could be better spent revitalizing the park as a whole," Yancy said.
Fundraising challenges and other issues have stalled the effort for years. But if Woods and his backers came to Yancy today and said they were ready to build the course, he'd tell them to "pause" and begin a "difficult" conversation with neighbors, Yancy said.
"It's clear the community doesn't know what's going on," Yancy said. "We'd have to start, likely from scratch, a community engagement process to determine what happens with the golf course."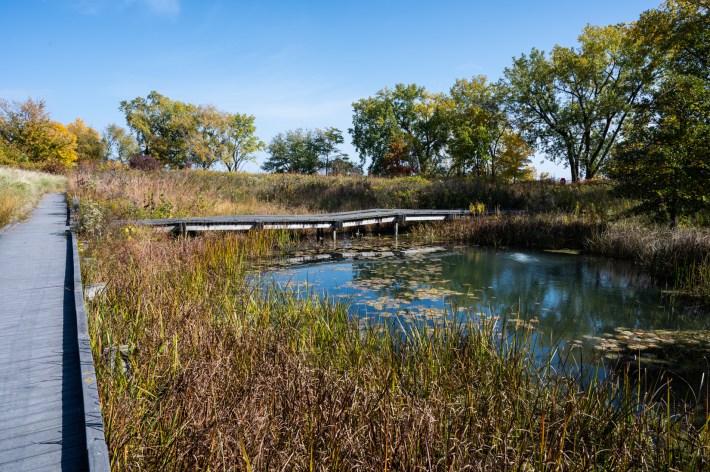 Yancy named the South Shore Cultural Center — whose beloved nature sanctuary would be removed under the golf course plans — as the 5th Ward location he would preserve exactly as it is forever, if he could.
Yancy's son, Jacob, learned how to ride a bike at the cultural center; and, as a photographer, Yancy appreciates how its natural and architectural beauty offers "so many different points of view in a really small footprint," he said.
When Block Club noted the golf proposal would make drastic changes to the park, Yancy hedged, saying "the golf course could use work, and the nature sanctuary needs support."
"I would like to see the aesthetic of the South Shore Cultural Center being able to stand, but also able to have its rough edges smoothed out," Yancy said.
As Hairston hands over the reins, some parts of her administration will continue under Yancy.
Ibrahim Okoe, the incumbent ward superintendent "who knows the ward better than any person outside of Ald. Hairston," will remain in his role. Hairston staffer Lanita Ross will also temporarily join Yancy's staff to help with the transition, Yancy said.
But "we will be working hard to chart our own path when it comes to the way we engage with our community and residents in the ward," Yancy said. He's looking to Ald. David Moore (17th) as a model for an alderperson who keeps the community informed and involved, he said.
Yancy will explore creating steering committees for the ward to "provide a pipeline directly from the neighborhood to the ward office," he said. The committees could be similar in concept to outgoing Ald. Sophia King (4th)'s advisory councils.
Serving as 5th Ward alderperson "is a huge responsibility," Yancy said. "That's why I don't plan on taking this work lightly. I really look forward to leading our community through a really important transformation."
Listen to "It's All Good: A Block Club Chicago Podcast":