SOUTH SHORE — Desmon Yancy declared victory in the 5th Ward race to replace retiring Ald. Leslie Hairston after pulling ahead of Martina "Tina" Hone in Tuesday's election.
With all precincts reporting Tuesday night, Yancy held 51.8 percent of the vote to Hone's 48.2 percent, a margin of about 400 votes, according to unofficial results.
Hone told the Sun-Times she was not conceding the race and hoped that mail-in ballots could make up the difference.
There are 1,616 outstanding mail-in ballots for the 5th Ward, according to the Chicago Board of Election Commissioners. Not all will necessarily translate into votes, as some may not have correct postmarks, some won't have logged a vote for alderperson and some may not be submitted at all.
The next alderperson will represent an area that's a hotbed of economic and political attention as the Obama Presidential Center is built within the ward in Jackson Park.
Yancy plans to push for legislation that addresses the root causes of community violence within his first 100 days in City Council, he told Block Club outside his election party in Jeffery Plaza, 2101 E. 71st St.
He also "wants to meet with everybody" before taking office, including representatives from the South Shore and Hyde Park chambers of commerce, the Workers Center for Racial Justice, the Neighborhood Network Alliance and the South Shore Compact, he said.
"This is a momentous victory — this is the first time the 5th Ward has elected a Black man to represent it," Yancy said. "I'm just honored more than anything to represent the 5th Ward."
Yancy is a labor and community organizer who works as the director of community organizing for the Inter-City Muslim Action Network. His campaign raised $257,823 through March 14, according to state records.
"The energy [at the party] was really electric. It was exciting to have folks who have been with this campaign since the beginning, from family members to friends from grade school to people I've organized with over the last 20 years," he said. "This was a coalition that helped us win, and we're going to build a coalition to help us build the 5th Ward."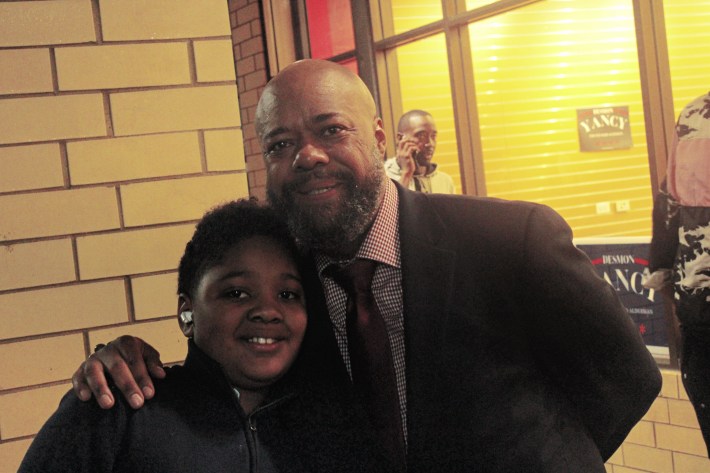 Yancy said he's excited at the chance to collaborate with Mayor-elect Brandon Johnson, whom Yancy referred to as "a friend and colleague."
"I'm so overwhelmed with the promise of what we can build here in this city together," he said.
"It's always good to see people put in work and it comes to fruition," said Marcus Wright, Yancy's landlord and friend since they attended Kenwood Academy in the mid-'80s. Wright hopes the 5th Ward — and his home neighborhood of South Shore in particular — will see more economic development with Yancy in office, he said.
"I would love to see more businesses brought back to the community," said Wright, a South Shore resident. "… Basically, we'd be able to have more jobs here, because people wouldn't have to commute so far to get those things accomplished. Beyond that, I've just watched a lot of small businesses [struggle through the pandemic], so I would love to see some of those things open back up [or] try to expand."
The new City Council will be sworn in May 15.
Yancy and Hone emerged from an 11-person field as the top two vote-getters in the Feb. 28 election. The crowded 5th Ward race featured as many as 12 candidates before Adrienne Irmer was disqualified in January.
Hone was the city's chief engagement officer under Lightfoot from 2020 until September, when she stepped down to run for the 5th Ward seat. Her campaign raised $47,727 through March 14.
The 5th Ward includes parts of Hyde Park, Woodlawn and South Shore.
Ald. Leslie Hairston has served as 5th Ward alderperson since 1999, when she beat out former Ald. Barbara Holt in a runoff. She announced in August she would not seek reelection and later endorsed Yancy to be her replacement.
Subscribe to Block Club Chicago, an independent, 501(c)(3), journalist-run newsroom. Every dime we make funds reporting from Chicago's neighborhoods.
Click here to support Block Club with a tax-deductible donation. 
Thanks for subscribing to Block Club Chicago, an independent, 501(c)(3), journalist-run newsroom. Every dime we make funds reporting from Chicago's neighborhoods. Click here to support Block Club with a tax-deductible donation.
Listen to "The Ballot: A Block Club Chicago Podcast":