HYDE PARK — Ald. Leslie Hairston (5th) will step down from City Council in 2023,
Hairston announced Friday she would not seek a seventh term in next year's election.
"For more than 30 years, I have held jobs serving the public and it is time for me to look at the next chapter of my life," Hairston said in a statement. "While I haven't made any decisions yet, rest assured it will be active, engaged and committed to making my community better. It just will not be as alderperson.
"It has been an honor for me to represent and serve one of the most independent wards in the city of Chicago. I hope the next alderperson will continue in the same 5th Ward tradition and serve with integrity, independence and perseverance."
Hairston was elected to City Council in 1999, and reelected in 2003, 2007, 2011, 2015 and 2019.
She narrowly beat out community activist William Calloway in a bitter 2019 election, winning by just 179 votes in the first runoff she faced as alderperson. Hairston's victory capped a long, dramatic campaign marred by homophobia, accusations of money mismanagement and violence.
Hairston is the fifth City Council member retiring in 2023.
Ald. Michele Smith (43rd) resigned earlier this month after 11 years because of "deepening responsibilities toward family and friends." Alds. Harry Osterman (48th), James Cappleman (46th) and Carrie Austin (34th) have also said they will step down in 2023.
Several other alderpeople are running for mayor, putting even more City Council seats up for grabs next year. Alds. Raymond Lopez (15th), Roderick Sawyer (6th), Sophia King (4th) are challenging Mayor Lori Lightfoot in the race.
Wallace Goode, a Hyde Park resident who led the neighborhood's chamber of commerce for more than a decade, announced in July he is running for the 5th Ward seat in City Council.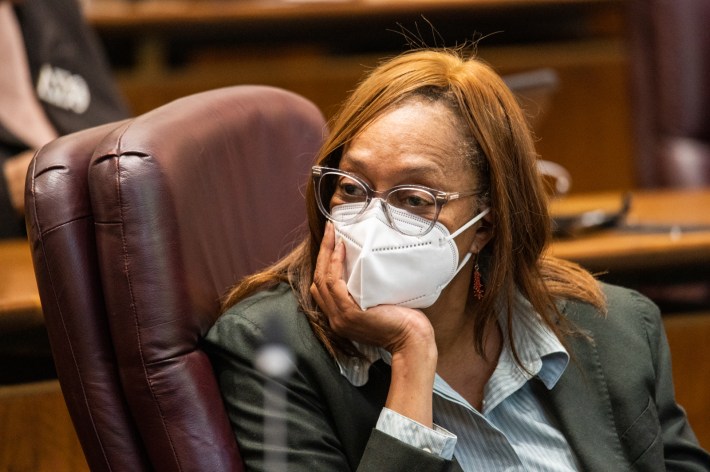 Hairston grew up in Hyde Park and South Shore. She graduated from University of Wisconsin and Loyola University School of Law, according to her City Council bio.
An attorney, Hairston previously was in private practice and worked as a state assistant attorney general. She beat out former Ald. Barbara Holt in the 1999 election after forcing the incumbent into a runoff. Holt was the first Black person and first woman to serve as 5th Ward alderperson, according to the Tribune.
Listen to "It's All Good: A Block Club Chicago Podcast":