SOUTH SHORE — The family of a 32-year-old woman whom Chicago police officers hit and pinned under their car in South Shore are pushing to find out if the 2019 incident led to her death early this year. 
Martina Standley suffered a traumatic brain injury Nov. 14, 2019, when officers hit her near 71st Street and South Jeffery Avenue and left her trapped under the car bleeding from her head and leg for eight minutes, her attorney said. Her family sued the city and the officer involved.
South Side activist Will Calloway publicized police body cam videos of the incident when he obtained footage of it after battling the city in court more than a year.
RELATED: Chicago Police Ran Over Woman, Didn't Move SUV As It Crushed Victim's Leg For More Than 8 Minutes, Video Shows
Standley died in January. The Cook County Medical Examiner's Office still has not ruled on her cause of death, her mother, Forestine Williams, said at a news conference Tuesday. As the family's lawsuit continues, Calloway has fought to force the city to release all of the police footage, audio and reports from that night.
Calloway scored a major legal victory this week. But nearly three years after the incident, Standley's family and Calloway said the city still is hiding the truth about what happened to her.
"I still don't have an autopsy report or a death certificate showing her cause of death, and I'm convinced it's a cover up," Williams said Tuesday at the block where Standley was injured.
The family plans to amend the lawsuit to be a wrongful death suit once they receive an autopsy, attorney Andrew M. Stroth said.
"Three weeks after they found out she passed, [the city] reached out asking us for a settlement demand," Williams said. "Why would we do a settlement demand when we don't know the cause of death?"
A spokesperson from the Medical Examiner's Office did not respond to a request for comment. City Law Department spokesperson Kristen Cabanban declined comment.
'If You Didn't Have Nothin' To Hide, Why Hide It?'
Footage from the night Standley was injured shows her gesturing at the squad car and apparently touching its spotlight before an officer drives forward, hitting her and pinning her leg under a tire. It took several minutes for paramedics to arrive, and she was left with severe head and leg injuries, her attorney said.
Calloway's battle to obtain the footage started five days later.
A public records request went without a response well past the five-business-day deadline required by law. Calloway filed a complaint with the court nearly a month later. In January 2020, the police turned down the records request.
Cook County Judge Alison Conlon forced the city to turn over the records nine months later.
Eleven days after the deadline, Calloway received censored footage that only intensified the tug-of-war between himself and the city, the latter blurring the graphic footage of Standley's leg due to "privacy concerns." Even after Standley consented to have unedited footage released, Calloway had to fight for weeks to obtain it.
The city threw another curveball, telling the activist and his attorney, Merrick Wayne, police would have to "reprocess the footage and redact all the portions that were still exempt," asking Calloway if he'd accept the "narrowing down" of footage to select officers.
Calloway acquiesced. Three months after the court order, he received body cam video from officers Maceo C. Taylor and partner Brian K. Greene Jr., the latter of whom drove the SUV over Standley, according to a police report.
Block Club reported that Greene told the investigator he'd attempted to "reverse out of the way … for a potential mental health transport," but the SUV "inched forward instead, and she disappeared."
Greene Jr. remained on active duty after the incident.
"My daughter was haunted by what happened that night," Williams said. "She couldn't go back to work. Meanwhile she's seeing the officer on Facebook continue to live his life, have a baby, spend time with his father at Christmas."
Mayor Lori Lightfoot denied the city tried to block release of the footage.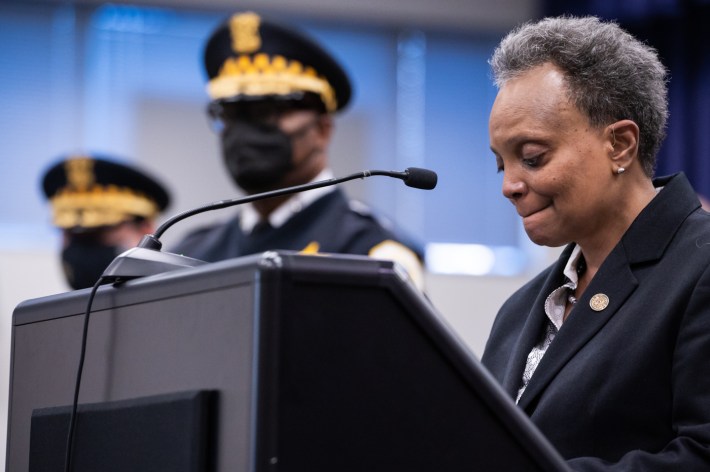 Calloway has continued fighting to obtain all 144 documents, plus audio and video from the incident. On Monday, Conlon ruled in Calloway's favor after he asked the court to sanction the Police Department for failing to respond to court-ordered deadlines.
The case will be back in court to determined how much the city owes Calloway. He will already receive $80,000 in attorneys fees and will ask the court to award the maximum $720,000 in civil penalties allowed by state law.
"It's important for Chicago to know that neither the Police Department nor City Hall is practicing transparency. This is not the transparency I voted for when I voted for the mayor," Calloway said Tuesday. "What is so detrimental and sensitive in the emails and text messages we requested that [the Police Department] is willing to go into a default judgment before they release the information to the public? We've been asking for months."
While they wait for answers, Standley's relatives are doing what they can to comfort her nieces and nephews, who are still reeling from the loss, Williams said.
Standley doted on the kids, spoiling them as often as she could with clothes and sneakers, Williams said.
"If she was in line for a sneaker drop they'd be right in line with her," Williams said.
Despite the battle, Standley's family is determined to find out the truth.
"She wasn't a criminal or a bad person. She was a person who stood for her family, and now we're standing for her. There's no way that her life shouldn't matter so much that we can't get answers," sister Raine Standley said. "We say 'Black Lives Matter,' 'Blue Lives Matter.' When does her life matter?"
Subscribe to Block Club Chicago, an independent, 501(c)(3), journalist-run newsroom. Every dime we make funds reporting from Chicago's neighborhoods.