SOUTH SHORE — Ald. Leslie Hairston (5th) has drawn outrage from locals after falsely claiming the South Shore Nature Sanctuary is "dead" and has not been maintained.
Hairston told the Sun-Times Tuesday that she'd like to take Mayor Lori Lightfoot on a tour of the sanctuary "because it's actually all dead, and it's been dead for some years."
She was trying to convince the mayor that plans to merge the Jackson Park and South Shore golf courses wouldn't be disrupting parkland in the area.
All one has to do to prove otherwise is take a visit to the sanctuary, said Brenda Nelms, co-president of Jackson Park Watch.
"It is a lovely respite, used by local residents as a place of community, solace and recreation," Nelms said in a statement. "We hope that Mayor Lightfoot will tour Jackson Park and South Shore, with Alderman Hairston or on her own, with an eye to seeing what would be lost."
Hairston's comment came at the Medinah Country Club Tuesday as Tiger Woods was gearing up for the BMW Championship, which begins Thursday.
Woods' design firm is behind a proposal to merge the Jackson Park and South Shore golf courses. Under the proposal, the sanctuary would be replaced by portions of the 14th and 15th holes.
The Sun-Times reported the sanctuary would be relocated if current course plans are approved. But the promise of "a cluster of trees and shrubs situated between the fairways" is not sufficient to replace the sanctuary, Nelms said.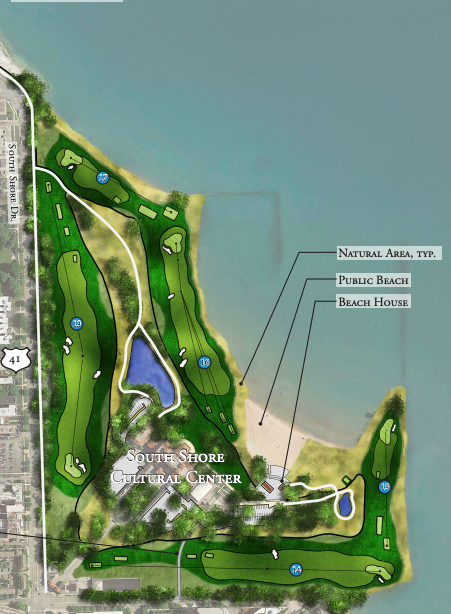 Raphael Robinson was resting on a bench at the sanctuary Wednesday.
He said he visits three or four times a week, and other city folk from as far away as the North Side appreciate its tranquility.
"The nature walk is my escape," he said. "It seems like I'm on another island."
Robinson said Hairston must have been trying to curry favor with Woods' camp when she said the sanctuary was dead — or she hadn't visited recently.
"It has to be some political action behind that," Robinson said. "The people in the community, let them speak for themselves. They come here often, and they know what it is."
The sanctuary was a dumping ground for the South Shore Cultural Center before its establishment in 2002, according to the Chicago Park District.
This weekend, the 2019 Monarch Festival kicks off at the South Shore Cultural Center, which will celebrate the area's natural beauty.
Ald. Hairston did not respond to multiple requests for comment.
Do stories like this matter to you? Subscribe to Block Club Chicago. Every dime we make funds reporting from Chicago's neighborhoods.