SOUTH SHORE — Voters in about a dozen 5th Ward precincts overwhelmingly put their support behind a South Shore community benefits agreement and the development of affordable housing on a vacant 63rd Street lot.
A non-binding ballot question in the Feb. 28 election asked whether the 5th Ward alderperson and mayor should support a community benefits agreement ordinance to prevent displacement in South Shore. The "yes" option won 88.9 percent of the vote, according to unofficial results.
Organizers with the Obama CBA Coalition — which placed the referendum on the ballot — have demanded a South Shore community benefits agreement which, among other things:
Reserves all city-owned vacant lots in South Shore for affordable housing.
Creates a pilot affordable housing program for South Shore that requires 60 percent of new housing developments to be reserved for extremely low-income households — for example, a four-person household making less than $31,250 per year.
Uses the Chicago Housing Authority's acquisition program to buy and convert new developments into public housing.
Spends more than $60 million on programs benefitting South Shore residents, like a rent assistance program, a loan fund for buying and rehabbing vacant homes, a homeownership program similar to one approved for Woodlawn in 2020 and others.
About 2,700 South Shore voters in nine 5th Ward precincts near the Obama Presidential Center site in Jackson Park answered the community benefits agreement ballot question. About 2,400 voted in favor.
The results show "high-level support" for anti-displacement measures in South Shore, said Dixon Romeo, executive director of coalition member Not Me We.
With the Obama Center expected to open in the next few years, Romeo called on the winner of April's 5th Ward aldermanic runoff election between candidates Desmon Yancy and Martina "Tina" Hone to introduce a community benefits agreement ordinance within their first 100 days in office.
"We're too far along in this fight for having no protections in South Shore," Romeo said. "There's no excuse for us to not get this done."
A similar referendum was overwhelmingly approved by voters in several 5th and 20th ward precincts in 2019. That same year, a wide-ranging community benefits agreement ordinance was introduced to City Council but stalled for months before a scaled-back Woodlawn housing ordinance was passed in 2020.
The coalition's demands for South Shore were drafted through a months-long community engagement process in 2021.
For a full list of the demands, click here. For a one-page recap, click here.
Yancy has voiced support for the coalition's demands as written during his campaign. He plans to work with South Shore alds. Greg Mitchell (7th) and Michelle Harris (8th) on implementing a community benefits agreement ordinance if elected, he said this week.
"I feel like the people and the community behind the CBA ordinance have done their due diligence and spent the last couple years developing these points to move the conversation along," Yancy said. "It's important for me to be an advocate for it and push for it in the council."
Hone doesn't support the coalition's proposal as written, though the demands raise "critical issues that not only should be in a CBA, but citywide," she said. She supports aspects of the proposal, such as "right-to-return" provisions for tenants after code violations or repairs in their buildings, legal representation for renters and support for condo and co-op owners, she said.
But Hone disagrees with using all vacant city lots for affordable housing, and a pilot program should reserve 30 percent of new developments for affordable housing, not 60 percent, she said.
"Most people didn't read the whole CBA [proposal], so I wouldn't read too much into [voters'] support for the details," Hone said. "Universally, the people of the 5th Ward support maintaining affordable housing and making sure that people aren't unjustly displaced."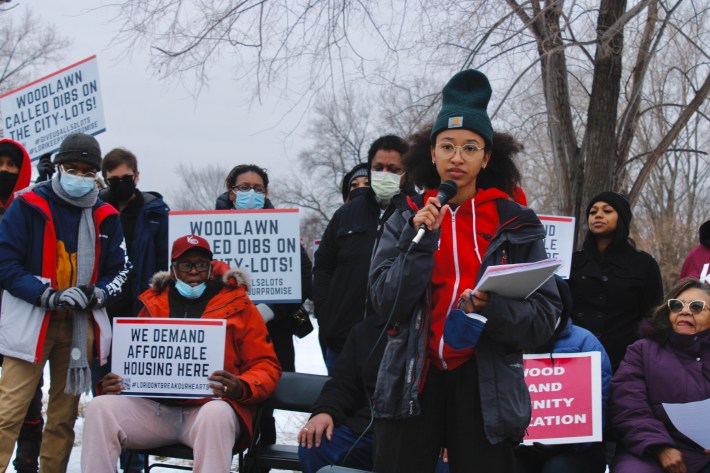 A separate question, on whether the alderperson and mayor should support using most of a city-owned vacant lot at 63rd Street and Blackstone Avenue for "truly affordable housing," saw the "yes" option garner 91.4 percent of the vote.
The referendum asked whether at least 75 percent of the site should be used for "housing where working families don't pay more than 30 percent of their income in rent."
More than 500 voters in two Woodlawn precincts near the lot voted on the question, which the Obama CBA Coalition also placed on the ballot.
The 2020 Woodlawn housing ordinance secured anti-displacement measures for the neighborhood, but housing activists have voiced concerns with the city's timeline and pressed the city to build the developments on high-density lots like 63rd and Blackstone.
While activists call for 75 percent of the 63rd and Blackstone site to be reserved for affordable housing, the 2020 ordinance only requires 30 percent of new apartments on city-owned lots to be made affordable to "very low-income households."
Two developments which are subject to the 2020 ordinance are in the works on 63rd Street: Park Station Lofts, which is under construction near Maryland Avenue, and two sites between Ingleside and Greenwood Avenues, for which city officials are reviewing developers' proposals.
Subscribe to Block Club Chicago, an independent, 501(c)(3), journalist-run newsroom. Every dime we make funds reporting from Chicago's neighborhoods.
Click here to support Block Club with a tax-deductible donation. 
Thanks for subscribing to Block Club Chicago, an independent, 501(c)(3), journalist-run newsroom. Every dime we make funds reporting from Chicago's neighborhoods. Click here to support Block Club with a tax-deductible donation.
Listen to "The Ballot: A Block Club Chicago Podcast":