SOUTH SHORE — Nine of the 11 candidates vying to replace retiring Ald. Leslie Hairston in the South Side's 5th Ward gathered at the South Shore United Methodist Church Sunday to share their stances on housing issues facing residents.  
Candidates Renita Ward, Gabriel Piemonte, Dialika "Dee" Perkins, Kris Levy, Wallace J. Goode, Desmon Yancy, Marlene Fisher, Robert Palmer and Joshua Gray all appeared at the forum. Martina "Tina" Hone and Jocelyn Hare did not attend. 
Adrienne Irmer was disqualified from the ballot Friday after elections officials determined she did not live in the 5th Ward.
The event was co-sponsored by Not Me We, a community mutual aid organization, and the Obama Community Benefits Agreement Coalition, which aims to guarantee affordable housing and equitable development in South Shore.
Housing
In the first half of the forum, moderators sought to pin candidates down on their housing policies. Candidates were asked what policies in their platforms would keep rent stable, with rates rising and the 5th Ward facing a high level of evictions. 
Community organizer Yancy said he'd push for a $5 hike in the minimum wage and expanded universal basic income programs. Gray proposed expanding Chicago's current 60-day move-out notice to 120 days. 
Piemonte, a community organizer and former editor at the Hyde Park Herald, advocated for a stronger degree of involvement between the alderperson and large real estate firms. He called the increase in property speculation in the 5th Ward "criminal in nature."
Flyers distributed by community organizers said the majority of South Shore residents are housing-cost burdened, meaning housing costs make up more than 30 percent of their annual budget and the neighborhood's eviction rate is the highest in the city.
All candidates except Fisher said they would support Bring Chicago Home, a community-organized homelessness relief platform that advocates raising the city's real estate transfer tax by 1.9 points in order to create a dedicated revenue stream to build "permanent supportive housing" in Chicago.
The Bring Chicago Home ordinance stalled after 25 alderpeople — including Hairston — skipped a hearing on the issue in 2022, preventing it from going to a vote.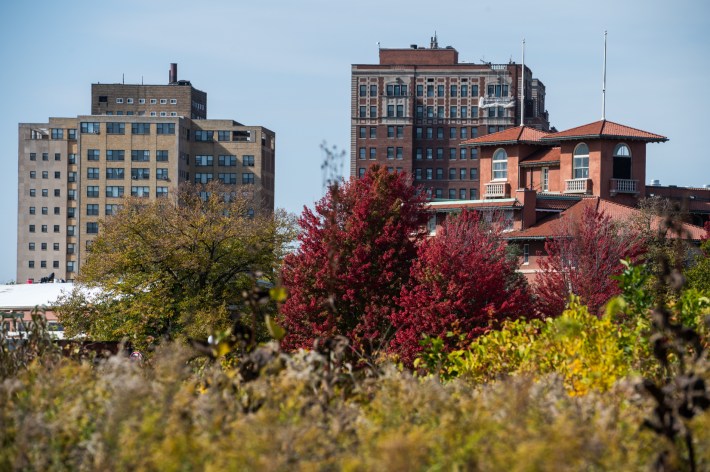 Candidates were asked whether they were familiar with the Obama CBA Coalition's South Shore Demands, which are the subject of a non-binding referendum for South Shore voters in the Feb. 28 election. The demands promote wide increases in tenant's rights and affordable housing across South Shore. 
South Side activists with the Obama CBA Coalition have called for an expansive community benefits agreement since 2016.
Ward, a local attorney and minister, said the community shouldn't treat the coalition's demands as if they were set in stone. Rather, we must "continue engaging with the demands," and keep the door open for more community meetings and future adjustments, she said.  
Piemonte and Yancy argued the community work has already been done. 
"Anyone who doesn't know about the CBA hasn't been paying attention," said Piemonte, drawing applause from some in the audience and booing and shouts from others. 
It's time to "trust the people," Yancy said, voicing full support for the CBA demands as written. 
The second part of the forum focused on other community issues, with candidates asked to answer questions submitted by the audience. 
Seven of the nine candidates expressed their support for the "Treatment Not Trauma" program, which would aim to reopen the closed city mental health crisis centers across the South Side. Goode and Perkins did not use their allotted time to clearly answer the question.
Levy, who expressed support of Treatment Not Trauma and whose campaign prioritizes economic development, said that the root of the mental crisis ultimately lies in a lack of "jobs and money" in the 5th Ward. 
Police In Schools
The end of the meeting turned contentious as the candidates were asked if they'd support removing police in schools and replacing them with crisis counselors.
Block Club and Chalkbeat Chicago extensively covered school resource officers and votes from individual schools on whether to keep them.
All of the candidates, except Piemonte, said they were hesitant to withdraw police officers from schools.
Piemonte said he'd remove police from schools, characterizing them as bullies. Fisher said she felt more safe in schools with police officers present, drawing fierce shouts from high school students in the crowd. 
Three of the nine candidates — Palmer, Gray, and Fisher — said they are former teachers.
"Whose schools? Our schools! Whose community? Our community!" students chanted. Their shouts often drowned out candidates' attempts to answer the question.
The 5th Ward includes parts of Hyde Park, Woodlawn and South Shore. The election is Feb. 28. If no one candidate gets at least 50 percent of the vote, the top two will go head-to-head in a runoff April 4.
Listen to "It's All Good: A Block Club Chicago Podcast":