LOGAN SQUARE — A volunteer-powered group devoted to picking up trash throughout Logan Square is gearing up to hit the streets again for a series of neighborhood cleanups.
Trash People of Logan Square, which puts on other events to build community, is doing its first cleanup of the year Saturday. Registration for that is full, but the group is also hosting its first volunteer fair next month to connect neighbors with volunteer opportunities at nonprofits and other community organizations in Logan Square and the area.
For the neighbors, cleaning up the neighborhood isn't just a way to help the environment — it's a bonding experience.
"I started Trash People not only as a way to contribute to the community, but as a way for me and others to find new community. And, honestly, it has grown and been way more successful than I ever imagined," founder Penny Gibbons said.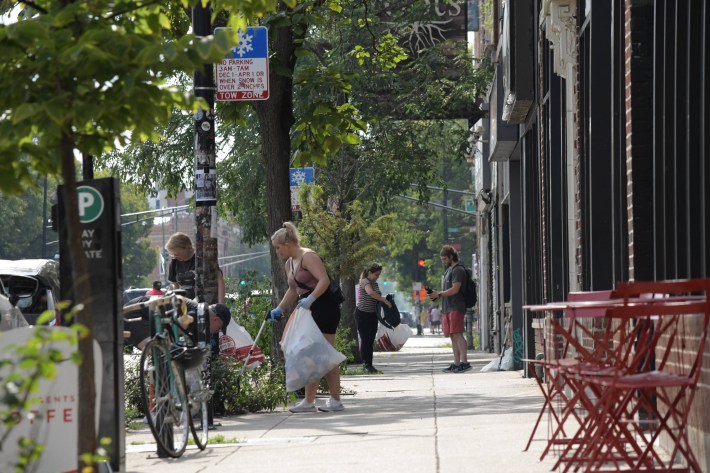 A Logan Square resident and environmentalist, Gibbons launched Trash People of Logan Square in April to meet people and bring neighbors together for a good cause amid the pandemic, she said.
The concept is simple: The group meets at the Logan Square Monument or at a nearby cafe, Gibbons hands out bags, gloves and other equipment and the group picks up trash for about an hour. All metal trash is recycled through a partnership with Pilsen Food Pantry, Gibbons said.
"I came out of the pandemic feeling what so many people were feeling and are still feeling, which was loneliness and not having the social experiences that I wanted in my life, and honestly not knowing where to go to meet new people," she said.
Fewer than 10 people attended the group's first cleanup last spring. But by the end of the summer, the bimonthly cleanups were drawing about 25 people, a mix of regulars and newcomers looking to spruce up the neighborhood and get to know their neighbors, Gibbons said.
The group took a hiatus during the winter and is resuming this weekend with its first cleanup of the year. With 40 people expected to participate, the Saturday cleanup is at capacity, but there will be more events for neighbors to participate in this year, Gibbons said.
Part of what's made the group so successful is it's rooted in bringing the community together through shared values, Gibbons said.
Gibbons said the name of the group is a play on words and is meant to be "ironic because the people who come to our events are really not trash people — they're really great people."
"It's really low pressure. It's really easy to get involved. Picking up trash weirdly is something that does unite us all," Gibbons said. "It's been a great way to meet other people who have care for their community."
Trash People of Logan Square also partners with local organizations on community-focused events. Last year, for example, the group helped the people behind the art supply nonprofit The Wasteshed sort donations and prep for their move.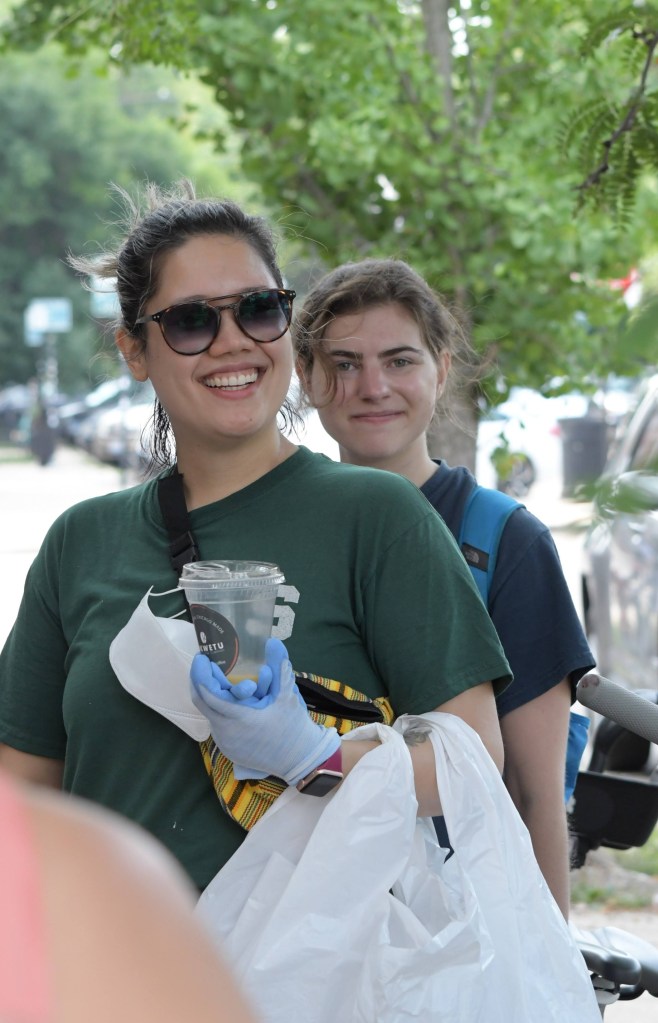 The group plans to keep those events going this year, first with the Logan Square Volunteer Fair 11 a.m.-3 p.m. April 16 at Pilot Project Brewing, 2140 N. Milwaukee Ave. Unity Park Advisory Council, Palenque LSNA and the Logan Square Farmers Market are just a few local organizations slated to attend. To register, go here.
Gibbons said they're looking for local businesses to sponsor the event.
Also on the horizon is an Earth Day cleanup April 22. Those interested in getting involved should subscribe to the group's Eventbrite, Gibbons said.
In the long term, Gibbons hopes to help people in other neighborhoods establish their own Trash People groups, she said.
"It's incredible how much I've been able to shift from that feeling of being lonely and not having as many friends as I would like to having this awesome community of people who just really are wonderful," Gibbons said. "I've seen so many friendships form because of our events."
Listen to "It's All Good: A Block Club Chicago Podcast":