NORWOOD PARK — More than 300 Taft High School students walked out of their classrooms Thursday morning and called on school administrators to be more transparent about safety issues on the Northwest Side campus.
Students told Block Club they are frustrated with how Principal Mark Grishaber, who has been in the role since 2015, has handled repeated online threats of violence directed at the school, as well as bullying and issues of sexual harassment.
"They don't tell a lot of the student body what's going on. They'll just say like, 'Oh, we've handled it.' They won't say the kid got arrested or something. Instead, they'll just say 'we handled it' but then nothing happens. There's no context there," said Benjamin Nguyen, a senior.
Nguyen said rumors have also been circulating about sexual misconduct on campus between a staffer and student. CPS officials confirmed its watchdog is investigating allegations of sexual misconduct, but did not elaborate. No details have been shared with parents or students, either, leading to rumors and a lot of fear.
Taft, 6530 W. Bryn Mawr Ave., is the largest International Baccalaureate school in Illinois and enrolls 4,257 students, according to CPS.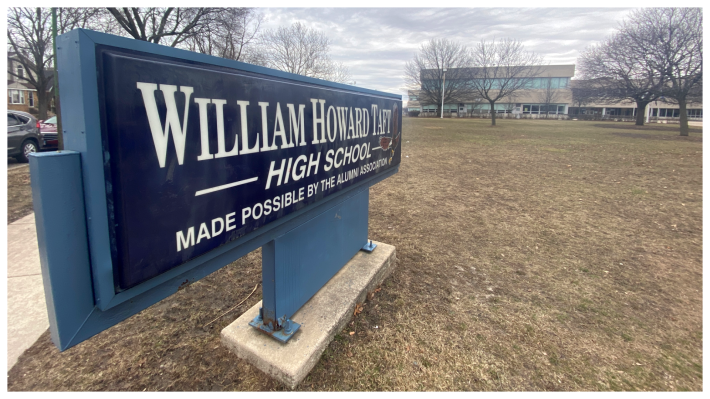 Thursday's walkout came after a social media threat directed at the school that district leaders reported to police Monday. 
The initial threat circulated on Google Chat over the weekend, and screen captures of those comments were posted to Snapchat Monday, students told Block Club.
In the messages, a student says he is going to "bring this school down" and said another classmate was on his "list."
Police were notified of a possible threat to Taft around 12:12 a.m. Monday, officials said. Investigating officers said the threat was not credible, police said. 
Grishaber sent a letter to the school's community about the threat around 8:39 a.m. Monday — after school was already in session, students said. But it took nearly 48 hours for the principal to follow up about the threat, which was too long, students and parents said.
"We notified the CPS Office of Safety and Security to investigate the threat with the Chicago Police Department, and CPD deemed the threat as non-credible. There is no safety threat to our school, and all of our students and staff are safe," Grishaber wrote in a Wednesday update.
Grishaber also wrote that administrators would work with its four on-campus police officers to "reinforce our regular screening of students before they enter our school building" and listen to student safety concerns.
"I understand that this situation has been extremely concerning to our school community and that rumors have been circulating about additional safety threats to our school. While I cannot discuss further details about this situation for privacy reasons, I want to make it clear that safety will always be our top priority and we take every safety concern extremely seriously," Grishaber said in the Wednesday letter.
But once students learned of the Snapchat post, many stayed home from school or left campus to go home because they feared for their safety, multiple students said.
"Since then the school has been pretty empty. A lot of students haven't been showing up the past few days. A lot of people are scared. Monday especially, like only half the school's students showed up," said a sophomore, who declined to give his name. 
Grishaber also told parents he met with representatives of Taft's student body to listen to their safety concerns.
Organizers of Thursday's walkout, however, said Grishaber has not attempted to contact them about their concerns.
Grishaber also sent an email to students Thursday morning before the walkout telling students to return to the school within 30 minutes of the protest starting or they'd be marked with an unexcused absence and that their parents would be notified.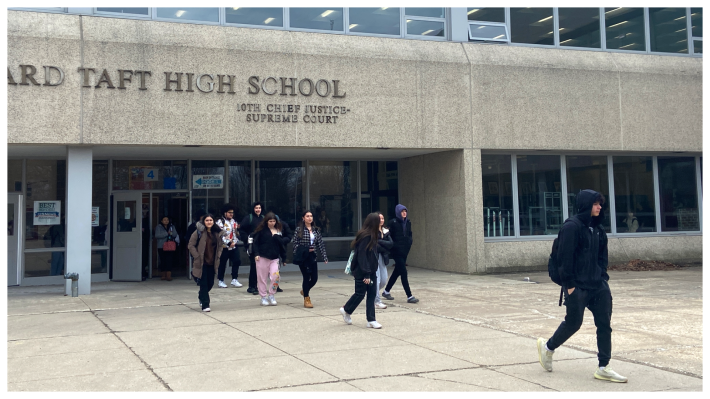 The incident brought up years of frustrations from students about bullying escalating to online threats of violence at both of the school's campuses, students said. They said they want administrators to address the issues more transparently.
"A lot of the administrators here just kind of let people do what they want. In fact, there was a bunch of people who don't even have to show their IDs in the morning to get into the school because administrators are busy talking to their co-workers instead of actually caring about the safety of our students," said Shylah Ziegenbein, a sophomore. 
The school's main campus has metal detectors, but they're selectively used which means that anyone can sneak a weapon into the school, students said. 
Security is so lax that earlier this month two teenagers who are not students at Taft walked in through the front door without being screened by security and were able to hang out with their friends during the entire school day without issue, students said.
"The lunch ladies in the cafeteria care more about our IDs and safety than the entire staff at the main office," said Katarina Noriega, a sophomore. "The lunch ladies, they check every single person's ID and never let you pass if you don't have one. But at the front door, it's like security doesn't even exist. I could probably walk in with a fake ID and I don't think they'd notice. It's terrible. " 
In a statement before the walkout, CPS officials said the district takes all allegations seriously and is aware of both Monday's threat to the campus and the allegations of sexual misconduct, the latter of which has been referred to the Office of Inspector General. 
"CPS prioritizes the safety and well-being of our students and we take seriously our responsibility to ensure all employees act in the best interest of our students," the statement said.
The school district and Grishaber did not directly address questions about the concerns students raised during Thursday's walkout. 
Listen to "It's All Good: A Block Club Chicago Podcast":