EDGEWATER — Alderwoman-elect Leni Manaa-Hoppenworth defeated candidates with deeper pockets and higher-profile backers by building a grassroots coalition of change-minded voters.
Manaa-Hoppenworth will take over the 48th Ward — covering Edgewater and parts of Andersonville and Uptown — when she's inaugurated May 15. The race was one of the most hotly contested in the city, with 10 candidates vying to replace Ald. Harry Osterman.
It was an effort years in the making, Manaa-Hoppenworth said, fueled by former President Donald Trump's 2016 election.
"I just got really, really mad in 2016 sitting on my couch on Election Day with my family and watching the TV turn from blue to red and just [being] completely outraged," she said.
The next year, Manaa-Hoppenworth co-founded Indivisible Illinois, the state chapter of the national progressive political organization. She also founded the group's Andersonville-based chapter.
Manaa-Hoppenworth was also the director of operations for the Chicago edition of the 2016 Women's March on Washington and helped found ILVOTE, a non-partisan voter registration group.
The organizing helped channel Manaa-Hoppenworth's anger over Trump's election toward positive change in her community, she said. It also gave her a foundation when decided to run for 48th Ward alderperson.
"I never dreamed that I would be here," she said. "But it goes to show that individuals, if they notice something and they're passionate about standing up for what's right and bringing other people with them, we can make a difference."
Chicago's First Filipina Alderperson
Manaa-Hoppenworth, 53, is a Chicago native whose parents are Filipino immigrants. She will be the first person of Filipino descent to serve on City Council. She is also part of the council's LGBTQ caucus — the biggest of any city in the United States.
A longtime Andersonville resident and owner of Chicago Dance Supply, Manaa-Hoppenworth advanced to a runoff race in late February after thwarting other progressives who had more money and the backing of groups like the Chicago Teachers Union.
Manaa-Hoppenworth then defeated Joe Dunne in the April 4 runoff election despite Dunne having a sizable cash advantage and the backing of major unions, trade groups and elected officials — including Osterman.
To win, Manaa-Hoppenworth helped build a volunteer network that partnered with political groups in a get-out-the-vote effort that got progressives elected in the 48th and 46th wards and the mayor's race.
"We had a really great ground game and the platform and values to back it up," she said.
Manaa-Hoppenworth said she is ready to take office and is excited to expand on the coalition and community building her campaign and earlier organization efforts started.
Among Manaa-Hoppenworth's first priorities is a listening tour of the ward. She has pledged to move forward a litany of projects that are in the works in Edgewater, including a public plaza in Andersonville, community space coming under the rebuilt Red Line tracks and a Broadway master plan effort.
"It's the same thing we've been doing all along," Manaa-Hoppenworth said. "Making sure that we continue to bring people in because there's so much to do."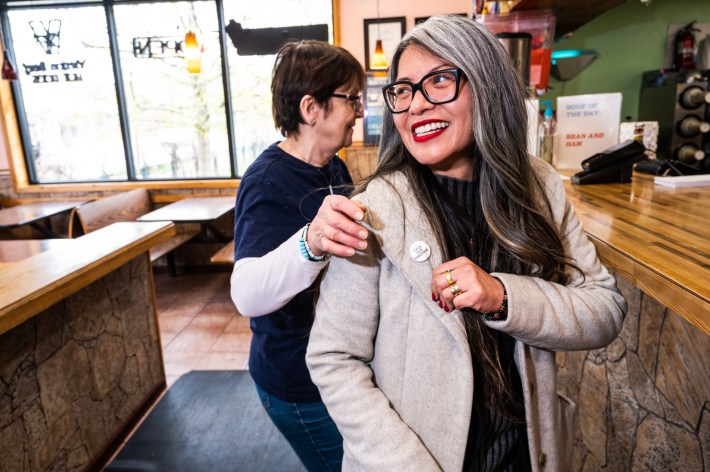 Some of those projects were spearheaded by Osterman, who served 12 years as the alderperson. The incumbent and alderwoman-elect have worked together to ensure a seamless transition, Manaa-Hoppenworth said. The two appeared together at a news conference announcing the Red Line community space initiative.
"What Harry [Osterman] did great was he took care of the constituents," Manaa-Hoppenworth said. "Constituent services was a priority, and that is not going to change."
On City Council, Manaa-Hoppenworth will join the progressive caucus, where she will try to pass many of the pillars of her election campaign. That includes approving ranked-choice voting, homelessness prevention effort Bring Chicago Home and the emergency mental health initiative Treatment Not Trauma.
Manaa-Hoppenworth said she is glad to be part of a diverse and fresh-faced City Council that has a number of big issues on its plate. But she will continue her work to build community and coalitions that started before she was elected alderpson.
"I'm very excited," she said. "I can't tell you how much energy I'm getting from people who have been serving along the way. I'm just excited to see more representation in City Council."
Listen to "It's All Good: A Block Club Chicago Podcast":