LOGAN SQUARE — Before many Chicagoans knew who Brandon Johnson was, Crystal Gardner was trudging through snow in December and January to knock on doors in Austin, hoping to convince her neighbors the West Side educator was the best pick for mayor.
"Canvassing shows residents that they're important. You're so important that I will knock on your door in 20-degree weather to have this conversation," Gardner said. "Voters feel heard. They're going to remember the canvasser when they're at the ballot box."
Gardner, who runs the West Side field operation for United Working Families, is one of thousands of organizers and volunteers who fanned out across the city for months in support of Johnson's long-shot mayoral bid.
The elaborate "ground game," unrivaled by other political hopefuls in recent years, propelled Johnson from a virtually unknown Cook County commissioner and Chicago Teachers Union organizer to the next mayor of the nation's third-largest city, organizers and political observers said.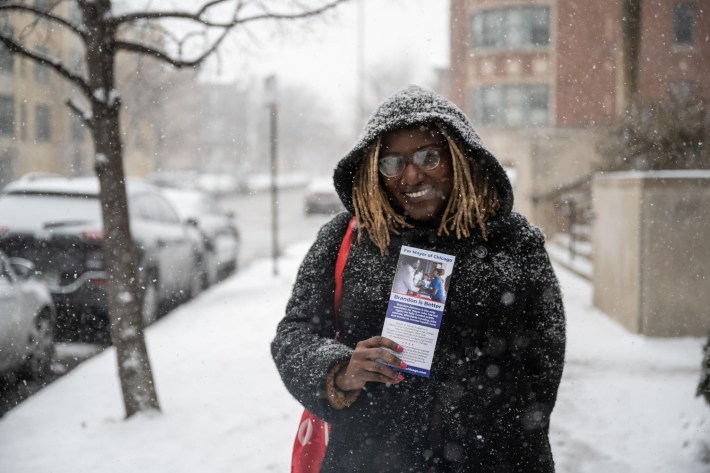 Johnson, 47, entered an already-crowded mayoral race in October. He gradually rose to prominence with backing from the powerful teachers union, and a slate of progressive politicians and groups across the city.
But beyond the big endorsements were a few thousand clipboard-toting volunteers and organizers talking to everyday Chicagoans on sidewalks and front porches about Johnson's platform, incrementally raising his profile in a field of better-known contenders.
The grassroots approach worked: Johnson beat Mayor Lori Lightfoot and Rep. Jesús "Chuy" García to advance to a runoff with former schools CEO Paul Vallas, then won the head-to-head contest April 4 to become Chicago's most progressive mayor in a generation.
"Mayor-elect Johnson's victory is a testament to the work of groups like United Working Families, but also every independent political organization (IPO) that supported him from the very beginning of his campaign," Johnson's spokesman, Ronnie Reese, said in a statement.
"Together, they mobilized thousands of volunteers to knock over 555,000 doors, make 1.26 million phone calls and send nearly 2 million texts to voters."
Caitlin Brady, an organizer with 33rd Ward Working Families, said progressives coalesced around Johnson because he'd earned credibility in their circles for his record with the CTU and support for initiatives like the Justice For Black Lives resolution, which aimed to redirect some funding for police and incarceration toward restorative justice and health care.
"The organizers who kicked this off knew Brandon and trusted Brandon," Brady said. "It was trusting that he was actually going to follow through because we know him and we've seen him [organizing] in the streets."
'More Than A Mailer Can Ever Do'
Progressive officials and organizers on the Northwest and Far North sides were among the first to throw their support behind Johnson. Maps show voters in neighborhoods like Logan Square and Uptown helped carry Johnson to a runoff.
Sandra Puebla, with neighbor-led political organization United Neighbors of the 35th Ward, said Northwest Side groups rallied around Johnson before he formally announced his candidacy, hosting a Northwest Side mayoral forum.
"We wanted to endorse at the same time and really show force on the Northwest Side," Puebla said.
United Neighbors did regular canvassing for months, leaning on years of experience organizing for progressive candidates-turned-officials such as Rep. Delia Ramirez, who was elected to Congress, and Anthony Quezada, who won Cook County commissioner, Puebla said.
"At first, when we started off, people didn't really know who Brandon Johnson was. There were also a lot of candidates then. What we saw was a lot of voters were honestly overwhelmed by the choices available to the them," Puebla said.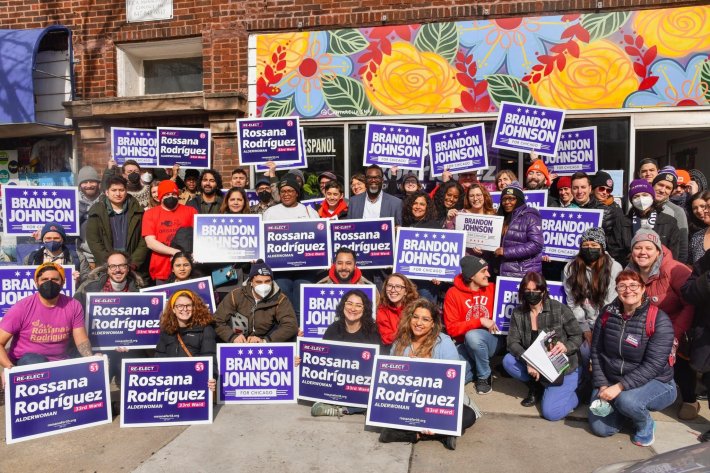 Nine candidates across the political spectrum vied for the mayor's post in February.
With supporters doing consistent face-to-face outreach and knocking on the same doors multiple times, Johnson rose above the pack, even though he had far less campaign cash and clout than Vallas, Puebla said.
"Toward the end of February, most of the people we were talking to were in support of Brandon Johnson," she said.
Warren Williams, founder of 30th United and former 30th Ward aldermanic candidate, said his group did 40 canvassing shifts a week, in some cases talking to voters whose minds seemed to be made up about Johnson.
Williams said he talked to police officers who were worried about Johnson's "defund the police" comment, which he walked back later in the campaign. But once Williams explained Johnson's public safety platform in detail, officers changed their tune, Williams said.
"That's more than a mailer can ever do," Williams said.
Brady agreed, saying they won over voters by detailing progressive policies Johnson has pledged to support, such as mental health emergency response measure Treatment not Trauma.
"The narrative that it's a bunch of union soldiers out there is not the case," Brady said. "It's grassroots organizations, Black and Brown organizations on the South and West sides reaching people who had never voted, organizations here on the Northwest Side who know our communities well to deliver that message for Johnson."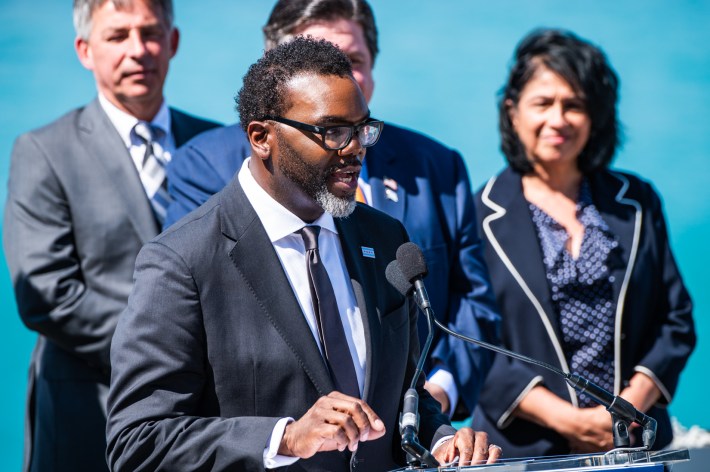 While it was largely Northwest and Far North Side voters that pushed Johnson to the runoff, South and West side voters sent Johnson to the Mayor's Office. And a sophisticated organizing operation, fueled by independent political organizations and progressive officials, helped make that a reality, organizers said.
"It was 100-percent people power," Gardner said.
On the West Side, organizers hosted weekly meetings, listening sessions and regular "house parties," where they'd engage residents in the comfort of their own homes, Gardner said.
Gardner said it wasn't easy reaching West Side voters because neighborhoods like Austin and Garfield Park have a history of voter suppression and residents can be distrustful of officials due to years of disinvestment. Residents also move around a lot, which can make canvassing challenging, she said.
"What helped in the 1st District was how you introduced Brandon," Gardner said. "He's a West Sider. He's our Cook County commissioner."
Arthur Dennis, who organized for Johnson in Bronzeville and on the North Side for The People's Lobby, said sincerity went a long way with voters.
"We weren't out there for a paycheck. We weren't out there for clout. I gave my time for free after work. I did that, and so many other folks did that," Dennis said. "It's about wanting to live in a Chicago where you feel safe and cared for. … That's what Brandon's campaign represented."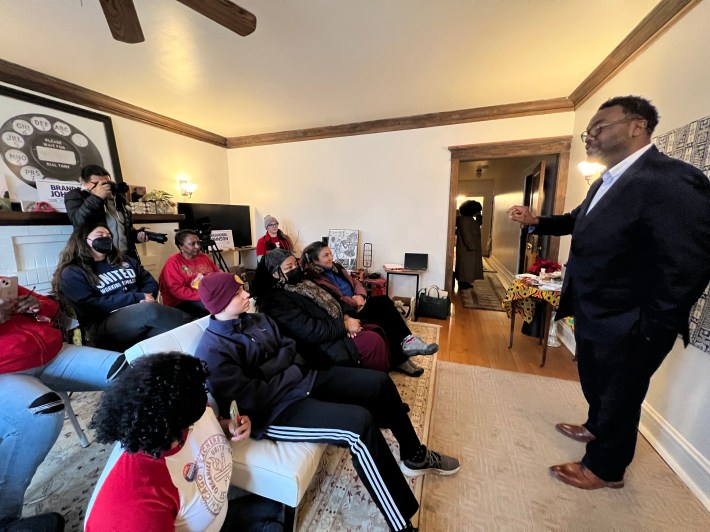 'We Now Have A Strong Coalition'
Organizers who helped propel Johnson to victory did the same for progressive aldermanic candidates.
At alderperson-elect Angela Clay (46th) raucous election night party at Carol's Pub in Uptown, she thanked the Uptown-based One People's Campaign, Asian American Midwest Progressives and Northside Action For Justice, among others, for their support.
The victory was a "culmination of people power" in the 46th Ward that organized for progressive candidates with a large-scale voter mobilization effort, Clay said.
Clay's win came despite outside spending in the election and an opponent endorsed by big-name Democrats.
"We just tore down big money," Clay said in her victory speech.
The Far North Side, including Uptown, turned out heavily for Johnson while electing new progressives to City Council in Clay and Leni Manaa-Hoppenworth (48th). Those victories are the result of a sizable and coordinated get-out-the-vote program undertaken by outside groups, said Anna Gaebler, field director for One People's Campaign.
In the 46th Ward, One People's Campaign worked with Asian American Midwest Progressives and the Jewish Council on Urban Affairs' political arm to log more than 400 volunteer efforts on behalf of Clay and Johnson. The groups made 4,000 calls to voters on the day before Election Day.
One People's Campaign joined 48th Ward Neighbors for Justice and United Working Families for more than 600 hours of canvassing in the 48th Ward race. It was won by Manaa-Hoppenworth and Johnson, who took 63 percent of the Edgewater ward's vote to Vallas' 37 percent.
All three candidates supported by the alliance of Far North Side progressive organizations won their elections.
"This election was all about turnout," Gaebler said. "Who won depended on turning out people who don't always vote because they felt the movement or felt the candidate."
After working in partnership in the recent election, the groups said they're ready to work in conjunction to push progressive legislation over the finish line. Such legislative goals include the passage of homelessness prevention initiative Bring Chicago Home and Treatment Not Trauma.
"There's a lot of synergy," said Hannah Gelder, director of movement politics at One People's Campaign. "We now have a strong coalition that can hold people accountable."
Subscribe to Block Club Chicago, an independent, 501(c)(3), journalist-run newsroom. Every dime we make funds reporting from Chicago's neighborhoods.
Click here to support Block Club with a tax-deductible donation. 
Thanks for subscribing to Block Club Chicago, an independent, 501(c)(3), journalist-run newsroom. Every dime we make funds reporting from Chicago's neighborhoods. Click here to support Block Club with a tax-deductible donation.
Listen to "The Ballot: A Block Club Chicago Podcast":