CHICAGO — Mayor-elect Brandon Johnson, 47, courted the support of young progressive officials, hosted rallies at colleges and music venues and captured the attention of musicians and influencers.
The strategy was an all-in effort to pitch the city's youngest voters, who mostly sit out citywide elections. And it worked: Come Election Day, younger voters came to the polls at a higher clip than they did for the Feb. 28 vote, while some older voters stayed home.
In the tight race between Johnson and Paul Vallas, the final push to turn out Gen Z and Millennials might have pushed Johnson over the top, community organizers and campaigners said.
"We were constantly having conversations about how to engage more young folks than we did before Feb. 28," said Dany Robles, a field consultant for Johnson's campaign in the 26th and 36th wards. "We needed to drive up Johnson's name recognition and also show a sense of urgency to new voters, that there's a clear contrast in candidates and every vote matters."
Like in most elections, older voters still made up the majority of Tuesday's electorate — but the youngest bloc of voters, Chicagoans ages 18-24, saw a 30 percent jump in turnout compared to February, according to unofficial election night data.
Voters 24-34 saw a 24 percent bump in turnout and voters 35-44 had about a 10 percent jump. Voters 45-54 saw turnout increase by about 4 percent, and older groups saw slight dips.
Overall, voters 44 years old and younger made up 59.29 percent of the electorate Tuesday compared to 49.18 percent of the electorate Feb. 28, according to election night data.
Organizers with youth civic engagement groups Chicago Votes and GoodKids MadCity said young voters largely favored Johnson, whose campaign offered Chicagoans a fresher direction.
Johnson's largest funder was the Chicago Teachers Union — which has become a progressive political force in recent years — but he also received heavy backing from local progressive officials and organizers. Vallas, 69, received high-profile endorsements from career politicians like former Rep. Bobby Rush and Sen. Dick Durbin, and he was backed by the Fraternal Order of Police, led by conservative President John Catanzara.
With the race down to those two — instead of the nine, across-the-spectrum candidates who made up the Feb. 28 race — "the choice was clearer for young people," said Delmarie Cobb, a local political strategist.
"It's easier for them to identify with a 47-year-old with a new vision than a 69-year-old supporting old policies," Cobb said. "This time around, young voters had more time to get introduced to Brandon, while older voters already knew Paul and had made their mind up about him."
Lilly Allan, 20, said she's in Chicago for school and typically votes in Cleveland, but she changed her registration for the Tuesday election "after the race started heating up." She supported Johnson and got several of her friends to change their registration to Chicago, too.
"I felt that the outcome of this election had real potential to impact my life," Allan said.
Markus Piece, 24, said he sat out the February election, but he came off the bench Tuesday to give an extra tally to Johnson.
"I voted this time around because I thought my vote for Johnson would really matter," Pierce said. "Initially, I thought he didn't have much of a chance."
A robust outreach effort was central to Johnson's campaign, Robles said. The face-to-face push converted supporters from low-turnout groups into voters and raised awareness for Johnson, who had low name recognition at the start of the race, several organizers said.
Multiple Johnson organizers said the campaign knocked on more than 50,000 doors Tuesday.
"We had the most ground to gain by spreading word-of-mouth," Robles said. "And many people in the field to do it."
Boutros said she "sensed more energy" among young people for Johnson this time around.
"It felt like Brandon was part of a movement," Boutros said. "While Vallas had more of a history to answer to."
Boutros said many young voters "directly lived through" Vallas' impact on the school system, citing a March 30 walkout held by Little Village Lawndale High School students in protest of a broken promise by Vallas to build the school before he left CPS in 2001.
Thousands of young voters packed into UIC's Credit 1 Arena for a last-minute get-out-the-vote rally for Johnson, with Sen. Bernie Sanders, who has long driven out young voters, and rapper Vic Mensa, "whose music speaks to the experience of young Black Chicago," Robles said.
The rally was "definitely" geared toward turning out young voters and getting them energized to turn out their friends, Robles said.
Allan said she attended the rally and it "sealed the deal for me."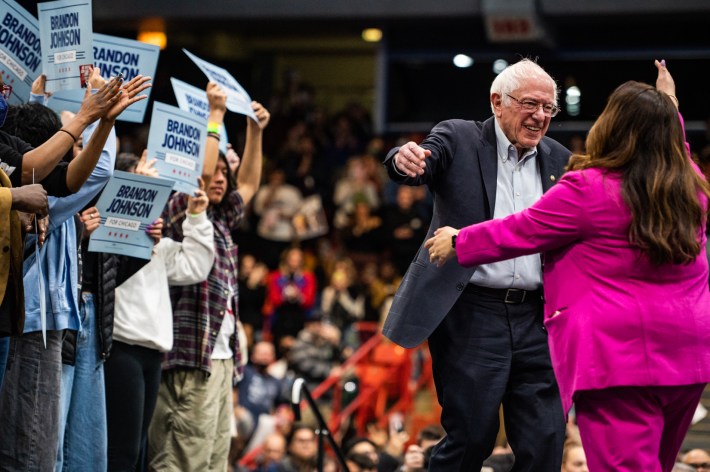 Back on the campaign trail, Johnson was joined by some of the City Council's youngest, most progressive members and made stops at trendy Northwest Side venues like Cole's and Empty Bottle. He picked up endorsements from Mensa and Wilco.
One late supporter was Lisa Beasley, a comedian who rose to local fame for appearing on HBO's "South Side" and for roasting Mayor Lori Lightfoot on TikTok.
About a week before the election, Beasley started promoting Johnson on her platforms. Other local artists went out their way to design logos and T-shirts and write songs for Johnson, Beasley said. Johnson was the only candidate to roll out a detailed plan to support artists.
"I was impressed with how he was already tuned into the arts and culture scene. It made him feel more real," Beasley said. "He had influence from the social media side. He allowed someone like me to be helpful."
Social media also played with Johnson's campaign — local musicians Al Scorch, Charlie Malave and Hawk Coleman crated a song, "Paul Vallas Hates House Music," and released a video showing Johnson supporters, including Ald. Carlos Ramirez-Rosa (35th), dancing to it. It spread on YouTube and social media, racking up more than 100,000 views across the platforms.
Alex Sims, director of a political consulting firm that has worked on campaigns for Gov. J.B. Pritzker and State's Attorney Kim Foxx, said Johnson found a way to reach cord-cutters, undercutting Vallas' big spending on TV ads.
Johnson's campaign "was largely run by millennials who knew how to speak to young people," Sims said.
With national elections up next, Sims said "people are now watching" Chicago as a proving grounds for young progressives to see if they are ready to steer the wheel of the Democrat ticket over time-tested moderates.
"We need to decide what approach works best," Sims said. "And now here we have the country's third-largest city, run by a younger mayor, with younger alderman growing in power and encouraging young people to run and vote."
Cobb said turnout among the youngest voters is still "pretty dismal," but for Johnson, it "made up the difference."
"When you're trying to cobble together a win, you need to increase participation where you can," Cobb said. "We'll see if this is the seed of change or just a blip."
Subscribe to Block Club Chicago, an independent, 501(c)(3), journalist-run newsroom. Every dime we make funds reporting from Chicago's neighborhoods.
Click here to support Block Club with a tax-deductible donation. 
Thanks for subscribing to Block Club Chicago, an independent, 501(c)(3), journalist-run newsroom. Every dime we make funds reporting from Chicago's neighborhoods. Click here to support Block Club with a tax-deductible donation.
Listen to "The Ballot: A Block Club Chicago Podcast":