GRAND BOULEVARD — For Bronzeville's Lisa Beasley, satire has become a lifeline — and an outlet for airing her concerns with Mayor Lori Lightfoot.
The Second City-trained comedian found herself without a stage as the pandemic shut down venues left and right. At the same time, she was becoming disenchanted with Lightfoot. The urge to be creative collided with the need to say her piece.
With a can of gray spray paint and an oversized pantsuit, Beasley's "Mayor Lory Litefoot" character was born.
Litefoot makes appearances on Beasley's social media and at events, with the spoof making people laugh during a difficult time. Beasley has amassed a sizable following, with more than 13,000 people watching her imitate everyone from Lightfoot to Margaret Thatcher on social media.
But Beasley's jokes go beyond poking fun at the mayor. Underpinning her humor is her exasperation as a young mother who is scared to let her daughter play outside, a South Sider whose neighborhood long has been ignored by City Hall and a Black woman feeling betrayed by Chicago's first black female mayor.
"I've been invited to do events as 'Mayor Lory Litefoot.' What does that say about her that people want to hire the person impersonating her?" Beasley said.
A spokesperson for the mayor did not return messages seeking comment.
'I'm Still A Black Girl From The Hood Who Lives In The Hood'
While Lightfoot may be a polished public official, Litefoot isn't.
Litefoot is Michael Scott in a Columbia pullover, hopelessly stumbling from gaffe to gaffe as she tries — and fails — to be relatable. But like her real-life counterpart, Litefoot loves law, order and making comedic video clips that sometimes fall flat.
Though Beasley has spent years honing her craft on improv stages across the country, it took some work to mimic the intonation and timbre of the mayor's voice and determine what to amplify for comedic effect.
"Usually I can just pick up someone's voice. It comes natural to me. But this was the first one where I was like, 'Oh, she's wilding. I gotta listen to a video to see if I can talk like this,'" Beasley said. "This was the only one I legit prepped for."
But coming up with material comes easy: All Beasley has to do is log into Twitter and read the mayor's feed to see the latest controversy or trending issue. After she records her clips as Litefoot, she uploads the finished products on Instagram and TikTok.
In one clip, Litefoot announces she's reversed her decision not to dye the Chicago River green, saying, "You're welcome, white Chicago."
Another video has Litefoot asking Amazon's Alexa for help doing city budget calculations on police spending versus community services.
Working on these bits is cathartic, and it keeps Beasley sharp, she said.
A major impetus to create the Litefoot character was the scandal over police wrongfully raiding Anjanette Young's home. During the fallout, the mayor waded into the controversy, offering shifting explanations about what she knew and when.
Images of Young — naked, helpless and afraid as she pleaded with police — haunted Beasley. The glimmer of hope Beasley had when Lightfoot assumed office, that the election of the city's first Black female mayor would signal a sea change, evaporated, she said.
Young could've been Beasley or any other Black woman she knew. That the city's highest elected official was seemingly dragging her feet on the controversy while green-lighting more Police Department funding was the final straw for the comedian, she said.
Cut to camera: Beasley did a skit as Litefoot, giving a crude crayon map to police officers "to ensure that we are no longer scaring the wrong citizens." She wanted the clip to highlight people haven't forgotten about the wrongful raids or what happened to Young.
"My initial thinking was, 'I'm going to talk about this, even though it's not popular to talk about anymore,' to let them know that, 'Hey, we want to make sure that you know we know police are accidentally busting into people houses, and we don't want it to be us, so how's that police reform going?'" Beasley said.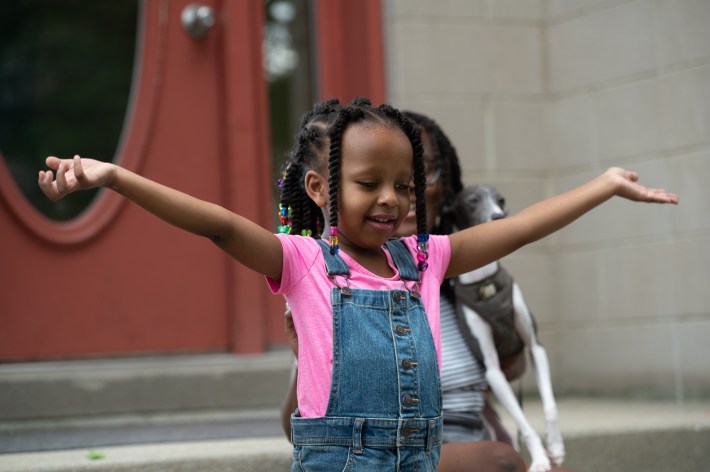 Beasley had reservations about poking fun at another Black woman; with so few in positions of power, it's expected to extend some grace, and the comedian has seen her fair share of criticism.
But after a year of mayoral missteps, Beasley believed Lightfoot was fair game. Couple that with the mayor's resistance to significant police reform — in a year where police killed multiple Black and Latino people, and in which 60 percent of discretionary federal COVID-19 funding went to the police — and Beasley thinks she has more than enough reason to do what she does. For her, it's a matter of keeping the public informed.
"People are like, 'How can you do this to another Black woman?' But have you seen what's she's doing to other Black women?" Beasley said.
While Beasley's Margaret Thatcher impressions have caught the attention of many — including "Schitt's Creek" star Dan Levy and "Russian Doll" star Natasha Lyonne — it is her portrayal of the mayor that has people hooked.
"I get so many messages from people who don't even live here who tell me how much they love it," Beasley said. "It's crazy."
Another frustration Beasley airs through Litefoot is her concern about gun violence in her neighborhood.
With summer around the corner and the city rapidly reopening, Beasley worries for her safety and that of her young daughter's. When the mayor excitedly announced the return of Lollapalooza, Beasley took to Twitter to lambast the mayor for "catering to one side of Chicago."
"I've witnessed people laying dead on my block. My car was shot up on the driver's side five hours after I parked it in 2014. Gunshots and sirens make up the soundtrack of my life," Beasley tweeted. "I have a five-year-old daughter. I just bought her a scooter and I'm terrified for her to play outside."
For Beasley, these frustrations becomes her fuel.
"You ran on the promise that being a Black and gay [woman] meant you knew what it was like to be marginalized and that things could potential change," she wrote in the Twitter thread. "And while a bunch of privileged white kids are gonna be all sweaty and stinky passing the Rona to each other, Black citizens on the #southside are going to be living in fear and turmoil because WE know this is going to be one of our deadliest summers."
To that end, Beasley has been trying to raise money to take her daughter out of town for the summer. She hopes to pay the kindness forward to other single moms in the future.
For now, Beasley is focused on creating more content and pursuing entrepreneurial ventures so she and her daughter can rest easy.
"There was a study done by the University of Illinois about the 'hunker down stress gene,' where they looked at South Side single moms and how living in violent neighborhoods for these women is affecting us on a genetic level," Beasley said. "I feel like people expect a Black single mom from the South Side to look and act a certain way, and if you don't fit that stereotype, you're good. You're fine.
"You may see me on 'Windy City Live,' you may see me perform all the time, but I'm still a Black girl from the hood who lives in the hood."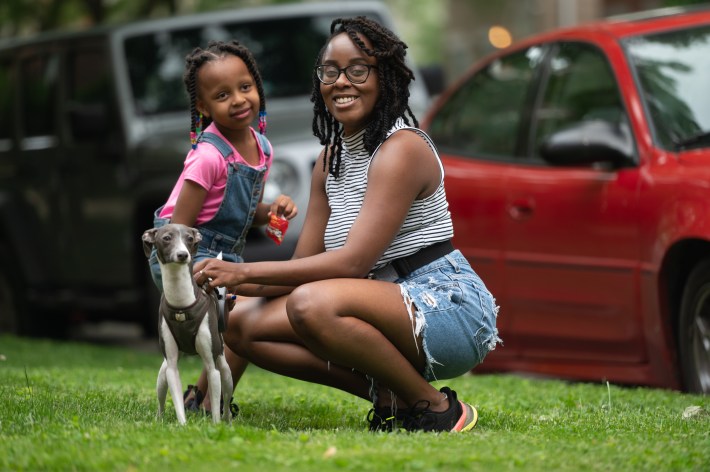 And if that "Black girl from the hood" had the mayor's ear, what would she ask?
"The first question would be, 'What initiatives are you working on that would positively affect the South Side and the citizens?' I want to see the receipts. The second question? Why does she do what she does?" Beasley said, chuckling.
"And the third? 'Are you OK?' Blink once if you're in danger because I can't believe a Black woman would love the police this much."
Subscribe to Block Club Chicago. Every dime we make funds reporting from Chicago's neighborhoods.
Already subscribe? Click here to support Block Club with a tax-deductible donation.
Listen to "It's All Good: A Block Club Chicago Podcast" here: