NEAR WEST SIDE — Sen. Bernie Sanders and a slate of progressive officials and activists implored Chicagoans to turn out for Brandon Johnson next week as polls show a close mayoral race with a sizable chunk of voters still undecided.
A two-time presidential candidate, Sanders endorsed Johnson, a Cook County commissioner, earlier this month. Johnson is facing former Chicago Public Schools CEO Paul Vallas in the April 4 runoff.
Sanders headlined a packed rally Thursday night in support of Johnson at UIC's Credit Union 1 Arena, 525 S. Racine Ave. He was joined by Ald. Carlos Ramirez-Rosa (35th), Reps. Jonathan Jackson and Delia Ramirez, Martin Luther King III and American Federation of Teachers president Randi Weingarten, among others.
In his remarks, Sanders said the next mayor of Chicago would play a vital role in addressing crime and violence, but he must do so in a way that is "smart and effective."
"We must address that crisis, but we must do it in a way that is smart and effective," Sanders said. "And that means not only high quality and non-racist law enforcement, it means that we must address the epidemic of mental illness, the epidemic of drug abuse, the epidemic of poverty and the epidemic of guns on the street. And that is something that Brandon Johnson understands."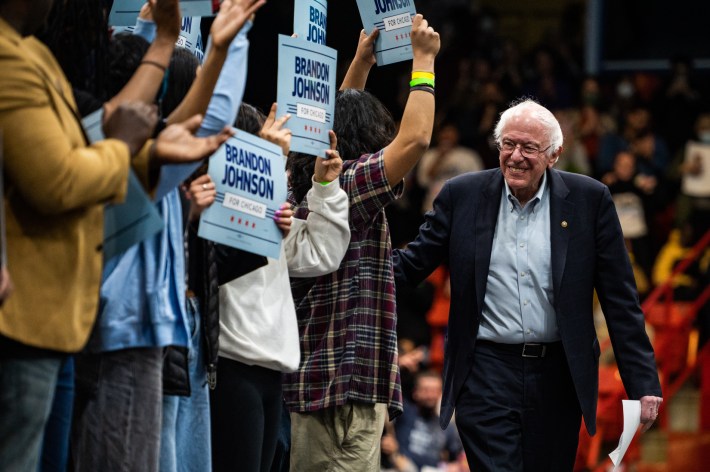 The comments tie into what's become the central issue of the 2023 mayor's race: public safety and policing. Vallas has pledged to fill more than 1,000 police vacancies and flood the CTA with uniformed officers to combat crime if elected.
Johnson's campaign has stressed that as mayor, he would focus investment on the "root causes" of crime rather than hiring more police or increasing police department funding.
Johnson has said repeatedly that more police will not make Chicagoans safer, although has distanced himself on the campaign trail from past comments seemingly in support of defunding the police.
Sanders spoke mostly in support of Johnson, but took a few shots at Vallas and highlighted his financial support from some of Chicago's richest businessmen. The bulk of Johnson's funding comes from unions, including the Chicago Teachers Union where he's been a longtime organizer.
"The fundamental issue is what side are you on? Are you on the side of working people or are you on the side of the speculators and the billionaires? And I know which side Brandon is on," Sanders said.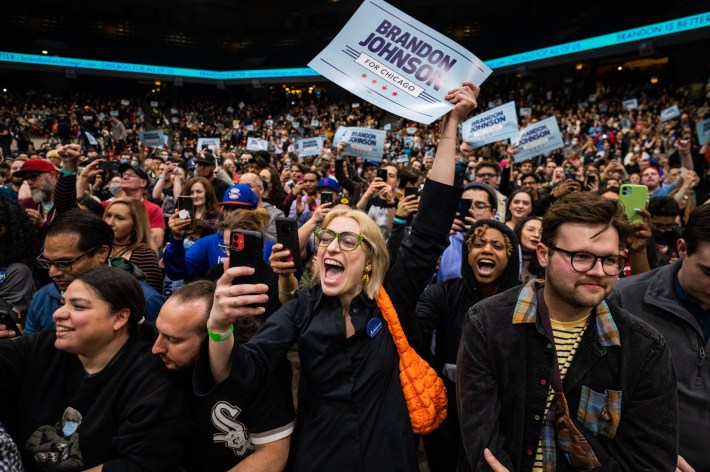 Speaker after speaker Thursday urged Chicagoans to vote early this weekend or show up on election day Tuesday — and to get their friends and family to do so, too.
"You got to make sure you get five, 10, 15, 20 people out to vote. How we win on Tuesday is making sure that our people come out and vote like their life depends on it," Ramirez said.
Johnson took the stage at the end of Thursday's rally, asking the arena if they're "ready to go to the fifth floor" to raucous applause. The Chicago mayor's office is located on the fifth floor of City Hall.
Citing his rise from polling at 2 percent last year to becoming a serious mayoral contender, Johnson cast his campaign as a generational moment to transform the city of Chicago.
"This moment has been brought to us by a very profound struggle," Johnson said. "Many of our ancestors knew that one day, tomorrow will come. And I just can't help but recognize and feel that tomorrow has arrived, Chicago."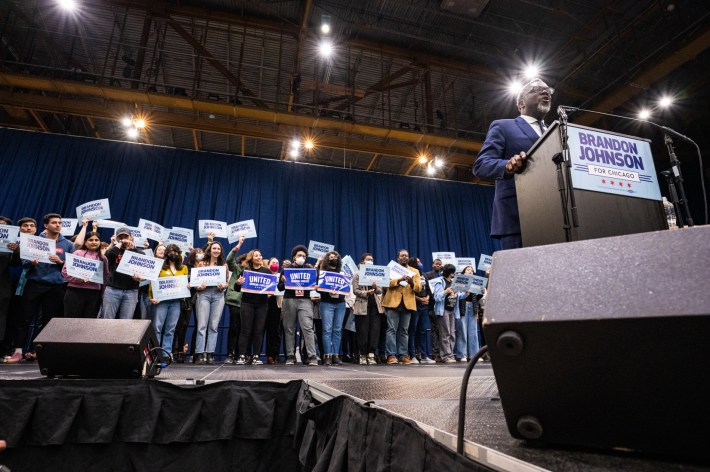 Vallas and Johnson have met in numerous debates over past month, attacking each other's public safety platforms, walking back controversial past statements and both pledging to phase out city speed cameras.
They've also snagged endorsements from public officials, unions and other groups in a bid to expand their base.
Vallas' supporters include Sen. Dick Durbin, former Illinois Secretary of State Jesse White, retired Rep. Bobby Rush, former mayoral candidates Willie Wilson and Ja'Mal Green and a group of West and South side alderpeople.
Johnson has recently been backed by former mayoral candidate Rep. Jesús "Chuy" García, civil rights icon Rev. Jesse Jackson, Sen. Elizabeth Warren and various progressive alderpeople. 
See Block Club's full roundup of who's endorsing which candidate here.
The runoff election is Tuesday. Early voting is currently underway.
Subscribe to Block Club Chicago, an independent, 501(c)(3), journalist-run newsroom. Every dime we make funds reporting from Chicago's neighborhoods.
Click here to support Block Club with a tax-deductible donation. 
Thanks for subscribing to Block Club Chicago, an independent, 501(c)(3), journalist-run newsroom. Every dime we make funds reporting from Chicago's neighborhoods. Click here to support Block Club with a tax-deductible donation.
Listen to "The Ballot: A Block Club Chicago Podcast":