DOWNTOWN — Brandon Johnson and Paul Vallas pledged again Tuesday to remove city-operated cameras that fine speeding drivers, while sparring over the other's resume and experience a week out from the April 4 runoff election.
Vallas, a former Chicago Public Schools CEO, came in first among nine candidates in the Feb. 28 election, receiving 33 percent of the vote. Johnson, a Cook County commissioner, followed with about 22 percent.
Tuesday's debate was hosted by CBS Chicago in partnership with the Business Leadership Council, Chicago Urban League, NABJ Chicago and WVON 1690 and VON-TV. CBS anchor Irika Sargent moderated.
The two candidates traversed mostly familiar territory concerning public safety, school choice and taxation — and both pledged they would "phase out" speed cameras when asked about the program in a "lightning round" question-and-answer session.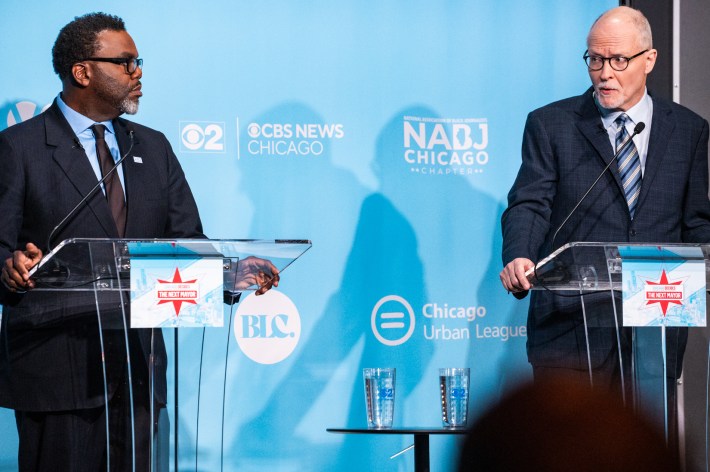 "I'm for phasing them out if the Constitution allows us to," Johnson said. "And if we can't, wherever a speed ticket has been accumulated, or acquired, that ZIP code should get the revenue."
In a mayoral questionnaire compiled by WBEZ and the Sun-Times, Johnson wrote the cameras were a "cash grab" and called for investing in more traffic-calming infrastructure like speed bumps and reduced speed limits in certain areas.
Vallas agreed Tuesday speed cameras should be eliminated for the most part, but he said he believes they do serve a purpose near schools, at least during school hours.
"I really think that these speed cameras, with some exceptions, should be phased out. And I also think that almost immediately, we should go back to the old speed cap threshold," Vallas said in a post-debate news conference. "These cameras and the fees and the fines that are levied are just punishing the working poor most, and it's really causing a devastating impact on poor communities."
Speed camera fines have been a controversial subject for years in Chicago, with some critics pointing to research showing the cameras disproportionately target Black and Latino Chicagoans. Advocates argue they're a necessary tool to slow drivers and keep pedestrians, cyclists and other drivers safe.
In July, City Council voted on an ordinance that would revert the threshold that triggers a speed camera ticket from 6 to 10 mph over the limit.
Alderpeople were deeply divided on the issue, ultimately voting 26-18 to kill the measure.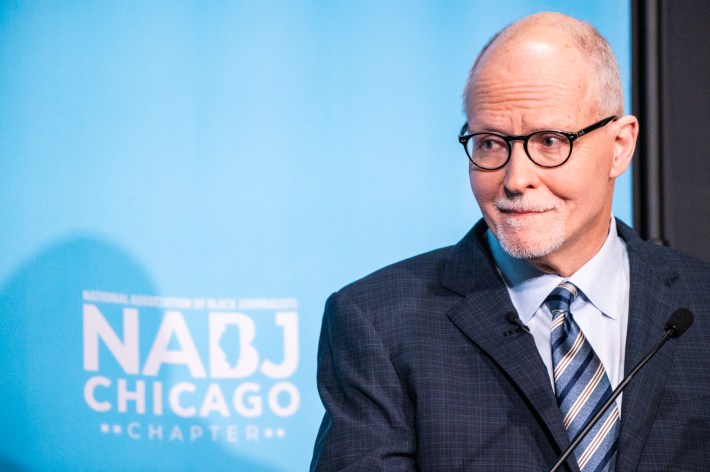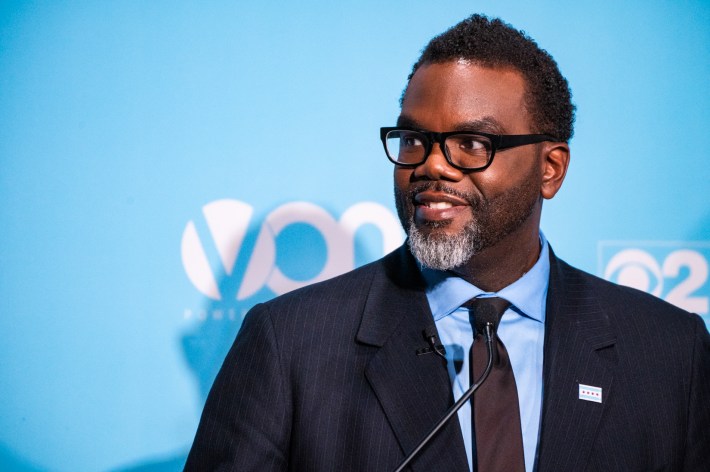 Vallas and Johnson also attacked each other's management and budgeting experience during and after Tuesday's debate.
Vallas sought to minimize Johnson's resume while touting his time as Chicago's budget director from 1990 to 1993 under Mayor Richard M. Daley.
"Look, I'm dealing with a candidate who was a teacher for four years and has never managed anything," Vallas said. "Just voting for a budget as a county commissioner is not managing the budget."
Johnson bristled at that remark, and after the debate he said it was "not just offensive to me; this is offensive to every working person in the city of Chicago."
"The fact that he's been dismissive of a Black man who taught for four years in Chicago Publis Schools is …," Johnson said during the debate before pausing. "You got to stop doing that, Paul. You just do. I got elected. I've been an organizer. I know how to put together a plan."
The two candidates have spent the past month campaigning across the city and snagging endorsements from public officials, unions and other groups.
Vallas' supporters include Sen. Dick Durbin, former Illinois Secretary of State Jesse White, retired Rep. Bobby Rush, former mayoral candidates Willie Wilson and Ja'Mal Green and a group of West and South side alderpeople.
Johnson has recently been backed by former mayoral candidate Rep. Jesús "Chuy" García, civil rights icon Rev. Jesse Jackson and various progressive alderpeople. Sen. Bernie Sanders is headlining a Thursday rally at the University of Illinois Chicago in support of Johnson.
The candidates will meet again for a WBEZ/Sun-Times forum 6 p.m. Thursday at the University of Chicago.
See Block Club's full roundup of mayoral endorsements here.
Subscribe to Block Club Chicago, an independent, 501(c)(3), journalist-run newsroom. Every dime we make funds reporting from Chicago's neighborhoods.
Click here to support Block Club with a tax-deductible donation. 
Thanks for subscribing to Block Club Chicago, an independent, 501(c)(3), journalist-run newsroom. Every dime we make funds reporting from Chicago's neighborhoods. Click here to support Block Club with a tax-deductible donation.
Listen to "The Ballot: A Block Club Chicago Podcast":