CHATHAM — A cluster of South and West side alderpeople are throwing their support behind Paul Vallas for mayor, saying his plan to hire police officers to strengthen public safety is the better solution for their constituents.
Local officials and community leaders gathered Thursday at Josephine's Southern Cooking, 436 E. 79th St., to announce their endorsements of the former Chicago Public Schools CEO.
Alds. Roderick Sawyer (6th), Michelle Harris (8th), Anthony Beale (9th), David Moore (17th), Derrick Curtis (18th) and Emma Mitts (37th) joined the list of Vallas backers. Alds. Walter Burnett (27th) and Tom Tunney (44th), who previously endorsed Vallas, also joined the news conference at the famed soul food joint.
Sawyer and Moore's support means three of the "Englewood Five" — a nickname coined for all the neighborhood's alderpeople — are backing Vallas in the mayoral race. Ald. Raymond Lopez (15th) announced his support Sunday.
Vallas will face county Commissioner Brandon Johnson in the April 4 runoff election. 
Improving public safety and reducing crime has emerged as one of the most pressing issues in the election. Vallas has pledged to rehire retired police officers and reinstate "beat integrity," where officers consistently work in the same districts and neighborhoods. 
Police recruitment has been a struggle for the city in recent years. When the police entry exam was offered over four months in 2021, only 3,800 people took it — compared to as many as 22,000 applicants in previous years, CNN reported.
Vallas has also proposed adding uniformed police officers to CTA stations and running two police academy classes in one year to get more officers on the streets quickly.
"Public safety is the No. 1 priority, but public safety with full accountability. Public safety with the full implementation of a concentricity. Public safety that is accountable. Public safety that has zero tolerance for misconduct. That'll be my administration," Vallas said Thursday.
Sawyer, who lost his mayoral bid, threw his support behind Vallas because their "visions were closely aligned," he said. Vallas has a "common-sense approach" to reducing crime, Sawyer said.
"Beat integrity" will help officers establish long-term relationships with neighbors, ultimately building trust and "making people feel comfortable," Sawyer said. 
"These are tried and true approaches that make sense and aren't experimental," Sawyer said. "We want to do something new. We're going to be constitutionally compliant, but we want effective police."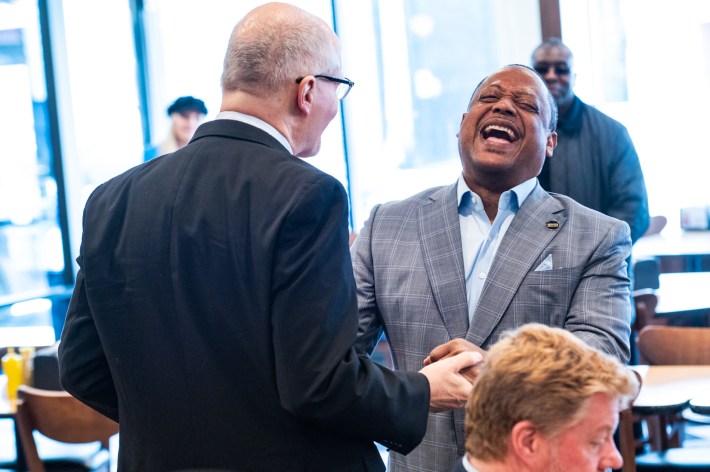 Crime is the "most important issue in my community, and it is the most important issue to Paul Vallas," Mitts said. A controversial $128 million police and fire training academy recently opened in her ward. 
The city needs "more police and better-trained police," Mitts said. It is a "myth" that "people in the Black community don't want policing in our neighborhoods," Mitts said. 
Some Chicagoans have been vocal about reallocating funds from the police budget to community services like violence prevention efforts, youth services and public health. Prevention and intervention programs have significantly helped in communities with higher crime rates.
But the city "is up for grabs" and needs someone dedicated to hiring trained officers who can hit the streets, Beale said. 
"We're going to get a handle on crime, and [Vallas] is the only one that has a vision, the dedication and the know-how to make sure that we can lead this city forward," Beale said.
Older residents of Burnett's ward "ask me for more police," he said. People are "imprisoned in their homes," he said. Neighbors have voiced fears of leaving their front porches or letting their children out to play, Burnett said.
"Paul Vallas will put things in place to make sure people are safe," Burnett said. "We cannot be talking about defund the police when we have so many people losing their lives in the city of Chicago. We have so many people killing their own people. We need help from people to help us protect ourselves from each other."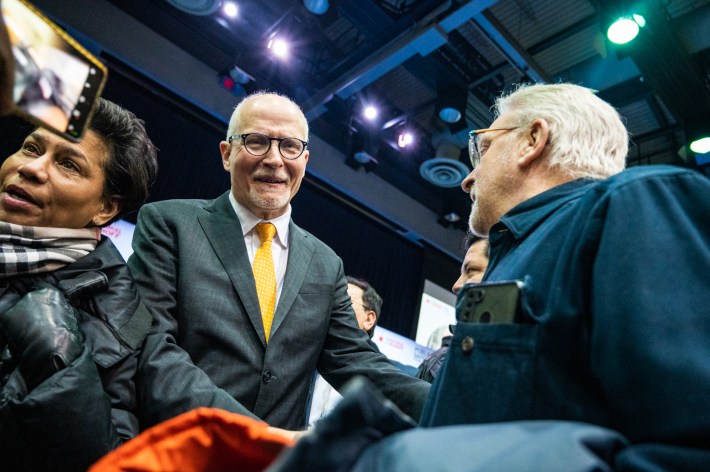 Some of Vallas' backers voiced concerns about comments Johnson made in the past about scaling back funding for the police department.
A 2020 radio interview in which Johnson described defunding the police as an "actual, real political goal" has been the talk of recent debates. Vallas shared a clip of the interview in a recent attack ad.
In a Wednesday interview with Block Club discussing his public safety plan, Johnson said he would not defund the police but instead use city funding to implement a "holistic approach to public safety." Johnson has also pledged to promote 200 detectives from rank-and-file officers to solve more crimes. 
"We have to respond with immediacy and urgency, which I'm prepared to do," Johnson said Wednesday. "But we also have to make sure that we're reopening our mental health centers so that individuals who are experiencing a great deal of trauma — and that includes law enforcement — have the support systems that need to be in place."
When a neighbor asked Curtis, "why not Johnson?," Curtis' answer was simple, he said.
"With all the crime we have going on all over across the city, if we defund the police, who are you going to call — the ghostbusters?" Curtis said.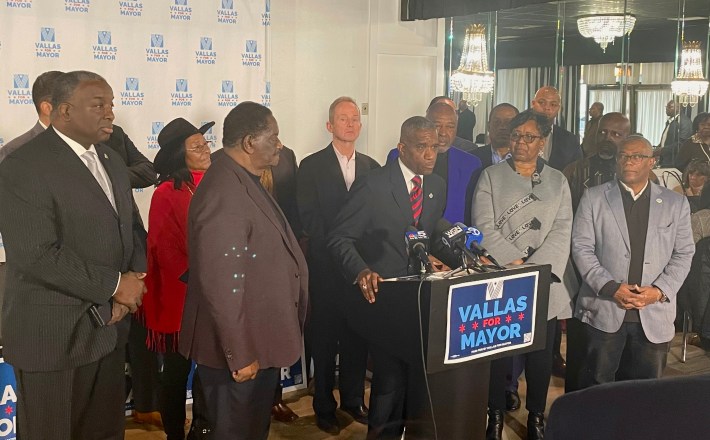 Vallas, who has criticized Chicago's remote learning during the pandemic, said accessible schools with lots of available activities are key to protecting kids and teens.
Vallas proposed keeping schools open "through dinner, weekends, over summer and on holidays." Community- and faith-based organizations will join forces with the Park District to "bring programs to those schools" year-round, he said. 
Moore, who endorsed Ald. Sophia King in the Feb. 28 election, said he is supporting Vallas "for our children." Conversations about public safety have to revolve around more than policing, Moore said. 
"It's about our children having year-round jobs, our schools being open after hours and on weekends," Moore said. "Redevelopment and youth are my top concerns. You take care of that and public safety is taken care of."
Public safety is a top priority, Vallas said. But if he's elected, his "legacy" won't be "more police," he said. 
"My legacy is going to be: Did I get at the underlying causes of crime, of disinvestment, of the break-ups of the family? Did I get at the underlying causes, the decades and decades and generations of disinvestment in the poorest communities?" Vallas said.
Subscribe to Block Club Chicago, an independent, 501(c)(3), journalist-run newsroom. Every dime we make funds reporting from Chicago's neighborhoods.
Click here to support Block Club with a tax-deductible donation. 
Thanks for subscribing to Block Club Chicago, an independent, 501(c)(3), journalist-run newsroom. Every dime we make funds reporting from Chicago's neighborhoods. Click here to support Block Club with a tax-deductible donation.
Listen to "The Ballot: A Block Club Chicago Podcast":