CHICAGO — A controversial West Side police and fire training academy opened Wednesday morning with a ribbon-cutting ceremony where Mayor Lori Lightfoot and officials praised it despite years of pushback over the project
Activists held protests and fought the $128 million training campus at 4301 W. Chicago Ave. for years, saying they'd rather the city spend its money on housing, social services and other resources to help residents. City Council approved plans for the academy in 2019.
"We're here for a celebration," Ald. Emma Mitts (37th) said "I think this is a win-win for city of Chicago. Took a lot of bruises, but they were worth it."
The campus will be used to train first responders from the Police and Fire departments. It features a "tactical village" that resembles a Chicago neighborhood — with eight fake streets named after police officers and firefighters who have died in the line of duty — and a six-story tower for fire training.
RELATED: Controversial West Side Cop Academy Will Have Mock Neighborhood For Training. Here's What It Will Look Like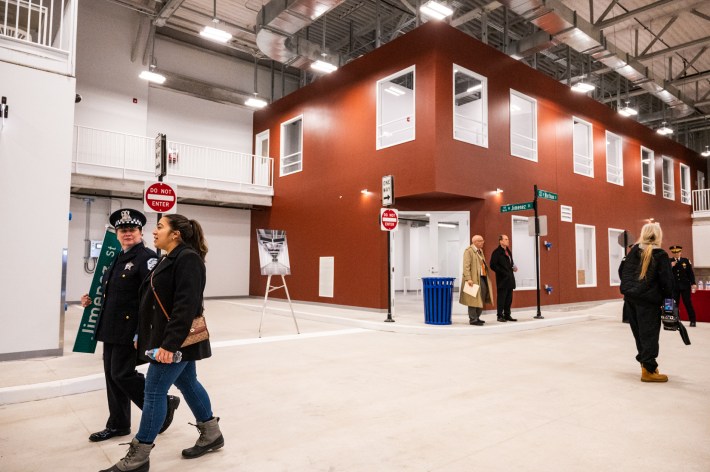 Officials have said the village was needed to centralize training for first responders, train across departments and prep for "new and emerging threats."
Prior to the opening of the new academy, police and fire personnel trained at seven different locations throughout Chicago's city limits. The main police academy was at 1300 W. Jackson Blvd. in the West Loop.
Supporters have also said the new police and fire academy will bring investment to the West Side, as two restaurants — Peach's and Culvers — will open there. They also said it will allow local kids to develop relationships with first responders and see if they're interested in pursuing those careers.
But critics have said the academy — and the officers it's expected to bring more frequently to the area when they train — could traumatize local children. They have spoken out against plans to open a Boys & Girls Club on the campus; the Mayor's Office said Wednesday it's expected to open this summer.
At Wednesday's ceremony, Lightfoot said the academy was ultimately needed to provide greater training to first responders.
"We want to make sure our first responders have everything they need," she said. "Historically, we have neglected first responders' training. These investments are absolutely critical to do their jobs."
Lightfoot opposed plans for the training academy in 2018 before being elected mayor. She changed her tune after taking office, saying the facility would be key to improving training for police officers.
Officials at Wednesday's ceremony noted a fire was tearing through a Kenwood high-rise even as they cut the ribbon on the facility, and the campus will be key for training workers on responding to future fires.
"This is a major step for the department," Fire Commissioner Annette Nance-Holt said.
The facility will be able to train 500 first responders per day, with 30 per classroom.
Listen to "It's All Good: A Block Club Chicago Podcast":