Get more in-depth, daily coverage of Chicago politics at The Daily Line.
CHICAGO — Precisely 539 days after the first City Hall protest against plans to spend $95 million on a new training facility for Chicago Police and Fire departments, aldermen approved Mayor Rahm Emanuel's proposal for the new West Garfield Park facility in a 38-8 vote.
The No Cop Academy movement eventually swelled to include hundreds of protesters, and forced Emanuel to expend a significant amount of political capital — and to sweeten the deal by adding two African-American-owned restaurants — to get the plan approved two months before he leaves office.
That did not stop hundreds of protesters from converging on City Hall Tuesday and Wednesday, where they were met with a massive show of force by police officers. The coalition protested at City Hall for nearly 10 hours Tuesday and blocked access to the building's elevators.
Eight aldermen voted against the academy: Ald. Leslie Hairston (5th); Ald. Susan Sadlowski-Garza (10th), Ald. Roberto Maldonado (26th), Ald. Scott Waguespack (32nd); Ald. Deb Mell (33rd); Ald. Carlos Ramirez-Rosa (35th); Ald. John Arena (45th); and Ald. Ameya Pawar (47th.)
After the vote, protestors disrupted the meeting, loudly demanding that the $95 million be spent on restoring cuts made to Chicago Public Schools' budgets or reopening mental health clinics shuttered by Emanuel.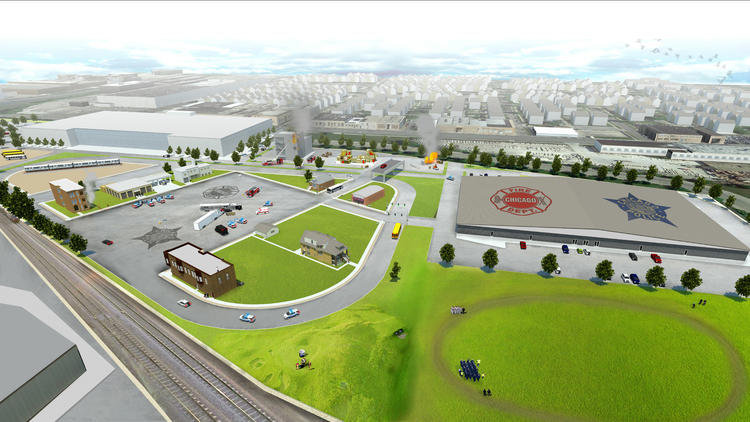 Mayoral candidates Toni Preckwinkle and Lori Lightfoot also called for the project to be halted, although both support new training facilities for officers.
Ramirez-Rosa urged his colleagues not to give 37th Ward Ald. Emma Mitts the final word on the facility by following the City Council's long-standing tradition of aldermanic prerogative.
That unwritten policy is fine when it comes down to determining where stop signs should go, but not when determining public safety policy, Ramirez-Rosa said.
"This impacts the whole city," Ramirez-Rosa said.
Before the vote, Ramirez-Rosa warned his colleagues that the protestors would remember how they vote — and that Emanuel is on his way out.
"He's not going to cut you those $20,000 checks anymore," Ramirez-Rosa said.
Mitts once again delivered an impassioned defense of the project, which will be built by AECOM as part of an $85 million contract (O2019-1154). In a separate vote, aldermen agreed to borrow $65 million to finance the construction of the facility.
In May 2018, the City Council earmarked $20 million from the sale of the city's largest maintenance garage and yard along the North Branch of the Chicago River — now slated to be part of the Lincoln Yards development — for the construction of the training facility. The city bought the land for the training facility in Mitts' ward for $9.6 million.
"We have a right to have public safety as a priority!" Mitts said. "Mr. Mayor, we have an opportunity to get something right! I ask you to respect the wishes of not only myself but all the elected officials on the West Side."
Ald. Jason Ervin (28th) said the facility is much-needed, and will be embraced by the people who live on the West Side – who voted to re-elect Mitts and others who support the academy. Neighboring West Side aldermen Walter Burnett Jr. (27th) and Michael Scott Jr. (24th) both spoke in support.
"It is interesting that people who don't live on the West Side want to tell us how to live," Ervin said. "I will not stand by and allow that."
Members of the coalition said the 1,500 police and firefighters that are expected to work and train at the facility every day won't make the area safer, even as Mitts and Emanuel contend their presence will boost economic growth and reduce crime.
Construction of the facility on land that has been vacant for 30 years will create 300 construction jobs. Half of those jobs must be filled by Chicagoans, the city says. Fifteen percent of those workers must be from the immediate area, which is double the usual requirement, and 40 percent of workers must be Black or Latino, according to city officials.
Twenty-eight percent of the work called for by the contract must be performed by firms owned by Blacks and Latinos; the usual city requirement is 26 percent. Eight percent of the work must be performed by firms owned by women, according to city officials.
The training facility will include two buildings — one for classrooms, labs, simulators, conference rooms, an auditorium and offices, and the other for a shooting range and space for "active scenario training and a dive training pool" for teams to practice rescues from submerged vehicles in daylight or dark.
The campus will also include a driving course, skid pad and and a place for "hands-on practice in real-world situations."
Plans call for the training facility to include a Culver's and a Peach's restaurant, as well as community rooms and computer labs open to members of the public.
Emanuel has said a state-of-the-art facility is needed to address serious concerns outlined by the U.S. Justice Department in its 2016 investigation of the Chicago Police Department that found officers graduate from the five-month academy were "unprepared to police lawfully and effectively."
The facility would replace the police training academy at 1300 W. Jackson Blvd., built in 1976; the fire prevention training facility at 1010 S. Clinton St., built in 1950; and the Fire Academy South at 1338 S. Clinton St., built in 1965, officials said.
Department of Fleet and Facility Management Commissioner David Reynolds said construction is expected to finish in 2021.