ROGERS PARK — Two challengers with backgrounds in neighborhood business development are hoping to oust Ald. Maria Hadden (49th) as she seeks a second term as Rogers Park's alderperson.
Business owner and former Rogers Park Business Alliance board president Belia Rodriguez is mounting her first bid for public office. Bill Morton is also running for the seat, marking his third political campaign.
Hadden took office in 2019, defeating Ald. Joe Moore and ending his 28 years in office.
A fourth candidate, Willie Davis, was tossed off the ballot after election officials found he did not submit enough valid signatures to qualify.
The election is Feb. 28. If no candidate receives over 50 percent of the vote, the top two will head to an April 4 runoff.
Here is more information about each candidate, who are listed alphabetically:
Maria Hadden
Hadden was among a wave of successful progressive challengers to long-seated alderpersons in 2019. She is the only North Side lakefront incumbent elected in 2019 that's running for reelection in a campaign season dominated by aldermanic retirements.
Hadden's first term was marked by a pandemic, civil unrest, a tornado, heat wave deaths at a retirement home and surging homelessness brought on in part by the pandemic. Despite those challenges, Hadden characterized her first term as "productive and successful."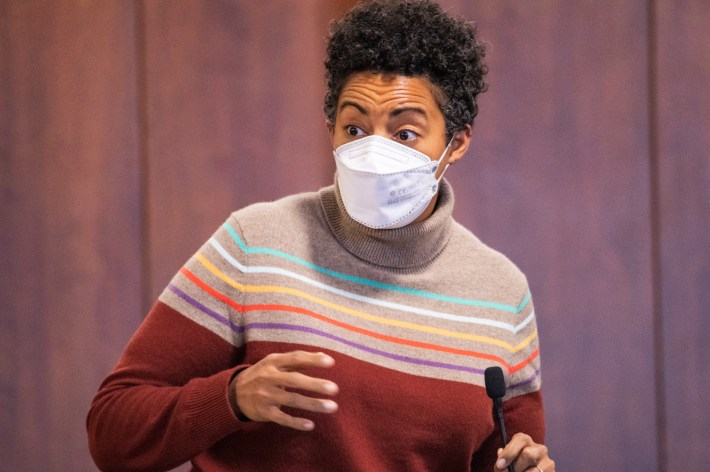 "I'm hoping the second term won't include a global pandemic and that we might be able to make even more progress," she said.
Hadden counted among her first-term accomplishments the passage of multiple ordinances meant to protect seniors and residents of institutional buildings.
That includes a pandemic-era ordinance that requires buildings to conduct wellness checks on seniors and strengthens COVID-19 protections in senior buildings.
There was also an ordinance overhauling Chicago's minimum heating and cooling laws following the deaths of three seniors in a Rogers Park complex during a heat wave. Hadden also helped get the Chicago Park District to install life rings along the lakefront following a Rogers Park drowning.
Some of Hadden's term has been dominated by the issue of homelessness, particularly at the encampment at Touhy Park.
The tent city has existed for around two years, coinciding with a homelessness crisis throughout the city exacerbated by the pandemic. In response to the camp's presence, the Chicago Park District closed Touhy Park's field house in September.
Hadden has worked with city agencies to pair residents of the camp with housing, and 85 people living in the park have been paired with apartments so far. Despite those efforts, the camp has persisted, its numbers ebbing and flowing.
A stand-off on the situation has ensued, with both police and the Park District deciding not to enforce laws around park curfews, a temporary policy installed during the pandemic, sources have said. At the same time, Hadden has sought a housing-first policy as a way to return the park to normal services.
Hadden said she wants the Park District to determine a timeline by which it will enforce its curfew, and that she wants to see Touhy Park opened with full programming by the spring.
But with the city experiencing a dual crisis of more people experiencing homelessness and an influx of migrants bused in from Texas, Hadden said the city's housing and shelter network is at its max.
Hadden approved a nonprofit's homeless shelter proposal to open a permanent men's shelter on Clark Street. The move prompted heated community debate, including from many opposed to the project. But the city needs to do more to fund housing as a part of the solution to the homelessness crisis, with the Rogers Park project being a step in the right direction, Hadden said.
Hadden's challengers have made criticizing her response to the crisis a main campaign theme. To that, Hadden said the candidates offer similar platforms to hers, including a housing-first approach.
"It's just easier said than done to get somebody to give you a deadline and a time frame," Hadden said. "It's also [us] trying to do it compassionately."
Crime has also been a common thread over the last few years and of the current campaign.
Certain crimes, like car thefts, have increased by 109 percent since 2019 in the police district that covers Rogers Park and West Ridge, according to police statistics. Robberies are up 26 percent and aggravated burglaries up 39 percent since 2019 while burglaries have fallen by 29 percent.
Hadden said she is in favor of restoring the Rogers Park police district to its staffing levels of the past, as the district has dealt with a reduction of about 30 percent of its resources, she said. Hadden also supports funding violence-prevention and youth programming as a means of restoring community fabric post-COVID and improving community safety, she said.
"I don't think it's a coincidence that we saw a decrease in people's feeling of safety at the same time that we saw an increase in people's isolation and inability to gather," Hadden said. "That's another thing I'm actually … really looking forward to, helping to knit back together a bit. That wasn't anybody's fault, but COVID really made it fall apart."
Hadden said she would use a second term to further affordable housing in the neighborhood, including a 110-unit affordable proposal for Howard Street, and restoring the city's department of environment.
Hadden's campaign had nearly $41,000 cash-on-hand at the quarter ending Dec. 31, records show. That's after spending $57,000 on the campaign in the last quarter of 2022.
For more on Hadden's campaign, click here.
Bill Morton
A longtime Rogers Park local and fixture of the neighborhood business community, Morton is making his second run for Rogers Park alderperson and third run for public office.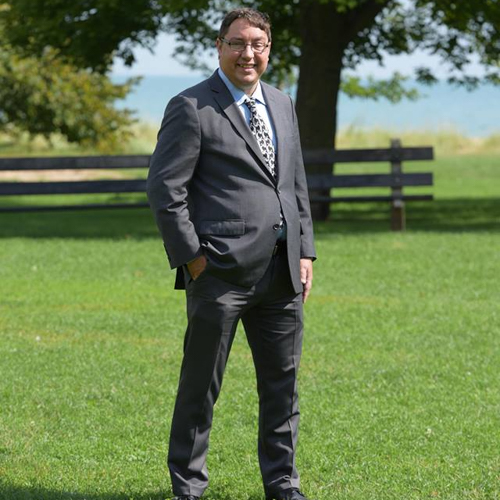 This time, he has the most prominent campaign headquarters in the race, the backing of a wealthy mayoral candidate and the bully pulpit afforded to him as founder of the Rogers Park Chamber of Commerce.
Morton, a 20-year resident of Rogers Park, ran in 2019 against Moore. But Moore's and Hadden's campaigns both successfully challenged Morton's petitions, throwing him off the ballot. He ran as a write-in.
Morton also ran for Democratic committeeman in 2020 but lost to state Rep. Kelly Cassidy. He said those campaigns were successful in getting more people involved in local elections, even if he didn't end up winning. They also proved good experience for this year's race, Morton said.
"I want to see more [people] involved in the democratic process," Morton said. "We learned so very much, and we're ready to move forward with an incredible campaign."
Morton co-founded and is president of the Rogers Park Chamber of Commerce. The group seeks to boost small business in the neighborhood.
Its mission and focus overlap with the Rogers Park Business Alliance, the development corporation that works with the city, gets tax funding to support outdoor dining and community spaces in the area, conducts corridor studies of local business districts and organizes community events.
Morton founded the alternative chamber of commerce after being disappointed by what he saw as the business alliance's lack of advocacy for local shops, he said.
The chamber is a 501(c)6 nonprofit, meaning it can weigh in on local politics. (The business alliance is a 501(c)3, which precludes some political activity.) Morton uses his chamber to advance his campaign through social media promotion and events coordinated between the chamber and campaign.
Morton's campaign headquarters is at the former Leona's restaurant at 6935 N. Sheridan Road. The building also functions as the chamber's offices, and the facility has hosted multiple job fairs produced by the chamber.
The campaign has come under fire from the city for hosting events with live entertainment and BYOB service, with the city issuing a cease-and-desist against the facility for hosting such events. Morton said the campaign offices can host events again, as long as it is explicit they are fundraisers for his election effort.
Morton also defended using his chamber group to boost his campaign, saying there is "no conflict of interest" if the chamber endorses him.
"The chamber and campaign are running along the same path," he said.
Morton said he chose his campaign offices specifically to draw a contrast to Hadden and to highlight his pro-business campaign, he said.
The former Leona's restaurant was proposed as the new location for Rogers Park's Zen Leaf dispensary, which is tucked away on Rogers Avenue. Hadden turned down the dispensary's relocation request, which would have required a rezoning. Leona's closed in 2019.
"I feel that was a blown opportunity," Morton said. "I would have said yes. We have enough empty storefronts."
Morton's priorities as alderperson would be public safety, public health, housing and jobs.
His campaign has been endorsed by mayoral candidate Willie Wilson, who has contributed at least $5,000 to Morton's campaign. Morton's campaign had $346 cash-on-hand as of Dec. 31, records show.
"I'm not afraid to have an unorthodox campaign," Morton said. "We have deep roots in the community. We're going to surprise you and we're going for the win."
For more on Morton's campaign, click here.
Belia Rodriguez
After growing up in Little Village, Rodriguez has lived in Rogers Park for 11 years. That's where she grew her information technologies business and began volunteering for the Rogers Park Business Alliance, the local business development nonprofit.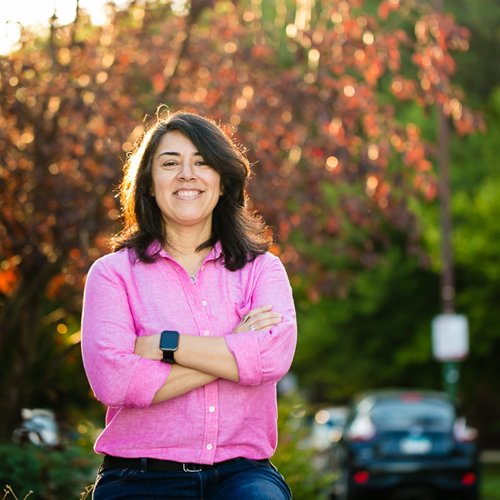 Rodriguez was serving her second term as board president of the Rogers Park Business Alliance when she resigned to run for Rogers Park alderperson. She made the decision after noticing what she saw as stymied community development, and after few other candidates arose to challenge Hadden, she said.
"It seems we've regressed from the progress that we had made," Rodriguez said. "I was waiting for someone that could be a good competitor, put some choices on the ballot. I decided I'd step up when I didn't see a whole lot of choices for me on the ballot."
Rodriguez said she shares many of the same concerns as the local small business community, including public safety and the issue of homelessness, she said.
On public safety, Rodriguez favors providing additional police resources at the district level while also making more investments in violence prevention programs. She also said she would have a better relationship with police than Hadden and would seek to further help residents and businesses who were victims of crime.
Rodriguez has also sought to draw a contrast with Hadden about the Touhy Park tent encampment.
Rodriguez said she would "first of all find housing" for the remaining residents in the park and would like the city to explore new ideas on that front, including building tiny houses. She said she would establish a task force to tackle the problem and would set a timeline to reopen the park as a way to spark action.
"That park should be open to the community," Rodriguez said. "I'm going to put a lot of energy toward putting a lot of people at a table — and we don't stop meeting until we have answers and plans and timelines."
Rodriguez said she would be more pro-business than the incumbent and would be amenable to housing development proposals, criticizing Hadden's decision to deny certain residential development upzoning requests.
"In terms of what's affordable, we haven't built anything in four years," she said. "Every year that we don't build and add density into the community means that things are going to go up on the other end, and the only way that we can mitigate that at all is to allow supply."
Rodriguez's campaign has been hit with a complaint regarding its ties to a newly launched political action committee called People For Rogers Park.
The complaint, filed by an attorney supporting Hadden, accuses Rodriguez of failing to report a poll conducted by the political action committee as an in-kind contribution to her campaign. The poll was meant to gauge the viability of Rodriguez's candidacy, the complaint alleges.
The complaint also accuses Rodriguez of soliciting donations to the political action committee instead of to her campaign committee.
A hearing officer of the state board of elections tossed one of the complaints, while finding sufficient information on the in-kind contribution complaints to move to a hearing. A case management conference in the matter is scheduled for Feb. 6, and a hearing could be scheduled at that time if the two parties don't come to a settlement agreement, a spokesperson for the state election board said.
Rodriguez said donations were directed to the political action committee in case she ended up not running, so the funds could still be used in the race. She chalked up the complaints to machine politics on Hadden's behalf and said she would abide by any ruling in the process if it means the campaign can focus on issues impacting the community.
"If I've done things wrong because I didn't know and I wasn't given better legal advice, then I'm willing to accept the mea culpas," Rodriguez said. "I am 100 percent focused on the issues."
Rodriguez's campaign had over $6,100 cash-in-hand in the latest quarterly filing period that ended Dec. 31, records show.
For more on Rodriguez's campaign, click here.
Subscribe to Block Club Chicago, an independent, 501(c)(3), journalist-run newsroom. Every dime we make funds reporting from Chicago's neighborhoods.
Click here to support Block Club with a tax-deductible donation. 
Thanks for subscribing to Block Club Chicago, an independent, 501(c)(3), journalist-run newsroom. Every dime we make funds reporting from Chicago's neighborhoods. Click here to support Block Club with a tax-deductible donation.
Listen to "The Ballot: A Block Club Chicago Podcast":