CHICAGO — The City Council is poised for a major shakeup in 2023 thanks to a wave of retirements and challenges to Mayor Lori Lightfoot.
All 50 aldermanic positions are up for grabs in the Feb. 28 election, but several are highly like to see a change in leadership as a long list of council members quit, retire or set their sights on the Mayor's Office.
Candidates for mayor, alderperson, city clerk and city treasurer can start collecting signatures Tuesday. Nominating petitions are due Nov. 28.
Alderpeople can collect signatures for a City Council seat and mayor simultaneously, but they can only appear on the ballot for one of those positions, according to election law. If a sitting council member wants to roll the dice and join the mayoral ballot, they must give up their City Council seat, which could pay as much as $142,772 next year.
RELATED: How Much Does My Alderman Make? Here's A Complete List
No sitting member of the City Council has ever been elected mayor.
Here's more on which wards will or could get new City Council representatives. This list will be updated as the race unfolds.
The ward map also has been redrawn for 2023. See which ward you live in here.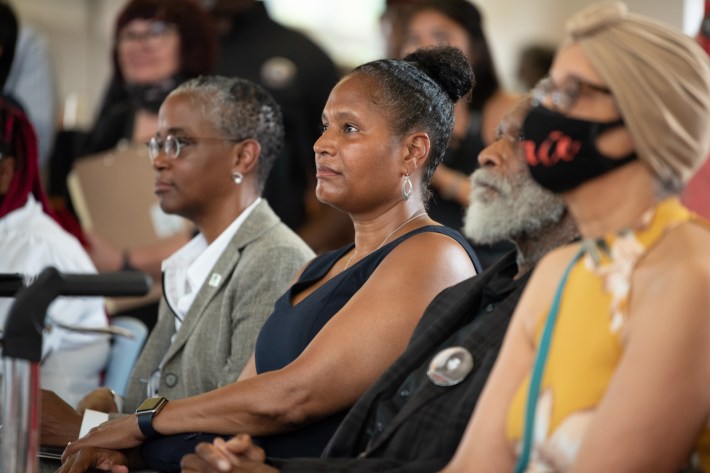 4th Ward: Kenwood, Oakland, Parts Of Bronzeville
Ald. Sophia King jumped into the mayoral race in August, opting to vie for the job after two terms in City Council.
King took office in 2016 when she was tapped by Mayor Rahm Emanuel to fill the seat left empty by William Burns' abrupt exit from City Hall. King won her first council election in 2017 during a special election, defeating Ebony Lucas and Gregory Livingston. King won reelection in 2019, defeating Lucas again.
"Violence is not an abstract problem to me," King said in a campaign video. "I have seen the pain it causes way too many times. There's no question about it: We have to hold the people who commit violent crimes accountable, and we have to hold our leaders accountable, too."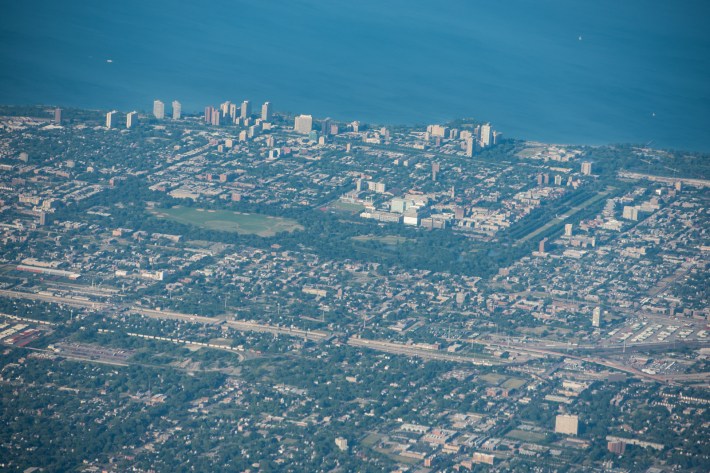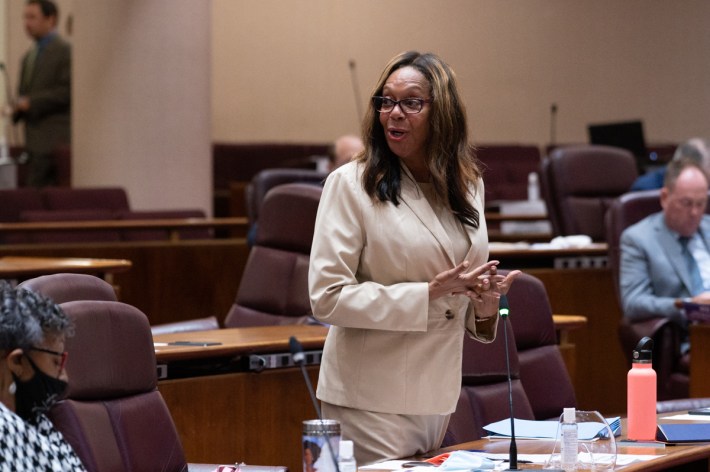 5th Ward: Hyde Park, Parts Of Woodlawn, South Shore And Jackson Park Highlands
Ald. Leslie Hairston will not seek a seventh term in next year's election. She was first elected in 1999 after beating out former Ald. Barbara Holt. 
"For more than 30 years, I have held jobs serving the public, and it is time for me to look at the next chapter of my life," Hairston said in a statement. "While I haven't made any decisions yet, rest assured it will be active, engaged and committed to making my community better. It just will not be as alderperson.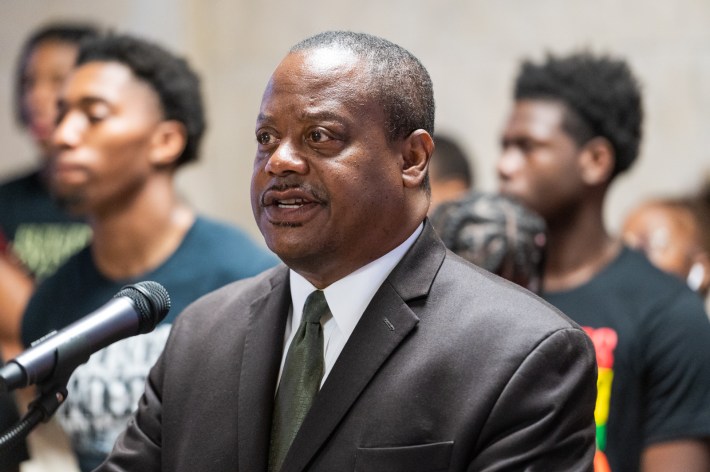 6th Ward: Parts Of Englewood, Chatham, Great Grand Crossing
Ald. Roderick Sawyer aims to follow his father's footsteps in running for mayor. Eugene Sawyer served as mayor after Harold Washington's sudden death in 1987.
Sawyer has represented parts of Chatham, Englewood and West Englewood since 2011.
"I'm talking to people all the time, and the city is lacking in terms of what people want to see in leadership," Sawyer said. "I think that I can help. I have a different style, a different approach, than the current mayor."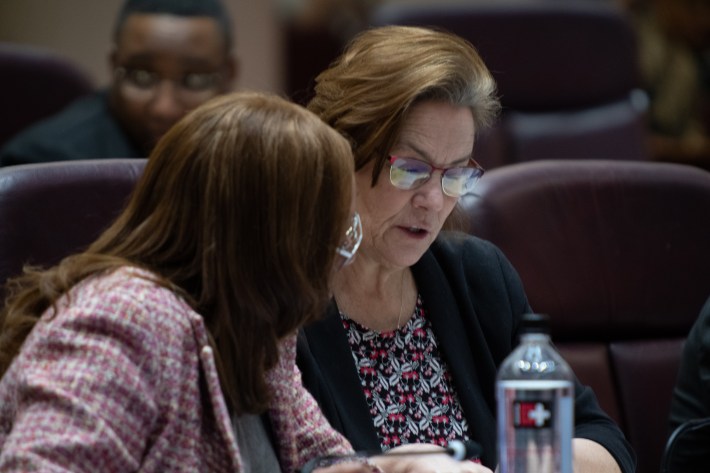 10th Ward: East Side, South Chicago, Hegewisch, South Deering
Ald. Susan Sadlowski Garza announced Sept. 5 she would not seek a third term representing the Southeast Side.
Sadlowski Garza, a native Southeast Sider and daughter of prominent union activist Ed Sadlowski,, became the first Chicago Teachers Union member elected to City Council after she beat four-term incumbent John Pope by just 20 votes in 2015.
"I will always hold this experience and the 10th Ward in my heart but it is time for me to move onto the next chapter of my life," she said in a statement.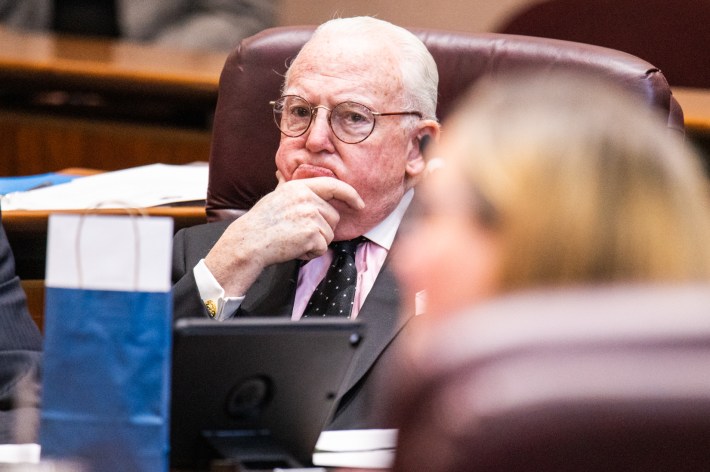 14th Ward: Gage Park, Archer Heights, Brighton Park
Ald. Ed Burke (14th), the longest-serving City Council member, bowed out of the election conversation in November as he faces a federal trial on racketeering, bribery and extortion charges.
Burke, 78, first took the seat in a 1969 special election and was reelected thirteen times between 1971 and 2019. He was unopposed in most of those bids.
He became a City Council powerhouse and evolved into its elder statesman.
He was indicted by a federal grand jury in 2019, accused of using his influence as an alderman to try to force businesses working with the city to hire his private law firm.
Burke famously ran for reelection in 2019 even while facing the federal federal corruption charges — and he won.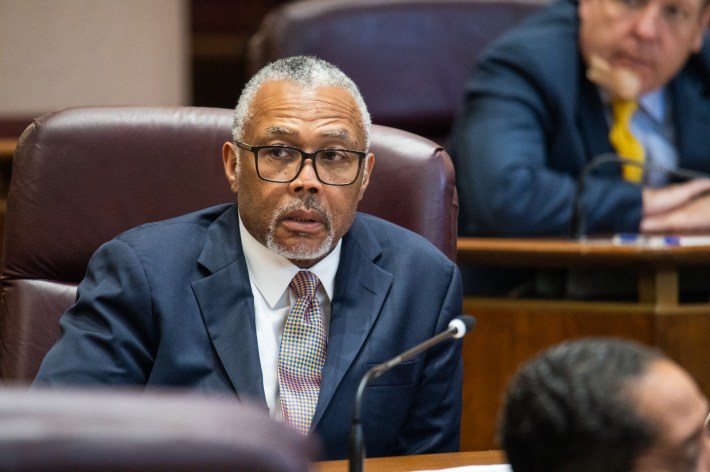 21st Ward: Auburn Gresham And Washington Heights
Ald. Howard Brookins Jr. (21st) will retire after almost 20 years serving parts of Auburn Gresham and Washington Heights.
The 21st Ward alderman will finish out his term, but he does not plan to run for reelection in February, according to a news release. He was first elected in 2003.
Brookins announced his retirement less than a month after Ayana Clark, a staffer to Rep. Bobby Rush, said she would challenge Brookins for his council seat. At the time, Brookins said he would run for reelection.
Notably, Brookins ran for one of 10 countywide seats on the Cook County Circuit Court in the June primary election, a bid he ultimately lost.
30th Ward: Parts of Belmont Cragin, Old Irving Park, Portage Park
Ald. Ariel Reboyras (30th) announced Sept. 13 he would not seek reelection after nearly 20 years in City Council.
He was elected alderperson in 2003 after working as a city truck driver, and in the departments of Streets and Sanitation, Water Management and General Services.
In all, he's spent 44 years in city government.
34th Ward: Loop And West Loop
One of the biggest council changes not only means a new alderperson but a completely relocated ward.
The 34th Ward, which long had been on the Far South Side, has been shifted Downtown to include parts of the Loop and West Loop.
Ald. Carrie Austin opted to retire instead of seek reelection in a new ward.
Austin, the second-longest-serving alderperson, was appointed to her seat in 1994, replacing her husband after his death. She has had health scares in recent years and is under indictment, as she and her chief of staff, Chester Wilson Jr., have been accused of taking bribes from a real estate developer.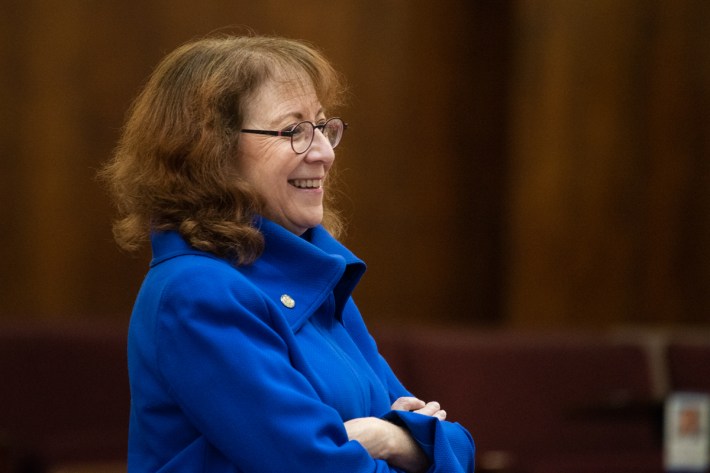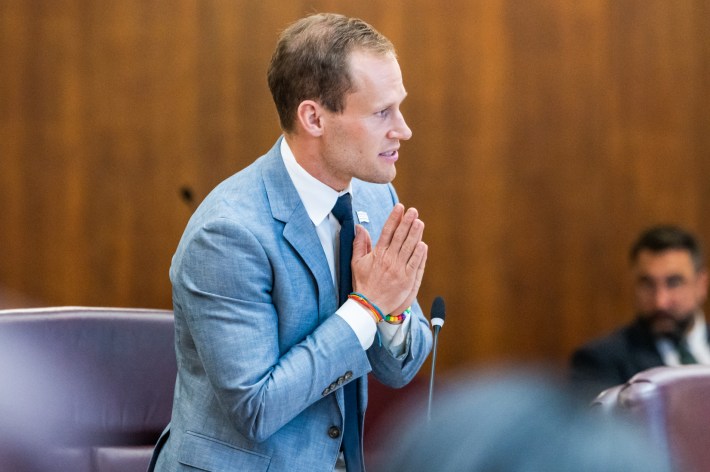 43rd Ward: Lincoln Park, Parts Of Old Town
Ald. Michele Smith stepped down Aug. 12, telling constituents she had "deepening responsibilities towards family and friends." She had been the 43rd Ward alderperson for 11 years.
"I love this community and want to thank you for the support you have shown me throughout the last eleven years," Smith wrote. "Your great ideas, feedback, constructive criticism, participation, and warm greetings encouraged me in every decision I made.
Mayoral ally Timmy Knudsen, former chair of the Zoning Board of Appeals, was appointed from a field of 17 candidates to replace Smith in October. He's already announced his campaign to run to keep the seat after that.
At 32, Knudsen is now the council's youngest alderman. He's also the first openly gay representative of the 43rd Ward, he said.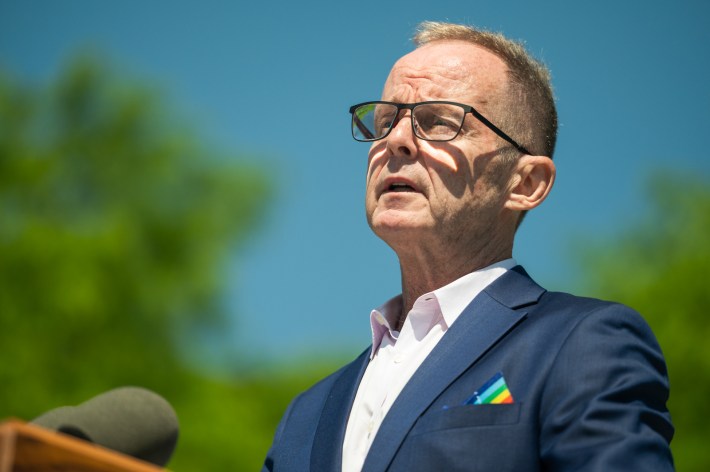 44th Ward: Lakeview
Longtime Ald. Tom Tunney announced in late August he's retiring after 19 years serving Lakeview.
The 44th Ward alderman will retire at the end of his term in May 2023, according to a news release. He was elected in 2003 as Chicago's first openly gay alderperson and has become a significant figure in the city, being elected to vice mayor in 2019.
Tunney's been floated as a potential candidate to challenge Mayor Lori Lightfoot in the 2023 election.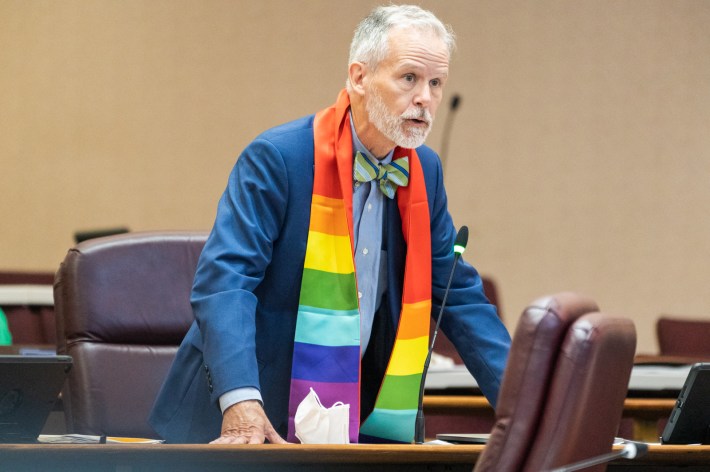 46th Ward: Uptown
Ald. James Cappleman announced in July he's calling it a career after three terms.
Cappleman, 69, a former hospice social worker, said he and husband, Richard, have no plans to leave the neighborhood after his term ends in May. He was first elected in 2011.
"Being the 46th Ward alderman has been an incredible experience for me, and it's something I will always treasure," he said. "I ran for alderman to interrupt the trajectory of the ward because our community demanded more. From my work with many of you, we surpassed many people's dreams for this ward's improvement."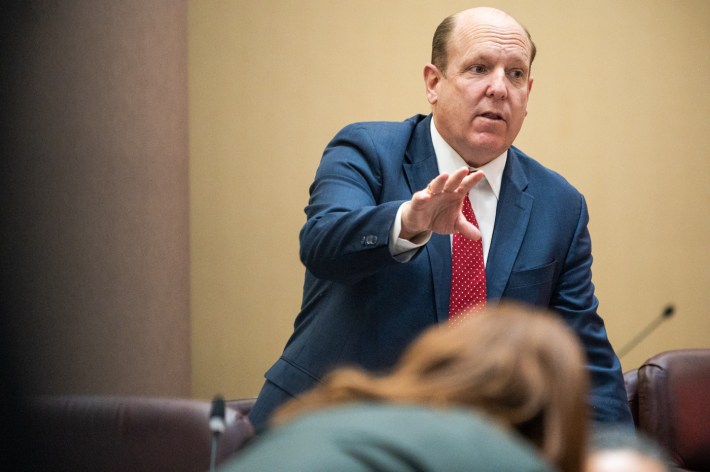 48th Ward: Edgewater, Parts Of Uptown And Andersonville
Ald. Harry Osterman announced in July he will not seek a fourth term as Uptown and Edgewater's alderman.
Osterman won election to the City Council in 2011 after serving in the state House of Representatives since 2000. He easily won two reelection campaigns for alderman.
"As someone who deeply loves this community, this was not an easy decision," Osterman said in an email to constituents. "I make this announcement with confidence of the path we are on as a community."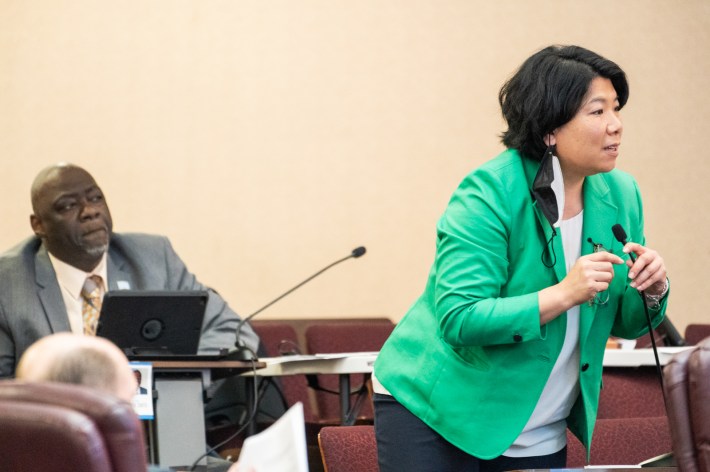 Other City Council Shakeups
The chaotic year for City Council started in March, when former Ald. Patrick Daley Thompson (11th) was forced to step down after his conviction for income tax fraud.
Lightfoot appointed Ald. Nicole Lee to the seat, making Lee the city's first Chinese-American alderperson and only the second Asian American to serve in City Council.
Lee launched her election bid in late August to keep the seat representing Bridgeport and Chinatown.
Then former Ald. Michael Scott (24th), a key Lightfoot ally, abruptly resigned in June and took a job with Cinespace. He'd been in office seven years, representing North Lawndale and parts of West Garfield Park and South Austin on the city's West Side.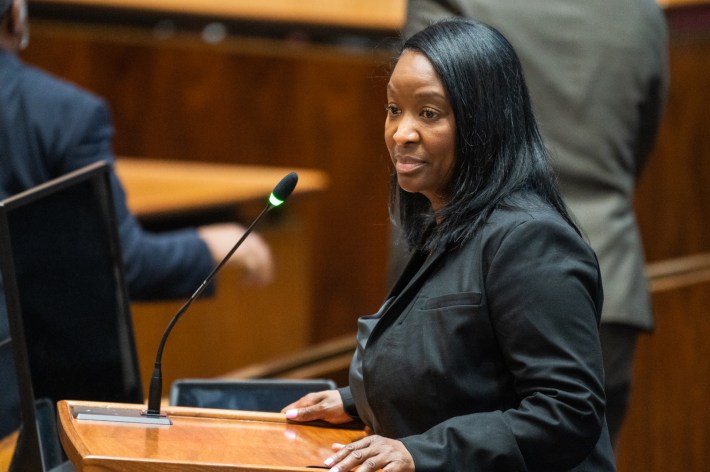 Continuing the Scott family's deep history in Chicago politics, Lightfoot appointed Monique Scott to her brother's West Side council seat. Monique Scott was chosen from a list of 19 hopefuls for the job.
Both are the children of the late Michael Scott Sr., a powerful ally of Mayor Richard M. Daley who served as president of the Chicago Board of Education and the Chicago Park District. He died in 2009.
Lightfoot later appointed Michael Scott to the Chicago Board of Education, the panel his father once ran.
Ald. George Cardenas, who has served as 12th Ward alderman since 2003, won his primary bid for a Cook County Board of Review seat and stepped down from City Council late last year. His former chief of staff, Anabel Abarca, was appointed to his seat in December. She faces one challenger in February's election.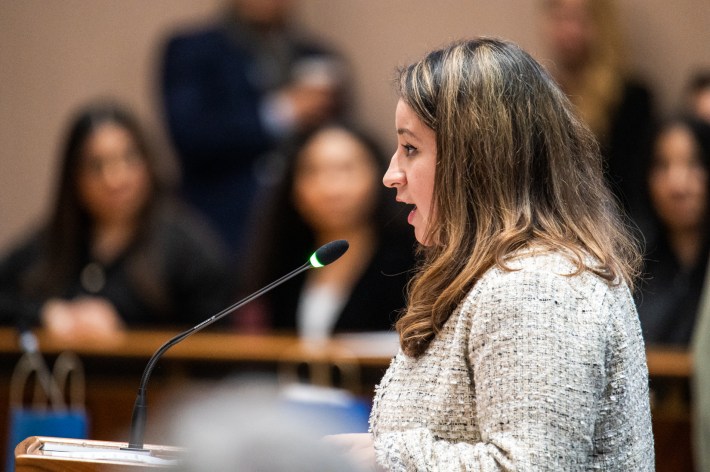 Watch our "On The Block" TV show on The U, CW26 and MeTV.
Listen to "It's All Good: A Block Club Chicago Podcast":