ENGLEWOOD — Englewood neighborhood leaders are blasting officials for replacing their closed Whole Foods Market with a Save A Lot, accusing the city of pursuing a backroom deal over the community's objections.
Officials confirmed Thursday the store, which closed in November, would be revived as a Save A Lot. A Save A Lot sign was posted on the building last week.
Developers and city leaders said they approached several major grocers about taking over the store, 832 W. 63rd St. Save A Lot was the only option, they said.
Yellow Banana, which owns and operates stores under the Save A Lot name, signed a lease for the vacant building in December.
At the time, co-owner Michael Nance wouldn't confirm which grocer his company would tap to put "the food on the shelves" at the store. But Nance and developer Leon Walker, whose company DL3 Realty is landlord of the store, confirmed it will be a Save A Lot during a Thursday meeting with South Side community leaders. 
At an unrelated news conference Friday, Mayor Lori Lightfoot said her team worked "tirelessly" to find another grocery store to replace Whole Foods. Despite having conversations with "all of the grocery chains in the city," there were "no takers," Lightfoot said.
That's when conversations with Yellow Banana as a viable replacement began, Lightfoot said. Yellow Banana has "shown real promise" in its work transforming Save A Lot stores across the Midwest "into valuable community assets," she said. 
"As I know now, you go into the community and you offer services, you're always going to have some concerns, some doubt — particularly communities like Englewood, who have had a lot of promises over the years, but haven't had a lot of people deliver," Lightfoot said. "But I said to community leaders there, including the alderman, we've got to solve the problem of the need for affordable food options in that community. And I think that this Yellow Banana-led Save A Lot is going to do that."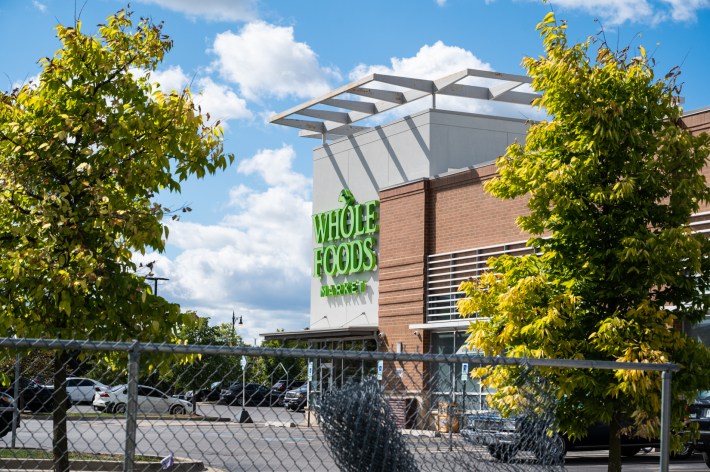 Outraged neighborhood leaders at Thursday's meeting pressed Nance and Walker for an explanation for why residents weren't looped into conversations about the future of the building and why they pursued a deal neighbors repeatedly said they did not want.
"Do you have a plan on how you're going to tell the community this? Because they're ready to boycott it. They don't want a Save A Lot," said Asiaha Butler, director of the Residents Association of Greater Englewood. "The community protects the store. We know how Englewood gets, and they don't want a Save A Lot."
'It Seems Like This Was Preplanned'
Whole Foods announced its closing plan for the store in September, and developers pledged they would soon have answers for neighbors about what was next for the space, saying they had three good options for a replacement.
Neighbors and community officials held a town hall in October to hear updates from the development team and demand the next grocer provide affordable, healthy options while remaining accountable to the community. 
Ryan Green, chief investment officer at DL3 Realty, said at the time Whole Foods Market was "leading the discussion" on who would replace the store. DL3 Realty is the landlord of the building, but Whole Foods Market has a lease for the next seven years. Whole Foods has the "right to fill the space with a subtenant" of its choice, Green said. 
Ald. Stephanie Coleman (16th), whose ward includes the store, pressed Nance on Thursday as to why a representative from Yellow Banana did not attend the October town hall. Nance said company leaders "were under the impression that we would not be taking over the sublease" when the town hall occurred.
"The reality is that we had numerous conversations with Whole Foods," Nance said. "It was up to them to make a decision about who they wanted in that store. We went to the wayside for a very long period of time, and my sense is that when they weren't able to get someone else to assume that sublease, we were back on the table. Every indication was that they told us to kick rocks. That got us off to a not-ideal start." 
Whole Foods officials took "months and months" to canvas the market, Walker said. 
Representatives for Whole Foods did not respond to requests for comment.
When Englewood Square was developed, "the anchor store was planned to be a Save A Lot store," Walker said. But when Whole Foods came in, it signed an agreement stating it'd "have to commit to [finding] a grocery operator" if it left, Walker said. Save A Lot was one of the stores listed as a replacement, Walker said. 
"There was no commitment to Save A Lot, but it was that they'd have to at least investigate Save A Lot, as well as any other grocery store," Walker said. 
The Englewood storefront is a "smaller-format box," so Whole Foods couldn't seek a "big-format grocer" like Jewel Osco or Mariano's as a replacement, Walker said. Instead, officials searched for smaller, independent stores, like Cermak Fresh Market, Pete's Fresh Market "and even some out-of-town ones," Walker said. 
Ultimately, the best deal was with Yellow Banana, Walker said. 
"Everyone can point to a couple of negatives, but I try to focus on the positives," Walker said. "Community development is not easy. There are a lot of economic forces and issues that make it challenging, and I'm just willing to give these brothers a chance to try to make a go of it. We're just trying to be as supportive as possible."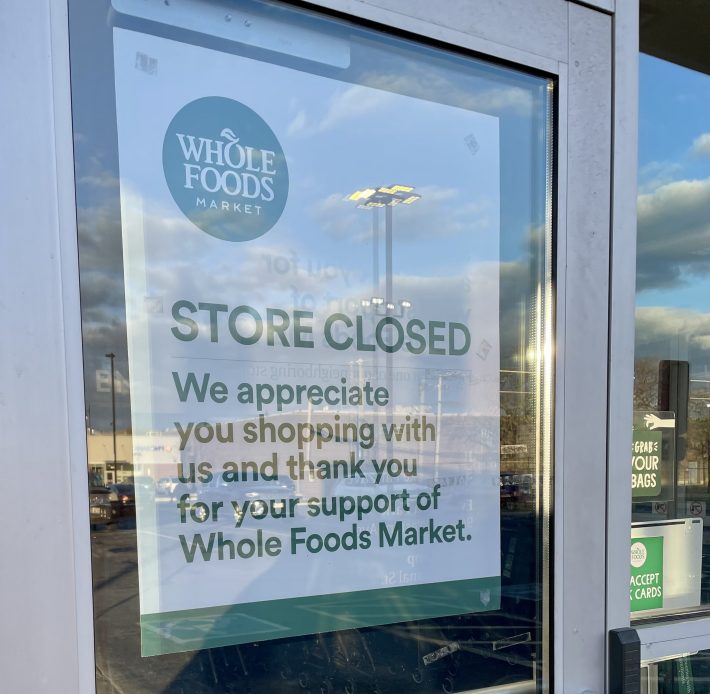 Some locals have long opposed a Save A Lot store in Englewood, citing poor quality food and untidy stores on the South and West sides. Other nearby grocery stores include a newly remodeled Aldi at 63rd and Wallace and the Go Green Community Fresh Market, a community-led store launched by the Go Green on Racine team in March to bring fresh, local food to Englewood.
Nonprofit Teamwork Englewood surveyed 300 neighbors for their thoughts on the former Whole Foods and what neighbors wanted to replace the storefront. A majority said they would like an Aldi, Walmart or Mariano's to set up shop.
Butler told WBEZ's Sasha-Ann Simons in November many neighbors are "apprehensive" of the Save A Lot brand due to experiences they had at other Save A Lot stores.
"Everybody knows brands," Butler said. "I would hope it's nothing like the Save A Lots that have been in our Black communities over these last few decades. You don't hear about these stores in Lincoln Park. You don't hear about these stores being located in other well-to-do places.
"So it's just interesting that this is the model for a lot of Black and Brown communities but not necessarily the model with some of our most affluent neighborhoods."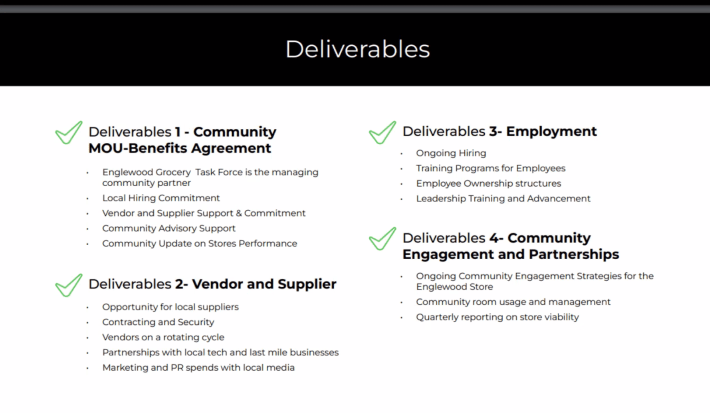 Cecile DeMello, executive director at Teamwork Englewood, shared a list of demands for Yellow Banana if the store wants their support.
The company must sign a community benefits agreement pledging to hire directly from the community, create an advisory support group and share updates on the store's performance. 
Yellow Banana must also change the store's name from Save A Lot, DeMello said. Neighbors demanded a meeting with the chief executive officer at Save A Lot to guarantee he fulfills the promise. 
The company is hiring a person to help with community engagement in the community, Nance said. They are still searching for the funds to "help pay the person," Nance said.
Yellow Banana "isn't the old Save A Lot" leadership, Nance said. The company wants to "do right by the community," he said. 
"We want this store to be a success," Nance said. "We want it to be a hallmark for this community. High-quality food at affordable prices, bringing in Black entrepreneurs from the community to run a store in their community."
Neighbors like Butler said it's not enough. There is still a lack of transparency from the company, developers and city officials, Butler said.
"I'm not telling my members of RAGE to accept Save A Lot, or lie and change the name like it's not Save A Lot," Butler said. 
"Whole Foods spent three years learning this community before opening. This was rushed. I cannot vouch for this. This is very disappointing.  Nobody would be in that store if it was up to us. I don't care about no benefit agreement. What can Save A Lot do for the community? Look at what they've done."
Jonathan McKenzie, senior pastor at Hopewell Missionary Baptist Church in Englewood, said the community is hurt. 
"We are here, but we're here with mistrust," McKenzie said. "We're here with a lack of faith in what you're trying to do because you ignored the community, and that hurts. When we conduct a survey, we share with you that information, we're transparent, but you're not transparent. You want us to trust you when you have ignored us.
"… It's hard to trust that things are going to be different when people speak and others don't listen."
Listen to "It's All Good: A Block Club Chicago Podcast":