ROGERS PARK — The tornado sirens didn't alarm Jason Polevoi and his young family too much, since those are regularly tested and not an uncommon sound.
But after seeing how dark the Monday afternoon sky was, Polevoi, his wife and their 2-year-old rushed down the four floors of their Jarvis Avenue building and took shelter in the basement.
"All of a sudden it got really dark," Polevoi said. "The wind picked up. I have never heard wind like this."
Polevoi and many of his Jarvis Avenue neighbors were likely in the path of a tornado that was spotted over Rogers Park on Monday, a product of powerful storms that swept through the city.
The National Weather Service confirmed the tornado, with video of the weather event showing debris and rain funneling over the neighborhood. The tornado turned into a water spout as it hit Lake Michigan, according to the weather service.
The tornado saw estimated peak winds of 110 mph, according to the weather service. It formed at about 4 p.m. Monday and traveled about 3 miles, traveling roughly from Touhy Avenue near Lincoln Avenue and traveling eastbound to Lake Michigan.
RELATED: Tornado Confirmed In Rogers Park After Neighborhood Pummeled
The storm toppled dozens of large trees along Jarvis, crushing cars and leaving roads impassable well into Tuesday. Street lights and power lines were also downed along Jarvis, with numerous cars totaled and houses damaged from the falling debris.
"It's destruction like I've never seen before in my life," Polevoi said. "It's like an entirely different landscape."
Damage was spotted along Jarvis Avenue from about Western Avenue to the lakefront, said Ald. Maria Hadden (49th). Multiple trees were downed along a four-block stretch of Jarvis from Paulina Avenue to the lakefront. At least two city blocks were impassable due to fallen debris.
No major injuries have been reported from the storm, Hadden said.
"The path came straight east" along Jarvis, Hadden said. "I don't have an idea of the scale of the property damage yet."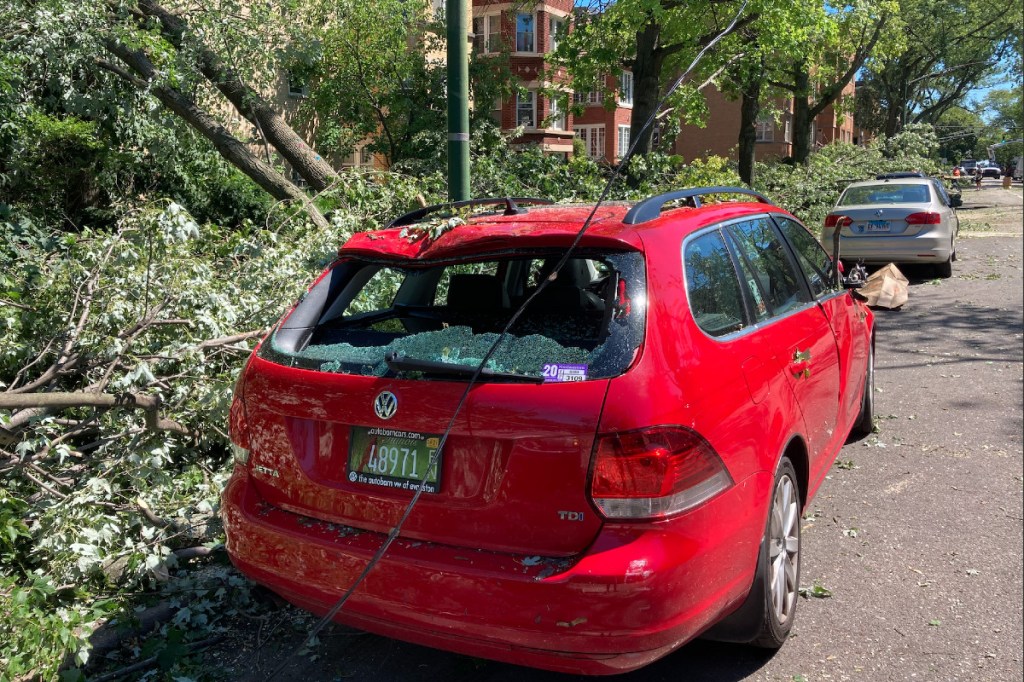 Polevoi came out of his building near Jarvis and Greenview avenues and saw multiple trees laying in the street, a few cars smashed under them, and some tree limbs resting on nearby houses.
Just clearing the sidewalk took neighbors about four hours Monday night.
"It's incredible, the amount of time it took," Polevoi said. "I knew we would need a lot of help."
Polevoi called Jahmal Cole of My Block, My Hood, My City, which regularly organizes cleanup efforts throughout the city. By Tuesday, the organization sent about 100 volunteers to help move trees off cars and clear streets.
Hundreds more neighbors were out and helping. Volunteers brought chainsaws to remove debris. Whole families were getting in the effort, with little kids picking up fallen sticks.
"Everyone really came together," Polevoi said.
State Rep. Kelly Cassidy lives on a stretch of Jarvis Avenue that was still closed to traffic late Tuesday morning.
A wooden fence door in Cassidy's yard blew off the hinges. On Tuesday, the door was being used as a makeshift table, where crews working to remove felled trees and restore power could rest and have coffee and snacks provided by Cassidy.
Cassidy said she was not surprised to see so many people involved in the cleanup effort Tuesday.
"This is what Rogers Park is all about," she said. "It was almost instantly I started getting messages asking 'What are you going to do? How can we help?'"
City crews and volunteers are working to make the Rogers Park streets passable by the end of Tuesday, Hadden said in an email to constituents. Complete removal of the trees and debris could take weeks, she said.
About 2,400 homes in Rogers Park remained without power as of Tuesday afternoon, Hadden said. In West Ridge, which was also in the tornado's path, 3,700 homes were without power Tuesday, Ald. Debra Silverstein (50th) said.
Mass power outages have impacted residents throughout the city. Some neighbors could be waiting until the weekend for power to be restored, according to reports.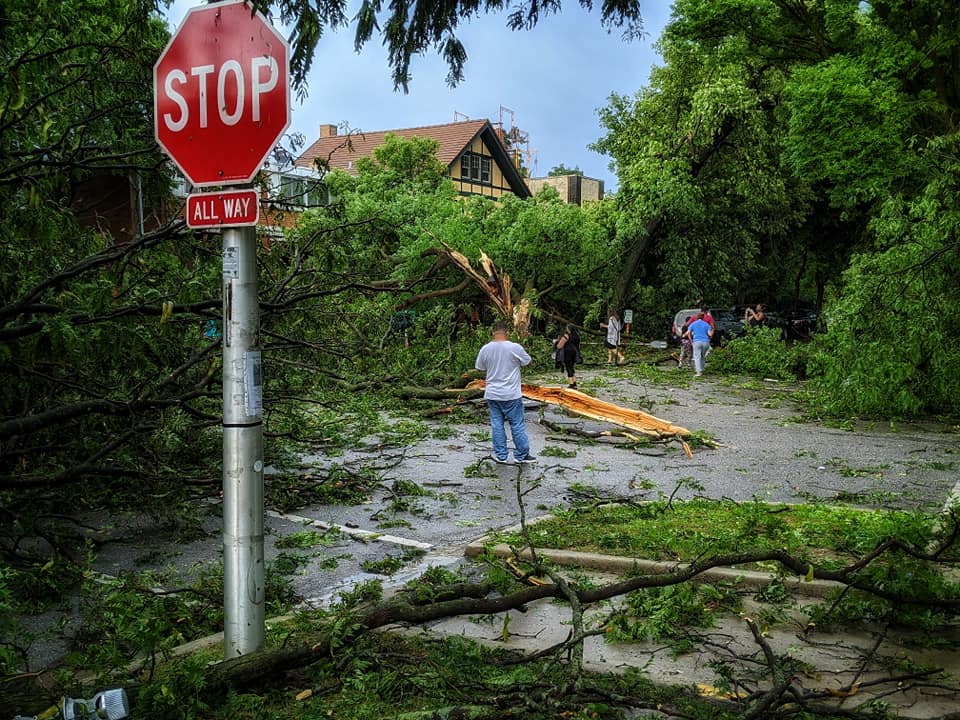 Subscribe to Block Club Chicago. Every dime we make funds reporting from Chicago's neighborhoods.
Already subscribe? Click here to support Block Club with a tax-deductible donation.