JEFFERSON PARK — Nine single-family townhomes are being built on a longtime vacant lot where developers once proposed 48 apartments.
MK Construction & Builders began foundation work on the site, 5300 W. Argyle St., earlier this month after Ald. Jim Gardiner (45th) downzoned the property in 2021.
In a letter to constituents, Gardiner announced the townhomes are coming to the area and should be completed by the end of the year.
"For over 20 years, this particular lot was a vacant eyesore to Jefferson Park residents and a dumping ground for construction material and trash," Gardiner wrote. "Witnessing positive developments on this property is not only aesthetically beneficial, but also has the potential to help increase property values in our area."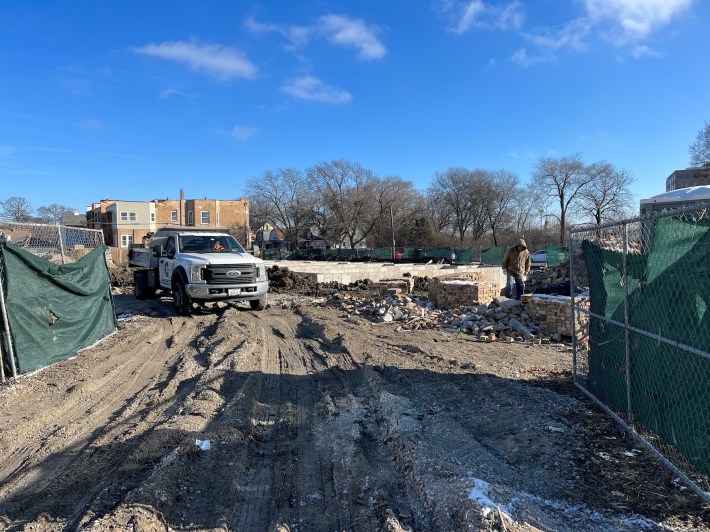 The homes will sell for about $800,000, but the exact price will depend on fall real estate market rates, said Jason O'Beirne, a Jameson Sotheby's International Realty real agent working with the development company.
The 3,200-square-foot homes will have four bedrooms with three and a half baths, O'Beirne said. There will also be front and backyards, O'Beirne said.
A spokesperson for MK Construction & Builders, which bought the property late last year, said the homes will look similar to what is already in the area.
The company has built single-family homes in Logan Square, North Park, Bucktown and Lincoln Park that feature open kitchens, modern appliances and large windows. The Jefferson Park homes will be in line with the company's other projects, officials said.
"Hopefully, the [homes] will bring more value to the neighborhood than it has now," the spokesperson said. "We're trying to make Chicago beautiful for future residents."
The lot, which sits behind the Jefferson Park Transit Center, was rezoned for denser developments in 2016 by former Ald. John Arena. A 48-unit apartment complex was previously approved under his watch.
The project by developer American Heritage, introduced in 2014, was a flashpoint in the 2015 aldermanic election and opened a fierce debate over whether Jefferson Park should remain suburban-like or allow denser developments near transit hubs and business districts.
Some neighbors welcomed more density that could help the neighborhood's business corridor, while others complained it could negatively impact traffic and parking.
In 2016, residents and members from the Jefferson Park Neighborhood Association protested outside of Arena's office, asking him to reject zoning changes that would allow for the 48-unit development and others in the area on the grounds that they would adversely affect parking, traffic and alter the character of the neighborhood.
The project was never built, and any new pitch for the site would need to go through City Council process again since Gardiner changed the zoning.
Single-family homes or two-flats are now allowed, but only if the block is predominantly already made up of two-flats.
Gardiner downzoned the land because of "very valid concerns" from neighbors about density in a "neighborhood filled with single-family homes and two-flats," he previously said.
Listen to "It's All Good: A Block Club Chicago Podcast":