CHICAGO —Classes were canceled for the fourth straight day Monday in Chicago, after Mayor Lori Lightfoot rejected a proposal by the Chicago Teachers Union to switch to remote learning for a week while students and staffers were tested for COVID-19.
Classes were canceled across the district Sunday night. Many principals already had told parents as early as Friday afternoon there would be no classes at their schools Monday because of a lack of staffing.
District and union officials continued negotiations through the weekend.
"Out of fairness and consideration for parents who need to prepare, classes will be canceled again Monday," CPS CEO Pedro Martinez and Lightfoot said in a statement. "Although we have been negotiating hard throughout the day, there has not been sufficient progress for us to predict a return to class tomorrow. We will continue to negotiate through the night and will provide an update if we have made substantial progress." 
Parents should not bring children to school Monday unless their principal has told them otherwise. Food service will be available 9 a.m.-noon while classes are canceled, and Safe Haven sites will be open Monday for child care. Those sites are here.
"The union wants to reassure the parents and guardians of Chicago that we will remain at the bargaining table until we reach an agreement that will return us all to in-person learning safely and equitably," union leaders said in a statement Sunday.
Over the weekend, the union proposed letting kids and parents pick up laptops Monday and Tuesday then switching to remote learning Wednesday as the city's worst-ever COVID-19 surge continues. Under the union's proposal, kids would return to in-person learning after Martin Luther King Jr. Day, on Jan. 18. The union also wants to implement an opt-out testing program that would randomly test students and staff for the virus, and reinstate a 2021 COVID-19 positivity rate metric for flipping the entire district to remote learning.
Currently, only about 16 percent of CPS families have opted in to their child being regularly tested for COVID-19 at school.
The proposal also would push the district into remote learning if there are too many staff or student absences. 
RELATED: Chicago Schools COVID Vaccination, Testing Rates Vary Widely By Campus, Data Shows
But Lightfoot and Martinez have said they will not budge on testing or a districtwide standard positivity rate that would trigger a switch to remote learning. They and city Health Commissioner Dr. Allison Arwady have said there's no scientific basis to have the entire district halt in-person classes, preferring to evaluate potential problems school-by school. Lightfoot has blasted the opt-out testing as "morally repugnant."
Dozens of Illinois school districts and some CPS charter schools have opt-out testing policies, according to the Sun-Times. Other districts across the country do mandatory weekly testing, like Los Angeles, or required negative tests before returning to school, like Washington D.C.
Quickly after the union went public with their proposal, Lightfoot and Martinez shot it down.
"CTU leadership, you're not listening," they said in a joint statement. "The best, safest place for kids to be is in school. Students need to be back in person as soon as possible.  That's what parents want. That's what the science supports. We will not relent."
Leonie Haimson, co-chair of the Parent Coalition for Student Privacy in New York City,  told the Sun-Times she does not understand why the regular testing of children is controversial.
"I understand [vaccination] is a politically volatile issue. I don't think it should be but it is," Haimson told the paper. "But I don't understand the controversy around COVID testing at all."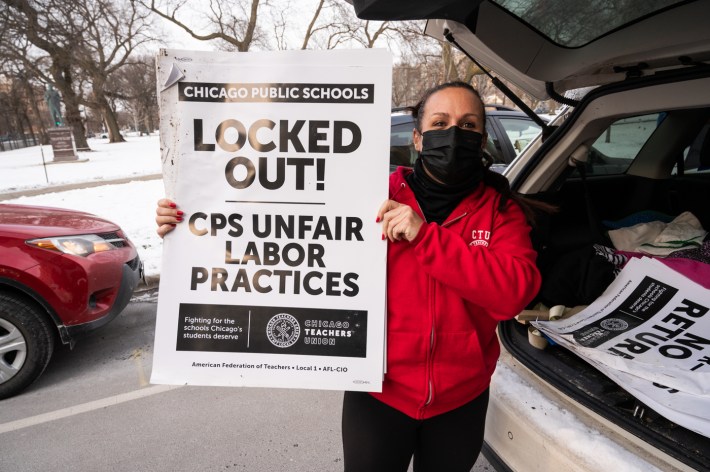 This is the second year in which the district and union have had prolonged disagreements about school safety during the pandemic.
CPS started the school year in January 2021 with a hybrid plan, allowing students to opt in or out of the classroom while teachers were required to work from their buildings. Many students who initially chose in-person learning changed their minds, and far fewer students came to classrooms than expected.
Leading up to the first day of class, many teachers who were recalled refused to show up to school buildings, while others protested the plan by working outside in 27-degree weather. The district responded by locking teachers out of their virtual classrooms.
The teachers' union then voted to work remotely, defying CPS orders, and pledged to strike if the district blocked teachers from their virtual teaching platforms. The standoff forced CPS to keep students home for remote learning for two weeks until the two sides reached a deal Feb. 10. to reopen schools for preschoolers and kids with special needs.
The CTU has sounded the alarm about climbing coronavirus cases among students, staff and parents for months, even before Omicron drove the city's ongoing surge. Teachers voted last week to work remotely, saying conditions were not acceptable for students, staff and families and asking for more testing and masks from the district. The district responded by locking out teachers and putting instructors on no-pay status if they did not report to their buildings.
"The Chicago Teachers Union has been at the bargaining table for the past six months — before the discovery and spread of the Omicron variant — with CPS and Mayor Lightfoot asking for collaboration and well-thought-out mitigation strategies to keep students, families and educators safe," union leaders said Sunday. "Regrettably, these requests have fallen upon deaf ears, resulting in attacks on teachers and a five-day lockout that has disrupted the lives of hundreds of thousands of students and families."
Subscribe to Block Club Chicago, an independent, 501(c)(3), journalist-run newsroom. Every dime we make funds reporting from Chicago's neighborhoods.
Click here to support Block Club with a tax-deductible donation.