CHICAGO — Chicago Teachers Union's members voted to approve a tentative agreement that will reopen Chicago Public Schools for some students.
Of the teachers who voted, 67.5 percent voted to approve the deal, and 32.5 percent voted against it. Schools will now gradually reopen, with some students expected back as soon as Thursday.
Just 80 percent of the of the 25,367 eligible CTU members cast ballots, meaning the deal passed with only 54 percent of the union's members voting "yes" on the plan.
The district and union's negotiations were tense, with much public back-and-forth as union leaders said teachers members felt unsafe returning to schools during the coronavirus pandemic while Mayor Lori Lightfoot and CPS CEO Janice Jackson said remote learning was not working for some students, particularly those who are Black or Latino.
CTU President Jesse Sharkey sharply criticized Lightfoot and her administration in a letter to union members early Wednesday after the vote and noted the union's delegates passed a vote of no confidence in the mayor and CPS earlier in the week.
"Let me be clear. This plan is not what any of us deserve. Not us. Not our students. Not their families," Sharkey wrote. "The fact that CPS could not delay reopening a few short weeks to ramp up vaccinations and preparations in schools is a disgrace.
"Yet the mayor and CPS leadership were willing to do even further harm to our school district to maintain that posture. That's how much they care about real safety for students, their families and the educators and school staff who support them."
Lightfoot praised the plan — and Sharkey — when announcing the tentative agreement Sunday. Sharkey said teachers "did not get what we wanted or what we deserved," but they'd had to agree to the plan after the mayor refused to budge.
"That is a stain on the record of their administration," Sharkey wrote. "Be clear: Basic safety shouldn't even be a negotiation, let alone a privilege – yet it is in Chicago, under this mayor. It's time for mayoral control of our public schools to end."
Negotiations stalled and looked to break down twice since union leaders instructed all teachers to work remotely until a deal was reached. For two weeks, the two sides remained unable to bridge the divide on a timeline for reopening, vaccinations for union members and whether teachers who care for family members with severe health risks would be permitted to teach remotely.
Some Schools Reopen As Soon As Thursday
The deal provides for a phased-in reopening, bringing back smaller groups of students and teachers in waves over the next month. The families of nearly 70,000 students have opted in for in-person learning.
Preschoolers and special needs students who had returned to classrooms Jan. 11 before the district reverted to remote learning amid the dispute could go back to school again starting Thursday. About 5,300 students from that group chose in-person learning this year, but the only attendance data released by the district shows an average of about 3,200 actually came to classrooms each day during that first week of learning.
Teachers and staff for kindergarten through fifth grade will return to classrooms Feb. 22, and their students will start March 1. Sixth to eighth grade teachers and staff will come back March 1, and their students will return March 8.
While the majority of CPS students have opted to continue with virtual learning, families once again will have a chance to opt-in to in-person learning before the fourth quarter of the school year starts in spring, Jackson said.
The deal also means 2,000 special education and preschool staffers will be offered vaccinations starting this week. There also will be CPS vaccination sites only for district staffers where the city hopes to vaccinate 1,500 people each week. Those locations will open later this month, Jackson said.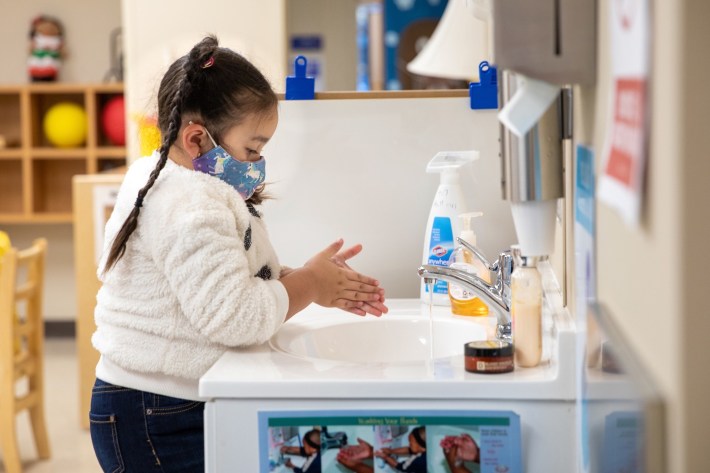 The tentative deal allows for CTU members who serve as primary caregivers for family members at increased risk for severe illness due to COVID-19 to receive permission to teach remotely, if documentation can be provided. Those who don't receive an accommodation and are not fully vaccinated may take an unpaid leave of absence while maintaining their full benefits through the third quarter. 
The district will revert to remote learning for two weeks if the rolling, seven-day average test positivity rate increases for seven consecutive days, the rate for each of the seven days is at least 15 percent higher than the previous week and the citywide positivity rate is 10 percent or higher on the seventh day.
Students would return to in-person learning after the 14 days or when the positivity rate no longer meets those metrics, whichever occurs later.
CPS will pause in-person learning for classroom groups when there has been one confirmed COVID-19 case. Individual schools can be closed for 14 days if three or more new cases emerge in at least three classrooms and the district can't rule out the cases were linked to in-school transmission.
On Sunday, Jackson reiterated her desire to see all students return to classrooms this year, but she said she'd agreed to consult with the union on how to safely return high school students. 
Lightfoot on Sunday said the tentative deal represented a "moment for each of us to reflect and to heal."
"We need to do this for our city, for our communities, for our families and, most importantly, for our children," Lightfoot said.
The district had intended to bringing back kindergarten to eighth grade teachers Jan. 25 and students Feb. 1. But as the two sides gridlocked over several issues, the union instructed teachers not to report to their school buildings and prepare to strike if CPS refused to let them work virtually.
Subscribe to Block Club Chicago. Every dime we make funds reporting from Chicago's neighborhoods.
Already subscribe? Click here to support Block Club with a tax-deductible donation.