CHICAGO — Chicago Public Schools and the Chicago Teachers Union appear closer to finalizing an agreement to send thousands of students back to classrooms as soon as this week and push back the start date for others to early March.
Mayor Lori Lightfoot announced Sunday morning "children will be returning to in-person learning this week" after the two sides reached a tentative deal for reopening schools, potentially ending a weeks-long stalemate over the issue and averting a second teachers strike in less than two years.
But after word got out about a possible deal, CTU leaders tweeted repeatedly they hadn't yet agreed to the mayor's latest offer, which was presented to their side late Saturday. Any terms would need to be voted on and approved by rank-and-file union members.
Nevertheless, Lightfoot and Jackson wasted little time to declare victory, and followed up a press conference with a statement affirming the two sides had brokered a deal.
"At long last, CPS has finally reached a tentative agreement with the Chicago Teachers Union that opens up the school doors for safe, in-person learning for our pre-K, cluster and K-8 students," Lightfoot said. "Pending the ratification of this tentative agreement … this important milestone marks a moment for each of us to reflect and to heal.
"We need to do this for our city, for our communities, for our families, and most importantly, for our children."
The union's 600-member House of Delegates is scheduled to vote Monday night, according to a source.
"Our rank-and-file members are reviewing the framework, and their leadership will determine how we proceed," CTU tweeted. "Nothing is perfect, but this moment, and our work for nearly a year. has once again proved that there is no sensible path to collective good without collective action."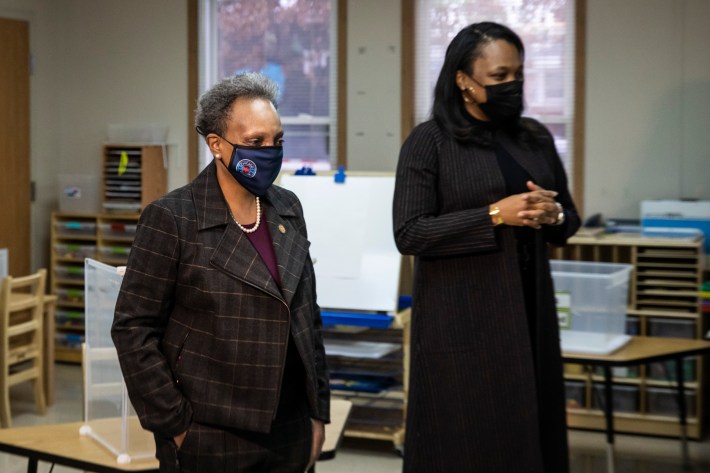 The tentative deal offers a phased-in reopening, bringing back smaller groups of students and teachers at a time. The district as of Friday proposed a similar staggered schedule would have brought everyone back to classrooms by March 1.
The newest terms shifts the timeline back for most students and teachers by about a week.
Presuming the two sides agree, preschoolers and special needs students who had returned to classrooms Jan. 11 before the district reverted to remote learning amid the dispute could go back to school again starting Thursday, Feb. 11. About 5,300 students from that group chose in-person learning this year but the only attendance data released by the district shows an average of about 3,200 actually came to classrooms each day during that first week of learning.
K-5 teachers and staff would come back Feb. 22, and their students would start March 1. Sixth to eighth grade teachers and staff would come back March 1, and their students would return March 8.
While the majority of CPS students have opted to continue with virtual learning, families once again will have a chance to opt-in to in-person learning before the fourth quarter of the school year starts in Spring, Jackson said.
"We are ready to reopen," CPS CEO Janice Jackson said. "I truly believe that every educator wants what's best for students, and we all want the same thing."
The deal also means 2,000 special education and pre-K staffers will be offered vaccinations starting this week. Those who live in households with people who are high-risk for severe coronavirus complications will be prioritized for shots before they return to work.
There also will be CPS vaccination sites only for district staffers where the city hopes to vaccinate 1,500 people each week. Those locations will open later this month, Jackson said.
The potential for a deal seemed unlikely as recently as Friday after talks between the two sides appeared to break down. The union rejected what the mayor called the city's "last, best and final offer" and accused Lightfoot of walking away from the negotiating table, while Lightfoot and Jackson renewed their pledge to begin locking out teachers who didn't report to their buildings Monday.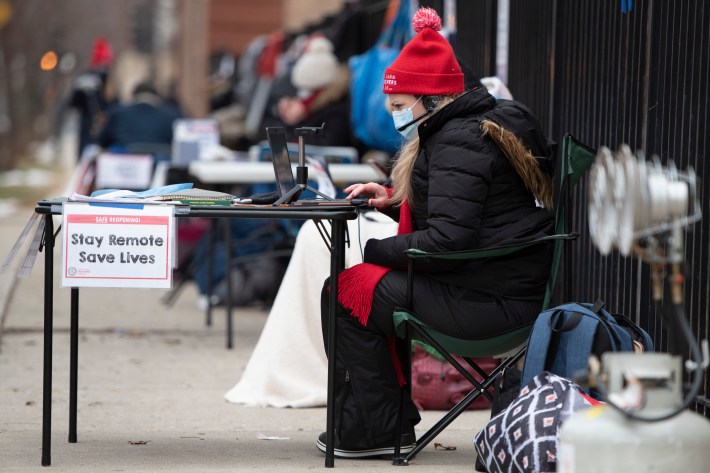 Teachers union leaders have contended schools are not safe for students or staff at this stage of the pandemic, and it is not necessary to require thousands of teachers to work in person when the majority of students have opted for virtual learning anyway.
Lightfoot and Jackson have maintained schooling can be safe with certain precautions — citing studies from the Chicago Department of Public Health and Centers for Disease Control and Prevention — and classrooms need to be open for the families who chose that option. 
The district moved ahead with bringing back preschoolers and special needs students and their teachers in early January over the objections of the union. Dozens of teachers refused mandates to work from their school buildings and were locked out of their district email and Google Classroom accounts, preventing them from teaching at all. They also were place on "absent without leave" status and were not being paid unless they showed up or received a valid exemption to work remotely.
CTU leaders and parents have said some of those teachers have remained locked out. One of the sticking points in negotiations was that the union wanted to ensure those teachers who had refused in-person work would not face more sanctions and would receive back pay for those days they were locked out. It was not immediately clear what agreement the two sides reached about that issue.
The district had intended to bringing back kindergarten to eighth grade teachers starting last week and students on Monday. But as the two sides gridlocked over several issues, the union instructed teachers not to report to their school buildings and prepare to strike if CPS refused to let them work virtually. 
That compelled CPS to revert to remote learning for everyone, even for the preschool and students with special needs, who'd already returned to classrooms.
Talks continued with little indication the two sides were moving closer to an agreement. By that weekend, the public spat led to both sides accusing the other of sabotaging negotiations when a deal was within range and Lightfoot threatening to lock out teachers again if they did not report to work.
But Lightfoot and Jackson changed their tone and backed off their pledge to sanction teachers working virtually. They agreed to allow teachers and students to continue remote learning all of last week, accounting for a previously scheduled day off for students Friday, while the two sides continued negotiations.
The tenor shifted again Thursday, as Lightfoot insisted she was done with the back-and-forth and a deal needed to be finalized right away.
Subscribe to Block Club Chicago. Every dime we make funds reporting from Chicago's neighborhoods.
Already subscribe? Click here to support Block Club with a tax-deductible donation