CHICAGO — On Monday, about 6,000 Chicago Public Schools students were expected to return to their pre-kindergarten and special education classrooms across the city. But teachers at Nathan Davis Elementary School in Brighton Park said they're expecting none.
About 20 students who initially opted to return to in-person instruction this week have backed out, Chicago Teachers Union members said, as coronavirus positivity rates in the Southwest Side neighborhood hovered around 16 percent.
The building, 2014 W. 39th Place, is "as safe as they can possibly make it during a viral pandemic," Davis music teacher Evan Gillum said during an early morning news conference, but "these efforts are not enough."
Gillum praised the school's administrators for doing the best they could, but he said air purifiers were too small for classrooms. Other teachers said hybrid learning adds more inconsistency to an already-chaotic year for kids.
"This reckless plan needs to stop," Gillum said.
CPS and the teachers union have been fighting for weeks over the reopening plans. Teachers have said they feel unsafe as the coronavirus pandemic continues. City officials have said reopening schools is safe and will help students, even though the bulk of district parents are opting to keep their children at home.
CPS chief Janice Jackson doubled down on the plans Monday, saying she hopes to have all students return to schools in coming months.
"This is the first step in a process to bring everyone back," Jackson said.
For Davina Norington, the option to send her son back to King Elementary in Englewood is a welcome one.
Norington, who actually works for CPS in a non-teaching role at a school in Back of the Yards, said balancing her son's remote learning schedule and the demands of her job has taken an emotional toll.
"It's been challenging. He's my only child, and he has an IEP (Individualized Education Plan) as well," she said. "We've been getting the support we need. It takes teamwork, from the teachers, from the parents. Every day, we push through."
Her son, Davion, bounded to the school's front door with excitement — even though his teacher said only seven kids were expected back Monday. As a person at greater risk in the pandemic due to her diabetes, she said she's fully aware of what's at stake, but has limited options.
"I work for CPS, so I'll eventually have to go back. What's the difference between this and sending your kids to daycare?" she said. "My work is bread and butter for me and my child. If I don't work, we don't eat."
At Belding Elementary in Irving Park and Suder Elementary on the Near West Side, some teachers set up laptops outside the school so they could teach remotely while pre-kindergarten teachers had to return to work inside the building. Though the outdoor teachers had no students expected Monday, they bundled up to show support for those who did.
"The whole curriculum for preschool is socialization. And the teachers can't provide them with what they truly need right now," said Kim Payne, a fifth grade teacher. "We're standing strong in solidarity with all our teachers and our little guys that the city is pushing to come back to school. They shouldn't be coming back yet."
At Suder, teachers assistant Jennefa Krupinski said she worried about being exposed to coronavirus while supervising kids when they are eating, at recess or napping.
"As a TA there's parts of the day where I'm scheduled to be exposed to the kids more without their masks," she said.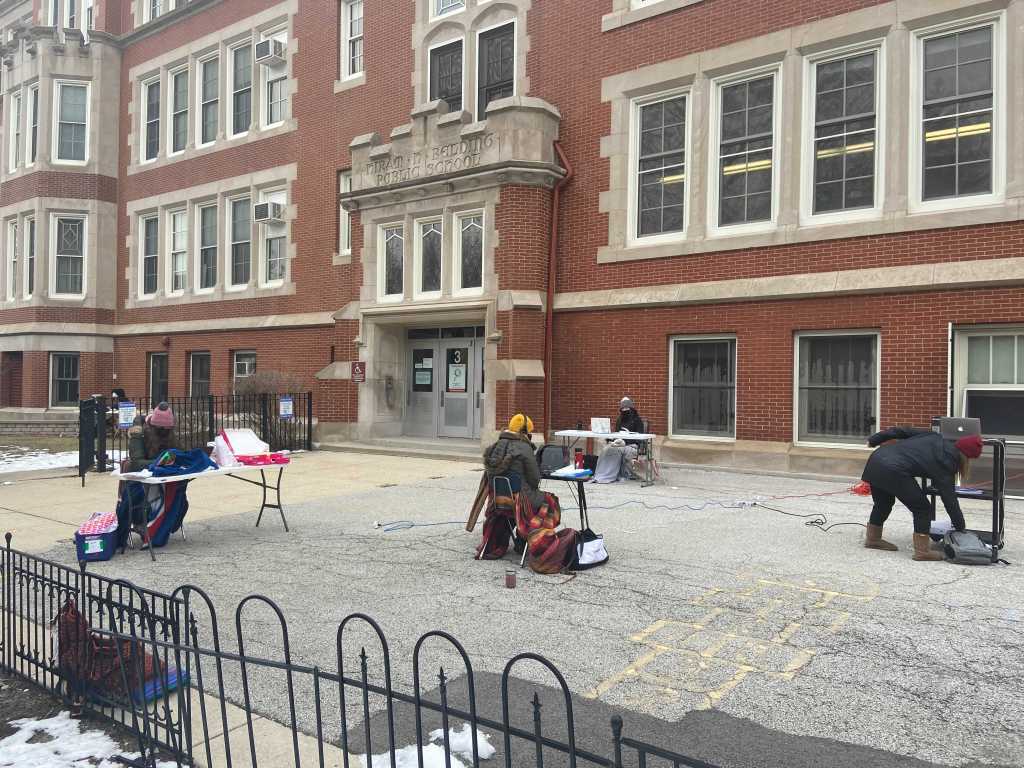 Some parents like Kuyo Marie, whose daughter was returning to O'Keeffe School of Excellence in South Shore, are apprehensive but their child needed a change. There will be four kids returning to her daughter's classroom, Marie was told.
"I'm just going to try today to bring her back to see what's going on, what's going to happen," she said. "… At home, she's always distracted. She's going to the bathroom, she's going to sit down and play with the dog — no. She needs to be in class so she can be more focused."
Marie said she worries about how the pandemic affected her daughter socially, too.
"For a long time she didn't meet no friends, nobody — she didn't know what happened; she's just a little child," Marie said.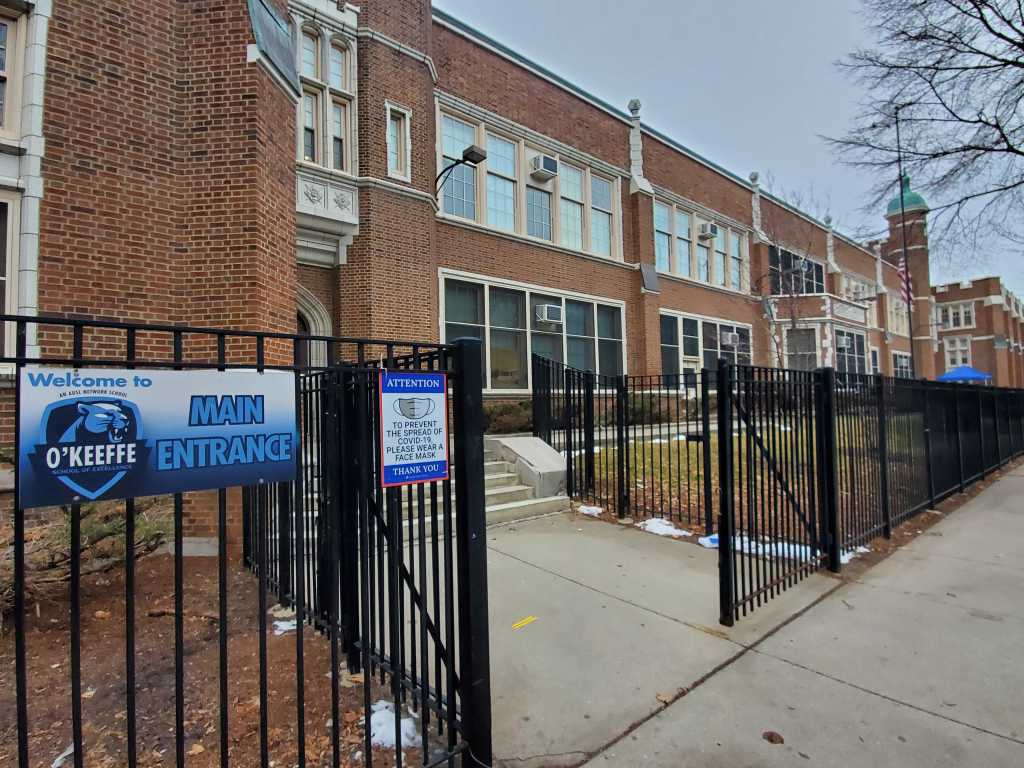 Daphne Gascot and Jose Morales, parents of a preschooler at O'Keeffe, also had mixed feelings.
"She misses school in person. You're worried because we're not through this pandemic yet. I think they're taking all the precautions they need to take," Morales said.
Amanda, a parent of a preschooler at O'Keeffe, said she was excited to bring her son back to school. She struggled to give him a "hands-on" virtual learning experience with other kids at home, she said.
"I didn't really like when he was at home and didn't get the feel of school, so I'm glad that he's going to be in an environment where he can understand what school really is," she said. "… They've got a lot of cleaning materials, they've got it set up where he's going to be away from other students, so I feel like it's going to be good as far as the coronavirus."
Grandparent Benjamin Guzman, 61, is one of the caretakers who isn't sold on CPS students heading back to school. He stopped by the Edison Regional Gifted Center in Albany Park Monday morning to pick up a learning packet for his 7-year-old granddaughter, who will continue to learn from home.
He said he worries schools won't be able to keep kids from congregating and potentially spreading the virus among their classmates and teachers.
"With the way coronavirus is right now I think it's safer for her to learn at home," Guzman said in Spanish. "At home it's just me, my wife and my granddaughter. The risk of contagion is so much lower."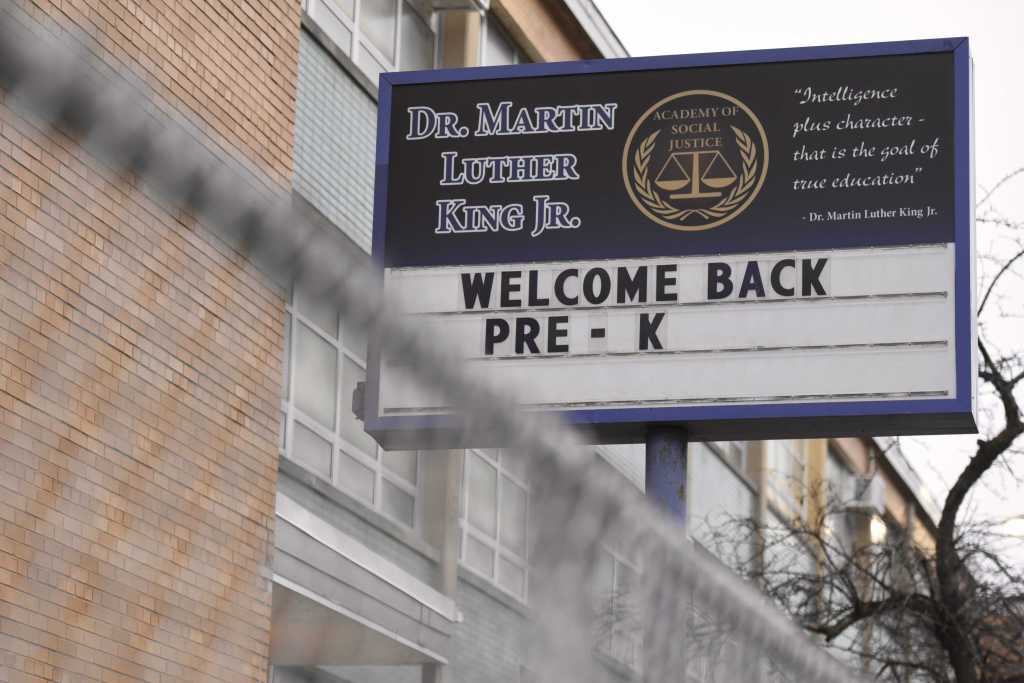 At Hanson Park Elementary School in Belmont Cragin, a school that serves 110 preschool students, zero showed up to learn in-person Monday. Out of the 80 cluster students the school serves, just eight showed up, said Principal David Belanger.
"I think the parents made the correct decision to keep their children at home at this time," he said, noting that the ZIP code where the school is located (60639) has the highest positivity rate in the city.
In Pilsen, Orozco Community Academy Local School Council community member Teresa Contreras said city officials need to give parents more resources for e-learning instead of sending children back to schools during a pandemic. 
"I feel like it's a disgrace that they keep pushing our Black and Brown communities to this plan of failure. It's meant to fail. This will put our kids in danger," Contreras said. "Everything is closed … It makes no sense that school are being asked to reopen."
At Whittier Elementary in Pilsen, Ald. Byron Sigcho-Lopez (25th) said he was extremely concerned about the reopening plan.
"We have seen in other states and other countries that it is contagious and affects children unlike the original [strain of the virus,]" he said. "… The mayor has said there are always risk involved, but we are talking about risks that take away peoples lives. That's just outrageous."
Monday's reopening is small: Only 6,000 students in pre-kindergarten and special education cluster programs are expected to return. A much larger reopening is slated for Feb. 1, when 70,000 students are scheduled to return to classrooms.
Mayor Lori Lightfoot and Jackson have said schools are safe for in-person learning and have said reopening them is an equity issue, as Black and Latino students are falling behind others during remote learning. The union rejects that premise, saying this only puts these families at greater risk.
In preparation, the district stockpiled personal protective equipment for students and staff, installed more hand sanitizers and put air purifiers in classrooms, officials have said. Schools have also been equipped with "sick rooms" where students will wait for parents if they're thought to have contracted COVID-19.
"We know that remote learning is not an option for all of our students," Jackson said at a news conference. "It is our mission in Chicago Public Schools to bring all of our students back" over the next several months.
But CTU leaders have said schools aren't adequately prepared to protect teachers and students and, since only about one-third of students plan to return to in-person learning, educators will struggle to teach in-person and virtual learners at the same time. They've also said their worried reopening schools will worsen outbreaks in communities of color, which have already been hit the hardest by COVID-19.
Teachers have used social media to document non-working sinks and hand sanitizer stations in their schools, among other issues.
And teachers have questioned why the city is sending them back to in-person learning when the vaccination campaign has begun and when Lightfoot just on Sunday extended a stay at home advisory that urges Chicagoans to stay home as much as possible.
The city is making "significant progress" in regaining control of its COVID-19 outbreak, Lightfoot said.
"The advisory is really about making sure that we're doing everything we can to give people the best information, and recall that from the very beginning schools were exempted from the stay at home advisory," Lightfoot said.
Dr. Allison Arwady, head of the Chicago Department of Public Health, said the advisory has always exempted people who need to leave their home for essential activities like work, grocery trips and school.
Arwady also said teachers and other frontline workers will likely need to wait until the end of February or beginning of March before they're able to get vaccinated.
Jackson repeatedly said CPS did not have to come to an agreement with CTU to reopen — but said she thought such an agreement was close.
Lightfoot and Jackson have said teachers who don't report in can be punished, go without pay and be fired.
About half of city teachers called back to the classroom chose to stay home early last week. Data from CPS shows the number of teachers who reported to school increased every day, and Jackson has said schools should be adequately staffed Monday.
Later Monday, district officials said 145 teachers who have not showed up for work or provided a valid absence in the past week have received notices they are now considered to be absent without leave. Those employees will not be paid starting Tuesday and will be locked out of district email and Google Classroom, so those teachers will not be able instruct remotely.
The Chicago Department of Public Health has OK'd the district's plan to reopen. Top department officials have cited a study they did of Catholic schools and day cares that showed low levels of coronavirus transmission.
But for teachers afraid of becoming severely ill or even dying from the virus, the study has a glaring problem: Mainly that local, non-public schools studied by the health department have little to nothing in common with Chicago's public schools, they said.
The study monitored around 20,000 students enrolled in in-person learning at local Catholic schools. The students included in the health department's study are 44 percent white, 20 percent Black and 29 percent Hispanic. CPS schools are 11 percent white, 36 percent Black and 47 percent Hispanic.
Dennis Kosuth, a CPS school nurse and CTU delegate, said many of those parents he works with are low-wage essential workers who have been more at risk during the pandemic.
RELATED:
• Teachers Union Blasts Mayor, CPS Chief For Threatening To Discipline, Dock Pay Of Those Who Don't Report To School
• CPS Will Have 'Sick Rooms' Where Ill Children Can Wait For Parents To Pick Them Up, District Says
• 'We Need To Forge Forward': Mayor Lightfoot Says Chicago Schools Will Reopen Monday Despite Labor Troubles
• In Backing CPS Reopening, Health Department Studied COVID-19 In Catholic Schools — Which Presents Problems, Critics Say
• No More Outdoor Winter Classrooms — Especially When Kids Are Back, CPS CEO Tells Brentano Teachers
• Half Of Chicago Teachers Ordered Back To Classrooms Stayed Home Monday, CPS Says
• Chicago Teachers Work Outside In 27-Degree Weather To Protest CPS Reopening Plan
• Some CPS Teachers Refusing To Return To In-Person Learning Due To Coronavirus: 'I Am In Fear For My Life'
• Chicago Teachers, Families Worried As Schools Near Reopening: 'CPS Is Not Prepared To Bring Kids Back Safely'
Block Club Chicago's coronavirus coverage is free for all readers. Block Club is an independent, 501(c)(3), journalist-run newsroom.
Subscribe to Block Club Chicago. Every dime we make funds reporting from Chicago's neighborhoods.
Already subscribe? Click here to support Block Club with a tax-deductible donation.