LOGAN SQUARE — When Chicago Public Schools ordered teachers back to school starting Monday, they meant inside of the classroom, the school district's top official said.
Brentano Elementary School teachers made headlines Monday when they set up their laptops and began working outside the Logan Square school in bitter cold temperatures. The move was to protest the city's decision to reopen schools as the coronavirus pandemic continues, and came after the Chicago Teachers Union said it would support workers who called in sick.
"Obviously when students return next week, you can't teach in the parking lot," CPS CEO Janice Jackson said at a Tuesday news conference when asked if the Brentano Elementary School teachers would be paid for teaching outside.
About half — 49.7 percent — of the CPS teachers who were supposed to return to classrooms Monday instead continued to work from home, Jackson said. The district sent out emails to those who missed work, and Jackson said they would face "progressive" discipline if they continued to call off.
"We know that in-person learning is not the right option for every student, but it must be an option," Jackson said.
Jackson said the district reached out to Brentano's teachers to remind them of the district's "expectations," but teachers told Block Club they received no such communication.
Any communication from the district would have to be passed down to teachers through school administration. Brentano's principal, Seth Lavin, declined to comment.
RELATED: Chicago Teachers Work Outside In 27-Degree Weather To Protest CPS Reopening Plan
Monday's protest was an all-day affair. Brentano teachers and staffers set up desks outside the school at 2723 N. Fairfield Ave. and worked there for hours in the 27-degree cold wearing multiple layers, some using blankets as tents. Throughout the day, neighbors dropped off snacks and hand warmers in a show of support.
The goal of the protest was to send a message to the district that teaching indoors is not safe amid the unrelenting pandemic.
Under the district's reopening plan, pre-K and some special education teachers were expected back Monday, followed by their students Jan. 11. On Jan. 25, teachers for students in kindergarten through eighth grade are expected to return, with their students coming back Feb. 1.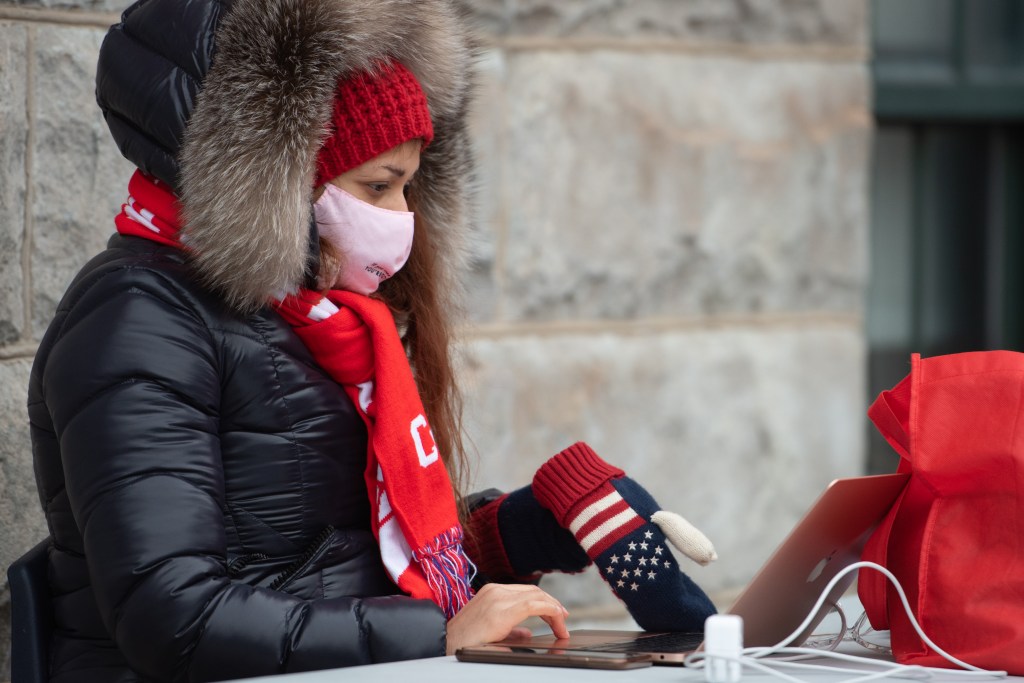 The Brentano teachers are among a larger group of Chicago teachers who are speaking out against the district's plan to gradually reopen schools. The teachers are worried about coronavirus spreading at schools and they don't think CPS' plans will allow them teach students effectively, among other concerns.
"If we move forward with this plan as it stands, it's a statistical certainty that staff, families and students will get sick," Brentano science teacher Tyler Dirks said Monday.
Many Brentano families — more than 65 percent — aren't comfortable sending their kids back to school, according to district survey results obtained by WBEZ. And Brentano teachers have said that number is likely higher because some families who initially opted for in-person instruction have since changed their minds.
But Jackson, speaking at Tuesday's news conference, said many families are sending their kids back to school — and teachers need to be prepared.
"I also want to remind teachers at schools throughout the city, but in particular at Brentano, that a large group of parents have indicted that they want to return to school and it's my hope that teachers are going to show up and be professional and be prepared to teach those students next week — in their classrooms," Jackson said.
Brentano math teacher Aaron Bingea, a Chicago Teachers Union delegate, said he wasn't sure why Jackson called out Brentano when many families throughout the city did not sign up for hybrid learning.
About 34 percent of Brentano families opted for their students to learn in-person at the school, according to a WBEZ analysis of CPS data.
Echoing the concerns of other Brentano teachers, Bingea added that some families chose in-person instruction "because they felt forced to."
"My heart goes out to any family right now that has to make this choice and has to deal with child care and the loss of employment and wages and the loss of a place to send their kids," he said. "But risking lives is not the answer right now. And overwhelmingly, from my families that I serve, they are worried and are standing with us."
Coming off Monday's protest, Bingea said this week his colleagues and unions members across the city are "laser-focused" on forcing the district to delay its plan to reopen schools. He said Brentano teachers are prepared to work outside again if the district "tells our members they're not doing their jobs."
"Our team is united on the fact that they're not going in the building, whether that's telework or teaching from the premises," he said.
Brentano teachers are not alone. In neighborhoods across the city, teachers are refusing to work in school buildings.
Those teachers will be judged and disciplined on a case-by-case basis, Jackson said.
Subscribe to Block Club Chicago. Every dime we make funds reporting from Chicago's neighborhoods.
Already subscribe? Click here to support Block Club with a tax-deductible donation.