CHICAGO — Some Chicago Public Schools teachers are refusing to return to classrooms Monday, fearful of coronavirus — and also afraid they'll lose their job by defying the district and Mayor Lori Lightfoot.
CPS expects 5,800 teachers to return to the classroom Monday with the goal of having students begin to return to in-person learning Jan. 11. But the Chicago Teachers Union, which has criticized the district's plan as unsafe for educators, students and their families, said some teachers will continue to work remotely.
It was not immediately clear Monday morning how many teachers were defying CPS' plans and continuing to work from home. But during a CTU news conference, four teachers explained why they're staying home — and several said the majority of educators at their schools were doing the same.
The teachers said they're worried about coronavirus spreading at schools, endangering themselves, students and the schools' families; they don't think CPS' plans will allow them to teach students; and they don't think CPS has adequately cleaned and prepared to ensure students and staff will be safe at school.
"I am making this decision not for myself but for the safety of my students and their families," said Linda Perales, a special education teacher at Daniel J. Corkery School who said she'll keep doing virtual learning.
The majority of teachers at Corkery have signed a letter to the principal saying they'll continue to work from home, Perales said.
RELATED: Chicago Teachers, Families Worried As Schools Near Reopening: 'CPS Is Not Prepared To Bring Kids Back Safely'
CPS previously said teachers who refused to return for in-person learning could be fired. The CTU has said it will provide support to educators who want to keep working from home.
"We're afraid for our lives. We don't want to lose our jobs," said Lori Torres, a teacher in Logan Square with three children in CPS. "The fear of losing our jobs is real. Many of us are the sole income earners in our homes.
"But the threat of this virus is greater than that fear. And so, we're staying out, and those of us who are in this second wave, we're supporting those of you going in today or not."
Despite pushback from the CTU and 32 aldermen over the weekend, CPS CEO Janice Jackson and Mayor Lori Lightfoot did not back down from their reopening plans.
At Vaughn Occupational High School in Portage Park Monday, Assistant Principal Stephanie Anderson said there wasn't an abnormal number of sick calls.
"It's maybe even less than what we'd have after a holiday," she said.
'It's Not Reasonable'
Perales, who teaches speech to students, said she has safety concerns about CPS' plans — but also thinks the district's in-person rules learning simply wouldn't work for teachers like her.
Perales demonstrated how she has to use her mouth to show her students how to pronounce letters, something they can't do if her mouth is covered by a mask, as CPS is requiring teachers to do during in-person learning.
"… Is there any good part of the CPS reopening plan? My answer is no," Perales said. "They need to see my mouth. … If I put a face mask on, and I'm teaching from the building … how are my kids going to learn their letters and their sounds? … It's not reasonable. It's not the best choice in order for our students to learn."
Similarly, Quentin Washington, who teaches music at Sadlowski Elementary School, said his students won't be able to play instruments while wearing masks, but they can keep playing and learning when learning remotely. He said CPS' plans are "half-baked" and the district needs to talk to stakeholders and teachers before asking them to return to school buildings.
The teachers said they're also worried that having teachers return to classrooms will mean the quality of education drops for students who are still doing remote learning.
Other teachers said they were deeply concerned about getting COVID-19 or bringing the virus home to their families.
"I made the decision to refuse to reenter the building because I think it is extremely unsafe and I am in fear for my life" and that of his coworkers and students, Washington said.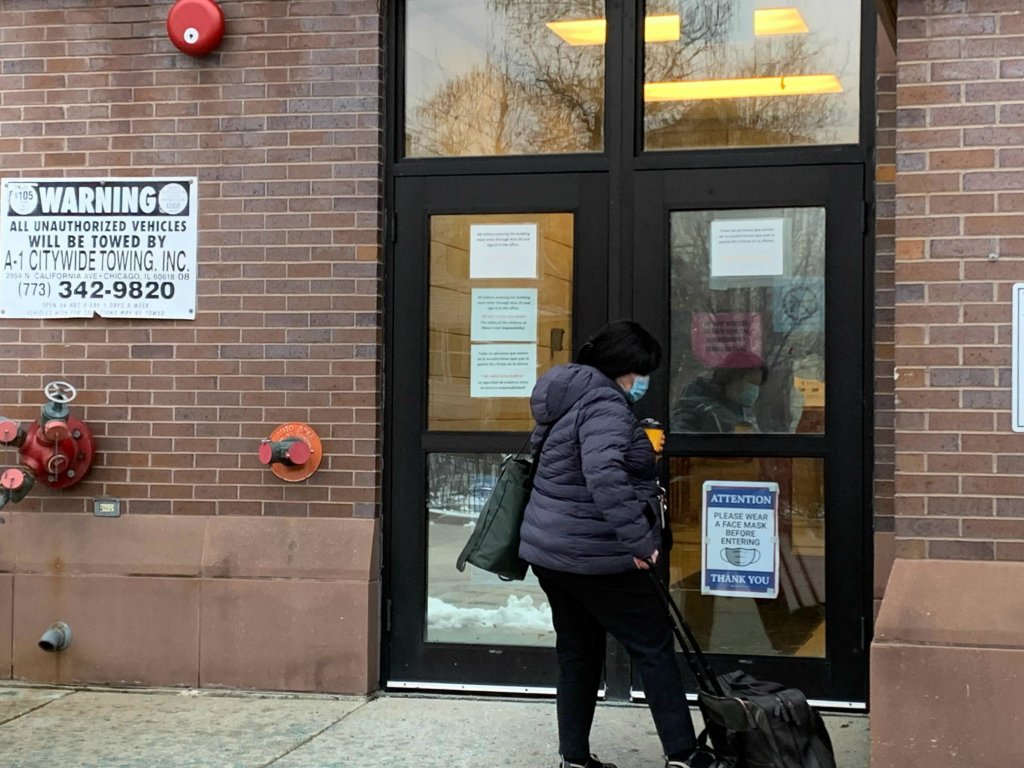 Washington said CPS is ill-prepared for a return to in-person learning and he wants the district to test students and staff to ensure they do not spread COVID-19.
The teacher said he has grandparents in their 90s and 80s, as well as an uncle with Down syndrome, and he has to regularly visit them — but they'll be at increased risk if Washington is forced back into a classroom and potentially exposed to the virus.
"I think that CPS is being unreasonable in their expectations of what they want people to be, and they're not even willing to do it themselves," Washington said. "When's the last time you saw a board meeting in person? … Everyone else is meeting virtually, yet they're asking us to go into the classroom with the most vulnerable people in our buildings and in our school communities, and it is absolutely unforgivable."
Bernhard Moos Elementary School in Humboldt Park was quiet Monday morning, with only a handful of cars pulling into the parking lot.
Walking into the school for the first time in months, some teachers and staffers told Block Club they were "ready" to go back, while others said they were worried for their safety.
Moos' longtime music teacher, who asked not to be named, said she's been working in the empty school for a few months because the school has a stronger internet connection than her home. She said she's worried about the months ahead.
"I'm very nervous for students to come back because I just survived breast cancer and I don't need another health crisis," she said.
Another teacher heading into the building with an armful of supplies said, "We need to come back. Our babies need to come back."
Union President Jesse Sharkey said educators don't trust CPS has followed through on its promises to ensure schools are clean and have protections to slow the spread of COVID-19. For example, teachers are being told they'll have to follow hand-washing routines in schools that, in March, didn't have warm water or soap, he said.
Teachers who are afraid for their safety "have a right to refuse to subject themselves to a potentially dangerous situation," Sharkey said.
The district gave educators the option to apply for a waiver to work from home. About 2,000 teachers and staffers asked to be excused, but the district only granted 861 of those requests, with 308 inquires still pending as of the most recent data.
That process was flawed because CPS constructed the waiver applications in a way where you'd have to be either "really, really sick" or have a very sick person in your family to be approved for a waiver, Washington said. The district didn't take into consideration teachers with other concerns, like those who live in multi-generational housing where they might be caring for a parent or child who is more at-risk from COVID-19, he said.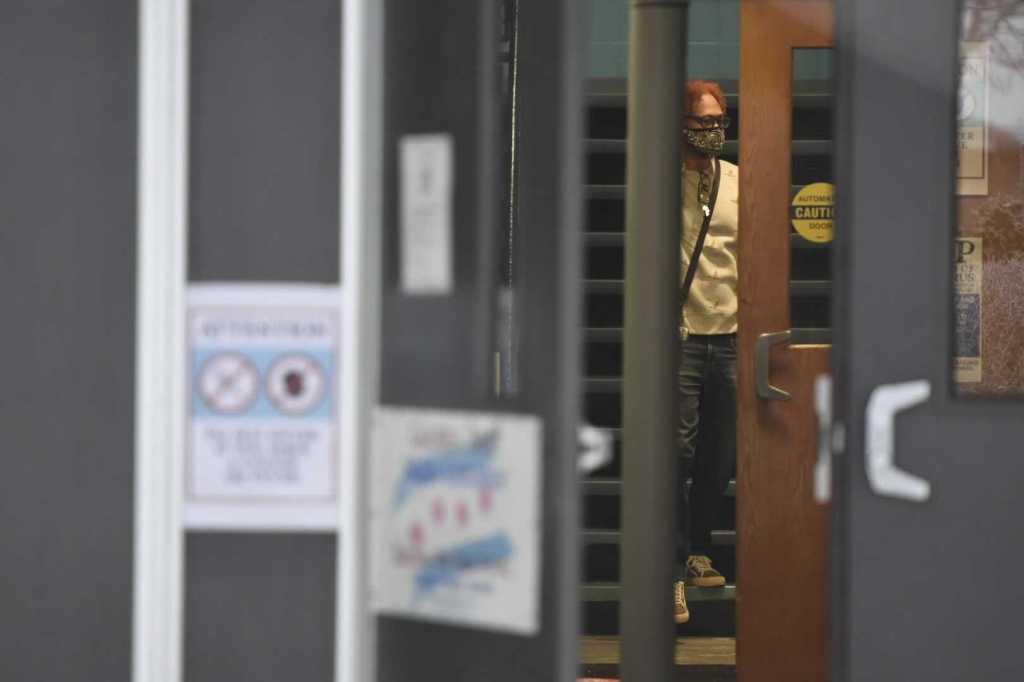 Perales said that process was also problematic because teachers who take a leave of absence or request a waiver might be temporarily replaced by substitute teachers — and CPS doesn't have enough subs for that, meaning kids would suffer.
Lightfoot and other officials have said they want students back in school because remote learning has created an issue of equity. Students are falling behind, and Black and Latino students are struggling the most, Lightfoot has said.
Breanna Beecham, an Englewood resident and CPS mom, went to A. Phillip Randolph School in the morning to get her daughter's school laptop fixed. She's worried her first grader is going to fall behind learning from home.
"I'm actually excited for them to go back to school. I believe that they need a structure in the classroom setting that I'm not able to provide at home, because I do work," Beecham said. "This is the first time that she's getting a learning of anything, and for it to be taken away from her because due to COVID-19 and having to do e-learning has been a struggle for us."
Juggling her daughters' educations and her own workload, Beecham is at an impasse. She is not overly concerned about the virus being transmitted among her family once in-person learning resumes.
"Everything else is opened up. We're able to wear masks …," Beecham said."The school should open back up with safety precautions like they're taking everywhere else."
Lightfoot and Dr. Allison Arwady, head of the Chicago Department of Public Health, have also noted there have not been widespread outbreaks at private schools that have been doing in-person learning for months.
But Sharkey said the virus is one "that discriminates," and it's proved more risky for families where people have service jobs, live in multi-generational housing or don't have access to quality health care — communities that CPS serves.
And the teachers who spoke Monday said officials' equity issues won't be solved by pushing teachers and students back into classrooms.
Chicago's Black and Latino communities have been hit disproportionately hard by COVID-19 — and the majority of students at CPS are students of color, meaning their communities could be ravaged even further if there's spread at schools, the teachers said.
CPS needs to consider how Latino families are more likely to live in multi-generational housing where it will have a "greater impact" if a student brings the virus home, Torres said.
An analysis by WBEZ found many families aren't sending their kids back to school — with only one student reportedly returning at some schools. The data showed just 31 percent and 33.9 percent of Latino and Black families, respectively, plan to send their children back to classes.
"I am afraid for my family's health and I am afraid for my students and their families' health and my community," said Kirstin Roberts, a preschool teacher at Brentano. "There has been way too much death. There has been way too much sickness. And there is a lot of grief going on right now in this city and around the world. We need to focus on dealing with that grief and that trauma that has happened. We need to improve what we're doing.
"But instead, I feel like CPS is destroying remote education for the many that have chosen it, and in particular for the Black and Brown majority that have chosen remote because they want to stay home and stay safe."
Block Club Chicago's coronavirus coverage is free for all readers. Block Club is an independent, 501(c)(3), journalist-run newsroom.
Subscribe to Block Club Chicago. Every dime we make funds reporting from Chicago's neighborhoods.
Already subscribe? Click here to support Block Club with a tax-deductible donation.