BELMONT CRAGIN — Chicago Public Schools teachers attempting to sign in to virtual classrooms were blocked Tuesday after the district locked out teachers who refused to return to the classroom because of coronavirus.
In response, about 20 Chicago Teachers Union educators and their supporters brought their frustrations to the Belmont Cragin doorstep of Board of Education President Miguel Del Valle.
At 7 a.m. Wednesday, bundled up teachers brought tables, hand warmers, laptops and wifi hotspots to Del Valle's block and began their work for the day. Brentano Elementary school teacher Kirstin Roberts turned to Facebook Live to interact with her students after the district disabled access to her Google classroom. She said she doesn't feel safe to return to school to teach in person as coronavirus continues to spread.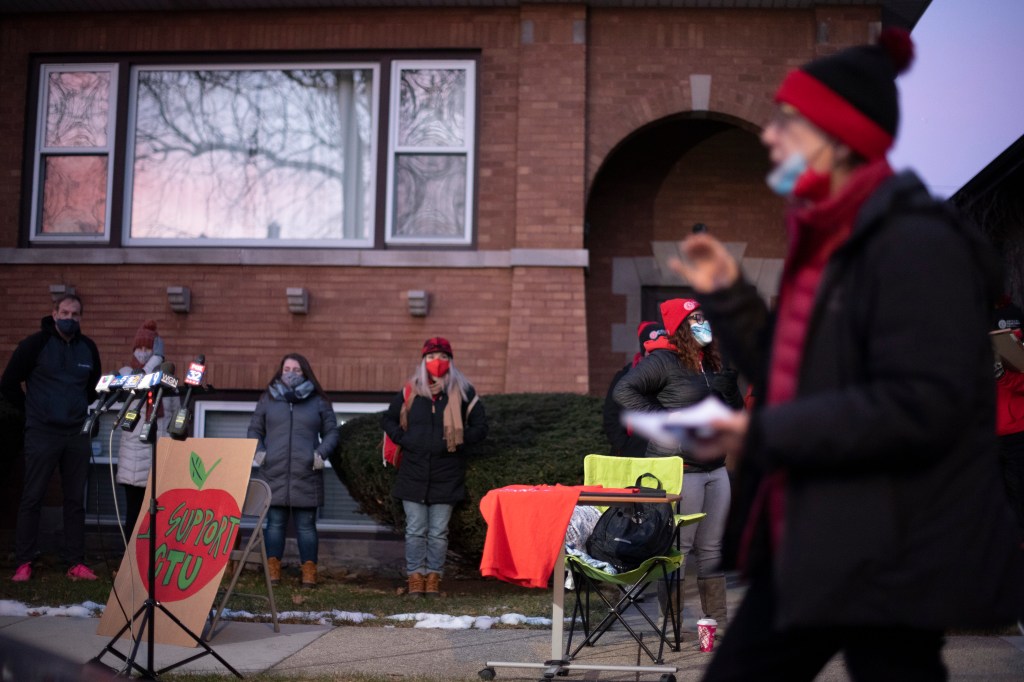 None of Robert's students opted to return to the classroom, she said — "100 percent of my students are remote." She thinks it's baffling for the district to punish teachers for not going into school buildings — especially as coronavirus cases are being reported in schools across the district.
"I don't think the time is right to reopen in-building learning," Roberts said.
Chicago Teachers Union officials said educators have reported coronavirus cases, quarantines and sick members "at schools that include Corkery, Hanson Park, Beethoven, McCutcheon, Cleveland, and Beard."
At Beard Elementary in Jefferson Park, union officials said at least 10 workers are in COVID quarantine. At McCutcheon Elementary in Uptown, five staff members, including McCutcheon's principal and assistant principal, are in quarantine following the teacher's confirmed coronavirus case.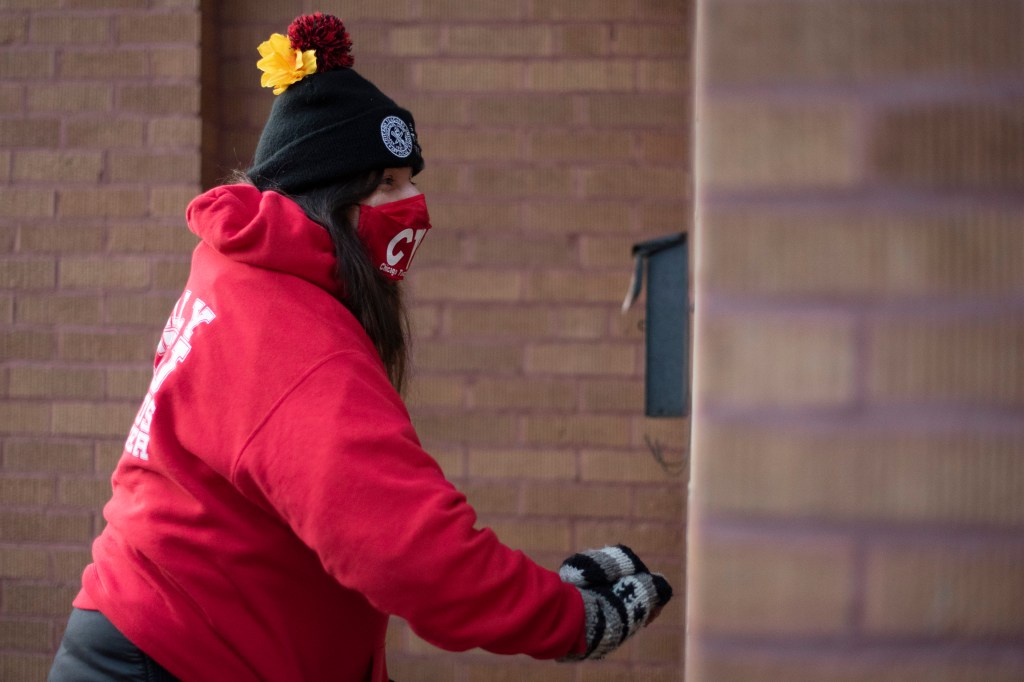 Marina Ruiz, a CPS special education classroom assistant and mother of a CPS student, said the district's reopening plan is "an effort to bully teachers back into the building by CPS and our mayor."
Ruiz, who cares for her mother who is in hospice, applied for accommodations to keep working from home and never received a response from the district, she said. Though all of her students will be learning remotely, she said she's being forced to return to an empty classroom.
"There's no need to be in the building, when it's mostly filled with adults, and very, very few students," she said.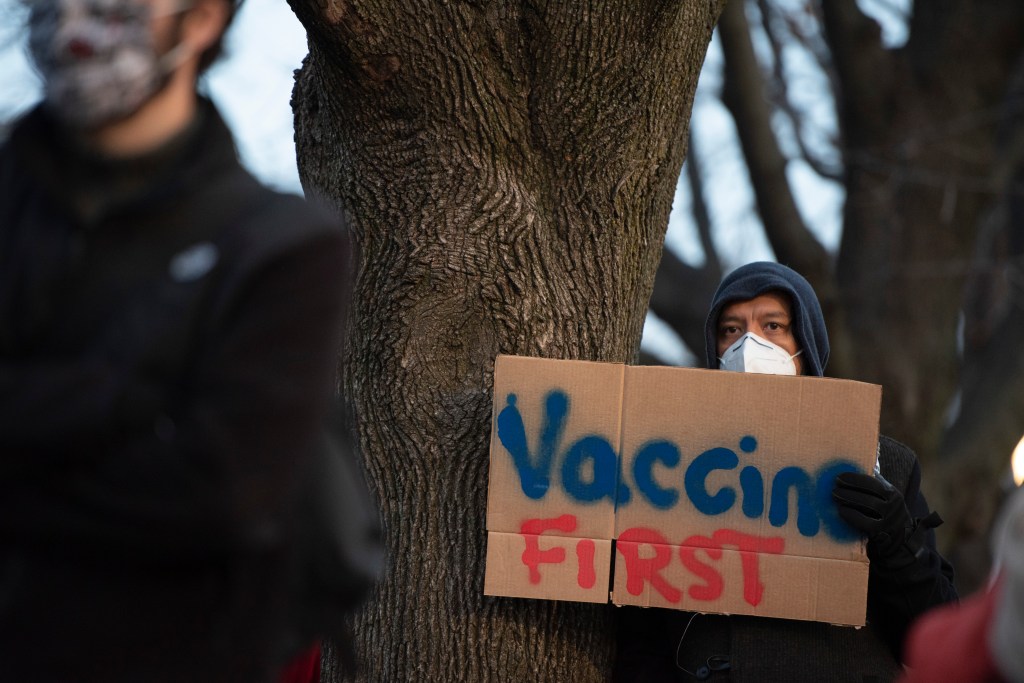 Mayor Lori Lightfoot and CPS CEO Janice Jackson said Friday that teachers required to return to classrooms could face discipline and be docked pay if they refuse to show up. CTU leaders said in a virtual press conference it would be "illegal" for the district to withhold pay.
About one-third of the pre-kindergarten and various cluster group students eligible to return to CPS schools for in-person learning on Monday — about 6,000 kids — were expected to do so, district leaders said. Though teachers across the city said many who initially opted for in-person instruction have stayed home.
CPS officials have not responded to multiple requests for student attendance numbers.
Roberts said she misses her students, and that CPS "[denied] preschoolers their teacher because they have a dispute with me."
"I'm not AWOL, I'm right here," she said.
Sol Camano, a preschool teacher at Dr. Jorge Prieto Math and Science Academy, also said all of her students chose remote learning. On Monday, she was locked out of her CPS accounts and was unable to teach students Tuesday.
"My students are four and five years old. They have no idea what's going on. What they do know is that their teacher wasn't there yesterday," Camano said.
Camano said he can't wait to be back with students "but now is not hte time to reopen our schools."
"It's far too dangerous, especially in our community where the positivity rate is at a 16 percent," he said.
RELATED: In Backing CPS Reopening, Health Department Studied COVID-19 In Catholic Schools — Which Presents Problems, Critics Say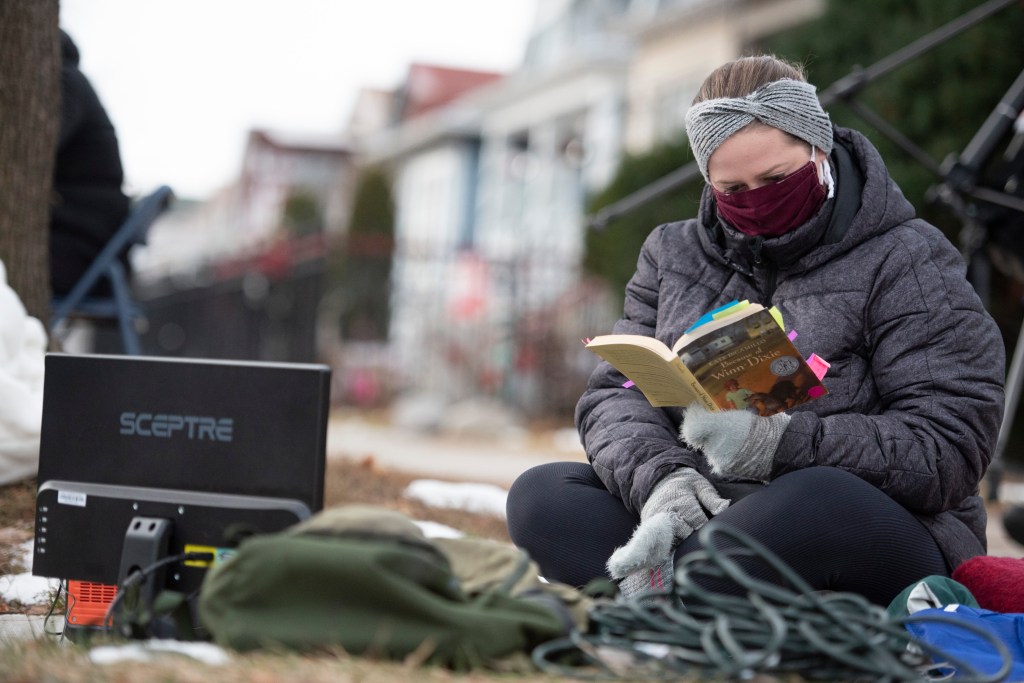 Teachers broke into a song to ring in the beginning of another school day, even if they were unable to log into their virtual classrooms. Some recorded themselves reading books, speaking through sock puppets and leading dance instructions.
 A handful of Chicago Police officers showed up, though kept their distance.
Negotiations between the union and district are ongoing, but Lightfoot and Jackson have said the remaining teachers who were not granted permission to keep working remotely are due back in classrooms Jan. 25. About 70,000 students will follow on Feb 1.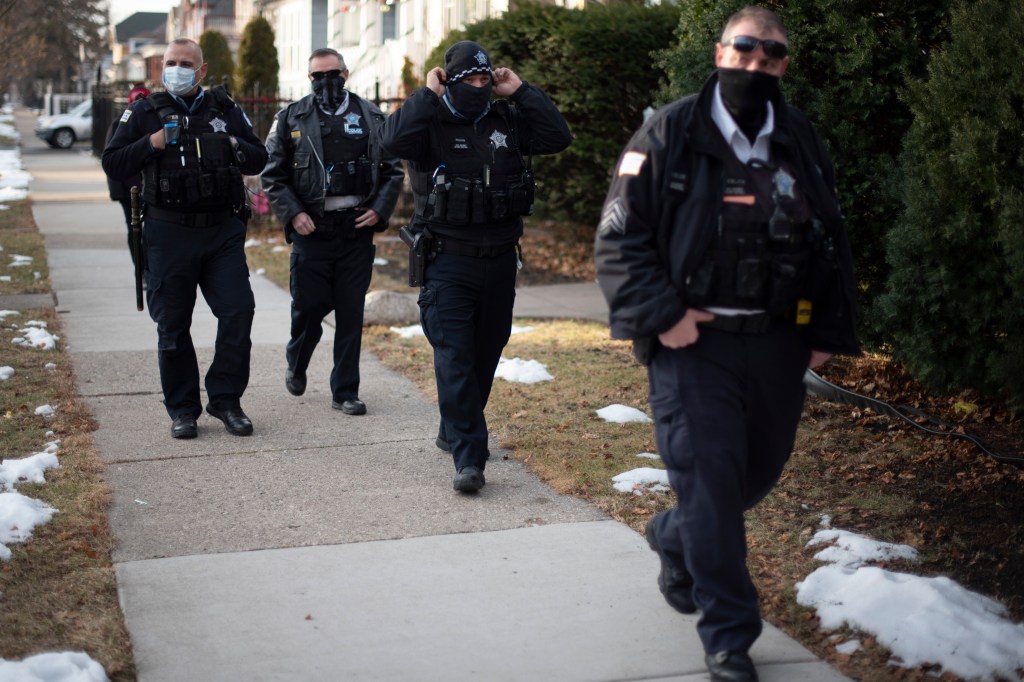 Subscribe to Block Club Chicago. Every dime we make funds reporting from Chicago's neighborhoods.
Already subscribe? Click here to support Block Club with a tax-deductible donation.