AVONDALE — A developer looking to build a small apartment building on a long-vacant lot in Avondale is facing pushback from some residents who are concerned neighborhood families won't be able to afford the apartments, which call for rents up to $3,400 a month.
The opposition comes as Avondale continues to attract new housing in the form of small projects. Locals have long considered Avondale the next hot neighborhood behind Logan Square, which has seen more gentrification-fueled displacement than any other neighborhood in the city.
"This is a high-rent apartment building that we don't need," said Karen, a longtime resident who spoke during a virtual community meeting Monday. "What we need is affordable housing for families who have children in public schools.
"I've lived in Chicago for four decades. I don't know one person who can pay $3,400 a month rent. Not one."
Developer Craig Anderson wants a zoning change to build the eight-unit apartment building on a lot at 3059-61 N. Washtenaw Ave. that has sat vacant for more than a dozen years. Rents would range from $1,700 a month for a two-bedroom apartment to $3,400 a month for a four-bedroom apartment. Plans also call for eight parking spaces.
The developer does not plan to reserve any of the apartments as affordable, but he has committed to donating $100,000 to a local community land trust to preserve affordability in the area. Because the project includes fewer than 10 apartments, the developer is not required to provide any affordable housing under the city's Affordable Requirements Ordinance.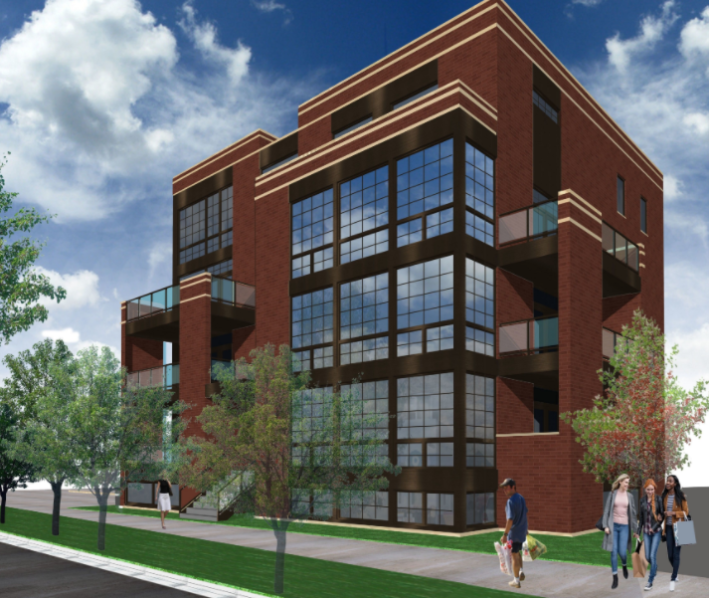 Anderson's zoning attorney, Paul Kolpak, said the project would bring life to a lot that has failed to generate any revenue for the city for many years because it is zoned for limited manufacturing.
"The owner of the property will tell you he has been looking for someone to purchase this property for years," Kolpak said at the meeting. "Under that existing zoning, there has been no takers."
Neither the explanation nor the donation was enough to win over a small group of residents at Monday's meeting. While they'd like to see redevelopment of the long-vacant site, some residents said the proposed project is out of scale with the neighborhood and only exacerbates what has become a growing affordability problem in Avondale.
"If you believe in affordable housing, then make an affordable housing unit," said neighbor Mark Thomas, who owns The Alley. "$100,000 isn't going to even buy a studio apartment."
Another resident who didn't provide her name questioned why the developer is donating to the neighborhood group rather than making one of the apartments affordable.
"I agree with the other residents who are testifying and saying the rents are entirely too high," she said.
RELATED: As Avondale's Gentrification Heats Up, Some Residents Want More Control: 'This Isn't Logan Or Wicker Park'
Residents at the meeting also raised issues about congestion and the project's lack of green space, but affordability was the central concern.
Pressed on the issue, Kolpak said the apartments are priced "reasonably" for the market. He said they're targeting young professionals who have been priced out of tony neighborhoods like Lincoln Park.
"Western Avenue was like a wall for many, many years. No one went west of Western Avenue," Kolpak said. "And if you would've told me 15 years ago that you would have $800,000 … million-dollar homes in [the area], I would have probably said you're incorrect.
"Now you can see that development has gone west of Western, certainly now west of California, and it's moving further west. Your neighborhood is becoming more desirable to young professionals who are sitting there and saying, 'We're priced out of Lincoln Park. We want to come here. These are big enough units where we can start … and then, at some point in time, we'll move onto a single-family home.'"
Ald. Rossana Rodriguez-Sanchez (33rd), who represents the area, is gathering community feedback before deciding whether to sign off on the zoning request.
If approved, the Washtenaw Avenue project will be the latest development to pop up in Avondale, which has seen an influx in small residential projects in recent years.
Avondale is also losing its Polish identity as several Polish businesses, including Red Apple Buffet and Polskie Radio station, have moved out of the neighborhood to make way for developments.
Subscribe to Block Club Chicago. Every dime we make funds reporting from Chicago's neighborhoods.
Already subscribe? Click here to support Block Club with a tax-deductible donation.