LOGAN SQUARE — Red Apple Buffet, one of Avondale's go-to Polish restaurants, has closed after 30 years on Milwaukee Avenue.
The all-you-can-eat restaurant at 3121 N. Milwaukee Ave., known for its wide array of cheap Polish food, will be replaced with a new apartment building with retail and restaurant space.
Reached by phone late Monday afternoon, co-owner Anna Hebal said she and her husband Ferdynand, also her business partner, sold the property to a developer in December with the intention of downsizing.
"Two locations is a lot to take care of, especially fresh cooked, handcrafted [food]," Hebal said.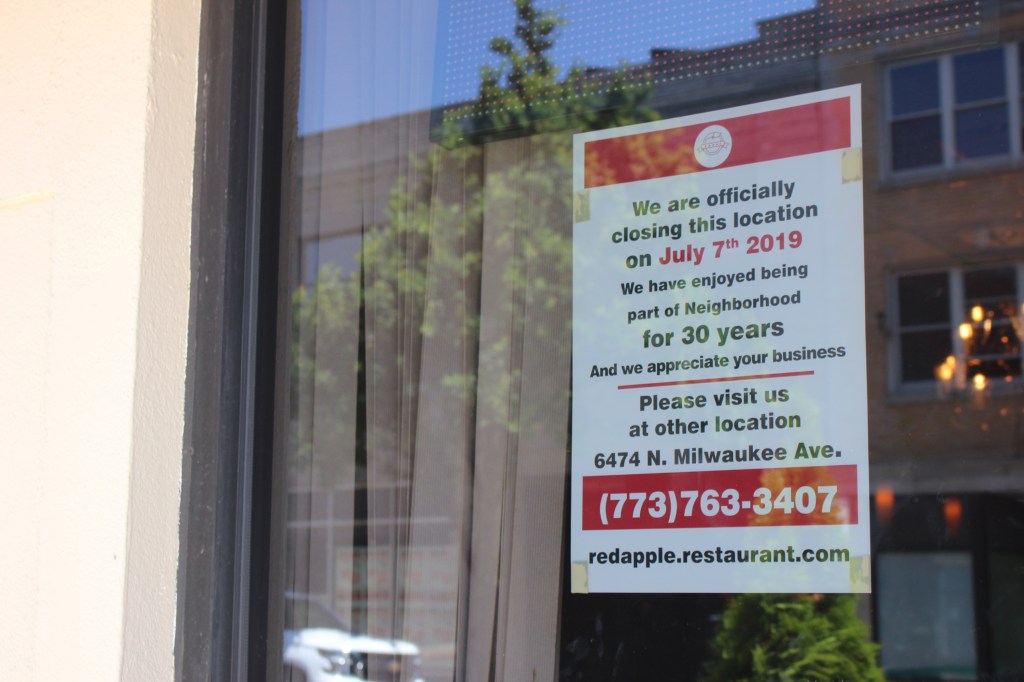 Cook County property records show the property was sold to Wilmot Properties Inc. for $1 million. The developer didn't immediately respond to a request for comment.
Hebal told Block Club the building would offer condos, but the development team later said it would actually offer apartments.
Hebal said she's proud the restaurant lasted 30 years as the neighborhood went from largely Polish to largely Latino and now, a mix of white and Latino.
"For us, staying for 30 years is kind of amazing because restaurants come and go," she said.
"It was very Polish when we started, and then it started to be Hispanic and now it's super diverse. New young people are coming from all over the city with their families and we really love that."
Over the last few decades, the restaurant has become one of the neighborhood's go-to Polish spots. Its stretch of Milwaukee Avenue is lined with Polish businesses.
Plastered to the outside of the restaurant is an illustration of Polish-born Revolutionary War general Casimir Pulaski and a plaque from the Illinois State of Representatives declaring it a "culinary landmark."
Daniel Pogorzelski, former executive director of the Greater Avondale Chamber of Commerce and local historian/journalist, said Red Apple Buffet was more than just a restaurant.
"The restaurant served as a nexus that brought together Poles hankering for a taste of home, hipsters discovering the neighborhood, as well as foodies from all over the world wanting to sample their delicious fare," Pogorzelski said in an email.
Pogorzelski, who has long studied Avondale's Polish roots and co-authored the book, "Avondale and Chicago's Polish Village," once appeared on a French travel show with Hebal.
Hebal wouldn't divulge many details about the developer's plans for the site, except that she expects the new condo building to be about four stories tall.
The restaurant owner sees the change as a good thing.
"I think it's going to be beautiful. It's just different. Life goes on," she said.
"It should be obvious now. The neighborhood is developing pretty quickly now. All of the developers are coming into Avondale and they're trying to build taller buildings, condos and some commercial spaces — that's what it is here."
There's a chance Red Apple Buffet could open back up at that same location sometime in the future. Hebal said the developer offered her the restaurant space in the new building, but, while she's open to it, she's "not really sure" it'll happen.
Hebal said they plan to continue selling food at the Logan Square Farmers Market, so they'll still have a presence in the area. She encourages folks to visit the Norwood Park location if they want a dine-in experience.
"People were saying, 'Oh my God. Oh my God. I'm going to miss you.' I was like, 'Don't miss us. Just visit us at the other location,'" Hebal said.
Do stories like this matter to you? Subscribe to Block Club Chicago. Every dime we make funds reporting from Chicago's neighborhoods.