IRVING PARK — Two men shot at by an off-duty police officer in December — one of whom was hit in his hand — filed a federal lawsuit against the cop and the city of Chicago on Tuesday, accusing the officer of firing at their car "unprovoked."
The Dec. 11 shooting in Irving Park is under investigation by the Civilian Office for Police Accountability, which released video and other records relating to the shooting Tuesday. Police Supt. David Brown stripped the officer involved, Kevin Bunge, of his police powers shortly after the shooting.
Attorneys for Jomner Orozco Carreto and Carlos Ramírez said the two men were driving about 10:45 p.m. that night in the 3300 block of West Irving Park Road when they pulled over to check their GPS for directions, parking behind Bunge's vehicle.
Police officials said at the time the off-duty officer heard gunshots, approached a parked car and fired shots at the vehicle during a confrontation.
Bunge claimed he saw a person in a vehicle "parked directly behind him point a firearm at him," according to police records released Tuesday. Bunge told his commander he fired his gun twice.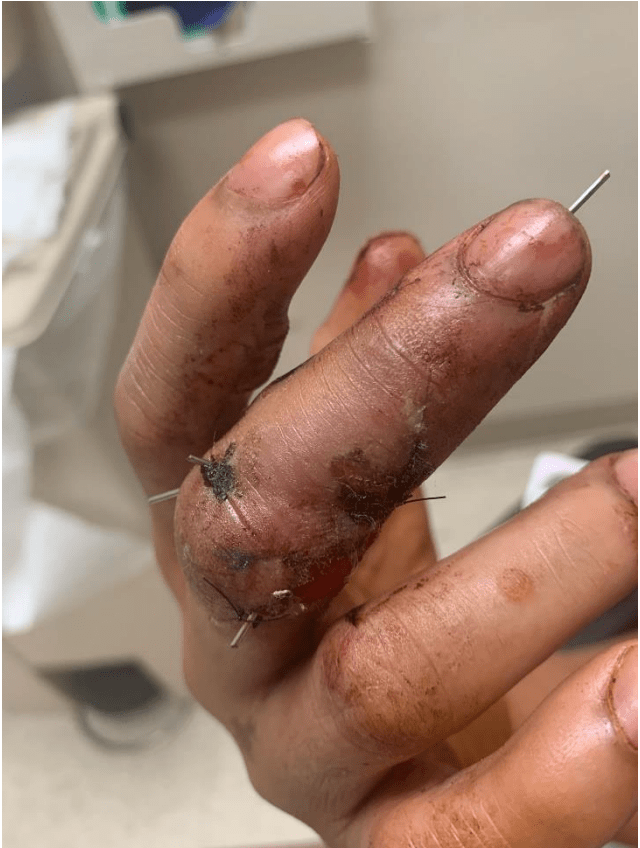 Orozco and Ramírez's lawyers allege Bunge got out of his car without provocation, approached them with a weapon drawn and fired several times into the car, hitting Orozco in his hand. The shattered glass hit both men in the face, their lawyers said. Neither man was armed, according to their attorneys.
Orozco quickly put his car in reverse, sped backward down Irving Park and called 911. Orozco was treated at Swedish Hospital and arrested briefly before being released without charges, according to their attorneys.
"This use of deadly force against unarmed people is yet another example of the Chicago Police Department's ongoing pattern and practice of using excessive force in violation of the law," Brad Thomson, one of Orozco and Ramírez's attorneys, said in a statement. "This egregious example of unconstitutional use of force exposes a systemic problem of police violence that can't be corrected with nominal reforms or superficial training."  
Police and COPA spokespeople declined comment, citing pending litigation.
"He should be fired," Ramírez said in a statement through his attorneys. "He is too dangerous to be a law enforcement officer. I thought we were going to die. I don't want this to ever happen to anyone else." 
The videos released by COPA show limited parts of the shooting from private and city surveillance cameras, then footage from body-worn cameras of responding officers at a nearby 7-Eleven.
One camera from a nearby apartment building shows Bunge park a white SUV at 10:46 p.m. at 3320 W. Irving Park Road. After about eight minutes, the red car Orozco and Ramírez are inside pulls up behind the SUV and turns on its emergency flashing lights.  
Bunge can be seen getting out the SUV and pointing his gun at Orozco and Ramírez' car. Bunge then appears to try to open the driver's side door while continuing to aim his gun. The car reverses out of view.
Seconds later, Bunge can be seen walking backward toward his SUV. There is no sound on the videos and, due to camera angles, Bunge cannot be seen firing his gun.
The footage from the 7-Eleven parking lot shows responding officers speaking to the two men in Spanish and examining their car. The victims' identities are blurred, but one of the men appears to be holding up his wounded hand while he says he was parked on Irving Park Road when a man got out of a car and started shooting at him.
The driver's side window is shattered in the footage and there are red stains on the driver's seat. 
"I hope no one else ever has to experience what happened to us. The Police Department needs to control its officers," Orozco said, in a statement. "This should never have happened and we will fight for justice."
Orozco's lawyers also said a community member launched a GoFundMe to help cover his housing and other expenses as he recovers from his injuries.
COPA officials say the investigation into Bunge's use of deadly force is ongoing. 
COPA is also encouraging people who witnessed the shooting or have additional information to contact the agency at (312) 746-3609 or via its website at https://www.chicagocopa.org/complaints/.
Subscribe to Block Club Chicago. Every dime we make funds reporting from Chicago's neighborhoods.
Already subscribe? Click here to support Block Club with a tax-deductible donation.