CHICAGO — A Cook County judge has paused Chicago's COVID-19 vaccine mandate for police officers.
The announcement — first reported by WBEZ's Patrick Smith — came Monday morning. It temporarily halts Mayor Lori Lightfoot's mandate that all officers be vaccinated by year's end as the city and the Fraternal Order of Police, Chicago's largest union for officers, battle the issue in court.
Officers must still follow some parts of the mandate: They must report their status and get tested if they are not fully vaccinated, or the city can discipline them. But the city cannot fire officers who don't get their shots before the Dec. 31 deadline as negotiations continue.
The mandate has faced controversy from some corners — particularly the Police Department. The Fraternal Order of Police has encouraged officers to deny the mandate. The city and union have filed dueling lawsuits against each other.
Under Lightfoot's mandate, all city workers, including officers, were required to be fully vaccinated by Dec. 31 unless they received an exemption. Workers who didn't meet the requirement faced punishment, including being fired, officials said.
Raymond Mitchell, Cook County Circuit Court judge, ruled Monday that while there could be remedies for the police union if an arbitrator struck down the city's reporting and testing requirements, they could not provide remedies for officers who had already gotten vaccinated.
"An award of back pay or reinstatement cannot undo a vaccine. Nothing can," Mitchell wrote in an order.
The city's vaccination policy represents a "legitimate effort to protect public health," Mitchell wrote, but "the city's public health objective and the police union's desire to pursue their grievances are not wholly irreconcilable."
The effect of Mitchell's order is to "send these parties back to the bargaining table," he wrote.
"The city has it within its own power to avoid any burden, harm, or inconvenience occasioned by this order simply by pursuing an accelerated arbitration," he wrote.
Last week, another Cook County judge ruled against extending and expanding a temporary restraining order she had entered against police union President John Catanzara that had barred him from publicly urging union members from complying with the city's mandate.
After the ruling, Lightftoot and Catanzara both claimed a win. At an unrelated press conference, Lightfoot said "the mandate continues," but when asked if the city and police union could complete the arbitration process before the end of the year, she said, "We'll see."
Lightfoot criticized Mitchell's ruling that stated the police union's grievances are "an effort by leadership to protect their members rights to bargain."
"With due respect to the judge, I think the record tells a radically different story," she said, claiming Catanzara stalled negotiations. "It's just not correct that they're serious about getting a deal done. What they're serious about is obstructing, obfuscating and telling half-truths to lead their members astray."
Lightfoot also continued her battle of words with Catanzara to appeal to officers who have yet to comply with the requirement to report their vaccination status.
"At some point, people have to recognize this guy doesn't know what he's talking about, he's leading them down the wrong path," she said of the union leader. "Sign up on the portal, sign up on the portal, save your life and save your family's life, your partner's life, your colleagues at work."
Catanzara took to YouTube Monday afternoon to say "today was a good day, not a great day, but a good day."
"Thankfully, Judge Mitchell heard our argument that we've been saying all along: This fight was about collective bargaining rights and the obligation of the city to go to the bargaining table and to arbitration," he said. "I'm going to guess now this city is going to be in a hurry where they were dragging their feet the last three weeks refusing to go to arbitration."
Catanzara also told union members to resist reporting their vaccination status until the Police Department hauls them to headquarters to receive a direct order to do so, but stopped short of telling them to not comply with the order.
"The status-quo remains the same," he said. "Go through the process, subject yourself, if called to headquarters, to at least the final phase of receiving the direct order and at that point, it's your decision to make."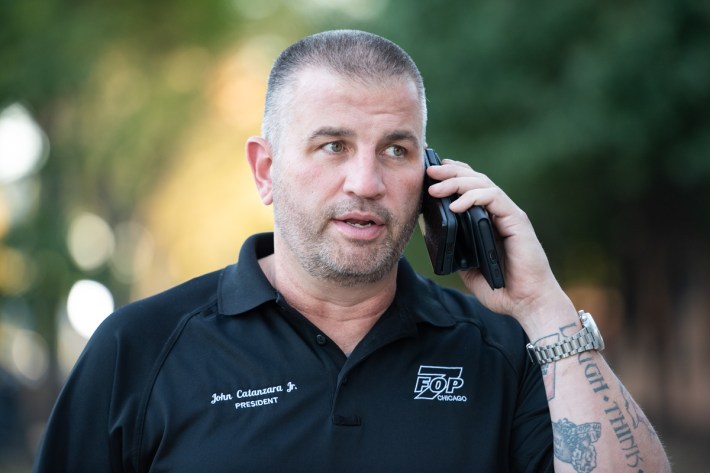 The vast majority of city workers have complied, either getting their shots or reporting their status and agreeing to be tested before the Dec. 31 deadline.
But the Police Department has lagged behind others in getting employees to report their vaccination status.
As of Monday, 73 percent of Police Department employees have reported their vaccination status to the city. Of those who have reported their status, more than 80 percent of police officers say they are vaccinated, Supt. David Brown said Monday.
As of Monday, 35 officers have been relieved of police powers and put into a no-pay status for failing to their vaccination status, Brown said.
The city is "moving at deliberate speed" to complete the process of giving a direct order to the thousands of officers who have yet to comply with the reporting requirement and the "vast majority" of officers are complying with those orders, Lightfoot said Monday. But the mayor declined to say how many officers have been through that process to date.
Across the city, 18 of 34 departments have reached 100 percent compliance with the reporting mandate, 10 are at 99 percent compliance and four are between 92-98 percent compliance, according to a letter Lightfoot sent to City Council on Friday.
Catanzara held rallies against the mandate last week. A group of aldermen — who are not required to get vaccinated — have also pushed back, with some organizing a City Council meeting Friday where an effort to ditch the mandate was voted down.
Ahead of Friday's vote, Lightfoot gave an impassioned speech defending her vaccination mandate, saying, "We cannot maximize safety in our workplace without getting people vaccinated.
"We lost four officers last year who died because COVID-19. Four. I've seen firsthand the devastation of those families. So I want to ask those people who say they support the police: How many more have to die? How many more?"
Listen to "It's All Good: A Block Club Chicago Podcast" here: