CHICAGO — A push to repeal Mayor Lori Lightfoot's vaccine mandate for city workers failed at a special meeting Friday.
Spurred on by the city's largest police union, City Council met for a special session on Friday to consider the measure, which failed 13-30.
After over two hours of fiery debate, the body voted down the ordinance sponsored by Southwest Side Ald. Silvana Tabares (23rd) and Northwest Side Ald. Anthony Napolitano (41st). Those who backed the ordinance largely hail from wards with a high percentage of city workers or who are vocal supporters of Chicago police.
In addition to Tabares and Napolitano, Alds. Anthony Beale (9th), Marty Quinn (13th), Ed Burke (14th), Ray Lopez (15th), Matt O'Shea (19th), Ariel Reboyras (30th), Felix Cardona (31st), Nick Sposato (38th), Samantha Nugent (39th), Brendan Reilly (42nd) and James Gardiner (45th) voted to repeal the mandate.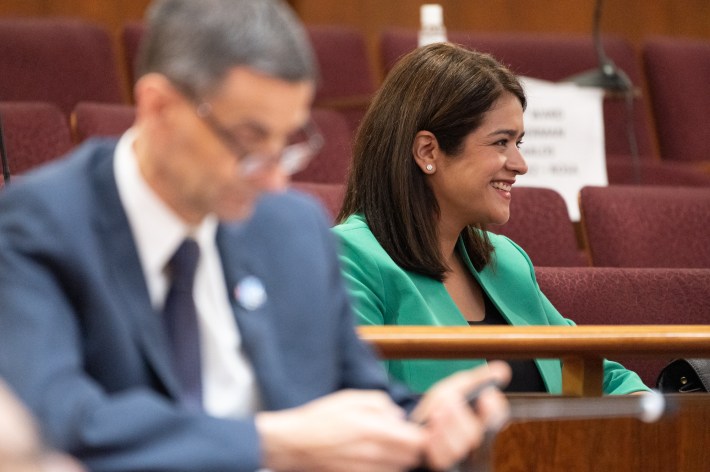 Had the ordinance been successful, it would have also retroactively granted City Council the power to issue such mandates in the future, putting the 50-member body in charge of disciplining city workers who don't comply.
Ahead of the vote, Lightfoot gave an impassioned speech rebuking supporters of the ordinance, saying it was an attempt to "strip the executive of the ability to manage the executive branch."
"Some have said that they support the police, but do you support insubordination, do you support insurrection?" she said. "Why is it that some people that we trust to uphold the law should be elevated above the law, because that's what this is about, as well."
Lightfoot said the energy spent on repealing the vaccine mandate would be better spent educating first responders about vaccines.
"Because as sure as we are living, the people that are unvaccinated are playing Russian roulette with their lives and they're playing Russian roulette with the lives of their families, the neighborhoods and the people in the city who have a right to believe that when someone from the city government shows up at their door, they're there to help them, to save their life, not imperil it," Lightfoot said.
Under the mandate, Lightfoot is requiring all city workers to enter their vaccination status through a city portal. Those who are unvaccinated are able to instead submit to twice-weekly testing of the virus until Dec. 31, when all city workers must be vaccinated. Those that don't report their status will be put into a no-pay status, city officials have said.
As of Thursday, 72 percent of police department employees have reported their vaccination status to the city. Of the 72 percent who have reported their status, 80 percent of police officers say they are vaccinated, CPD spokesman Don Terry said Friday.
As of Friday, 30 officers have been relieved of police powers and put into a no-pay status for failing to their vaccination status, he said.
The Fire Department is at 87 percent compliance. Of the firefighters who have reported their status, 78 percent said they have been vaccinated.
As of Friday, 32 Fire Department employees have been placed in a no-pay status.
Across the city, 18 of 34 departments have reached 100 percent compliance with the reporting mandate, 10 are at 99 percent compliance and four are between 92-98 percent compliance, according to a letter Lightfoot sent to City Council on Friday.
The Fraternal Order of Police has fought the mandate publicly and in the courts.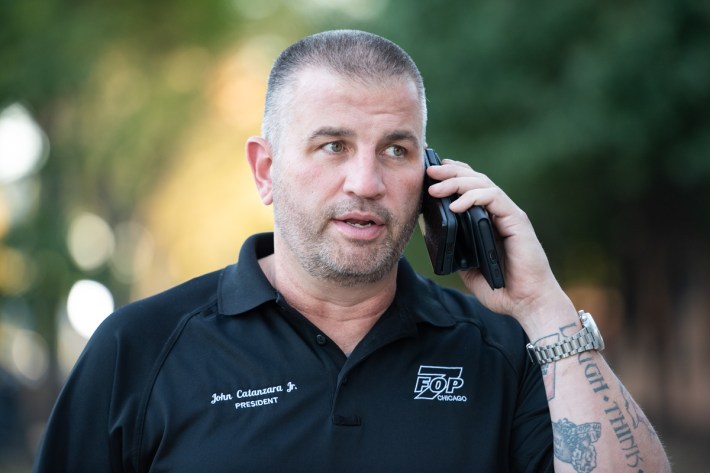 On Monday, FOP President John Catanzara took his fight against the mandate to City Hall, leading a rally ahead of a scheduled City Council meeting before warning alderpeople his union would oppose their reelection if they didn't support the ordinance.
At City Council Friday, Tabares said anyone who voted against the move to repeal the mandate should have a "good answer for your constituents when they call and ask about crime, fires and garbage."
"We don't know how this is going to continue to play out. We don't know how many more frontline workers are going to be sent home. We don't know how this is going to impact garbage collection in our wards, ambulance response time, or police patrols in our communities," she said.
Napolitano said the country had lost "the American way."
"We have officially become a country, state and city which now takes away your right to choose what happens to your body," he said. 
Like some others who supported the repeal, Napolitano said he is vaccinated and has organized vaccination events in his ward, but said "it will be a cold day in Chicago before I force anyone to."
As the debate wore on, more alderpeople pushed back against the ordinance to repeal the mandate.
Ald. Susan Sadlowski Garza (10th) said "a vaccine is as essential as a hardhat, an oxygen mask or a bulletproof vest, it won't protect you from everything, but it gives you a fighting chance when things go wrong."
The Southeast Side alderperson also pushed back against placing City Council in charge of disciplining city workers, saying the ordinance would make City Council "the judge, jury and executioner."
"Are you willing to make City Council the final judge on every grievance or labor dispute that arises in the city? I'm not. Are you willing to put the fate of every employee on this chamber floor without due process and protections that have been negotiated in a CBA? I'm not," she said.
Ald. Daniel La Spata (1st) directly responded to Tabares, who repeated the phrase that "aldermen don't know" what's going on with regard to the vaccine mandate during her speech.
"It's not a tough vote today because when my residents call for a building inspection, or a public way inspection, a paramedic or police officer, I want them to know that the person coming to their door does not present any kind of a public health risk to them," La Spata said.
Others blamed Catanzara for Friday's meeting. 
"This has been about politics since Day One," said Ald. Andre Vasquez (40th). "It's about John Catanzara being a Trump-like pied piper who vaccinated himself, telling people not to do it."
"This isn't removing anyone's rights or liberty," he said. "They have every choice not to get vaccinated. There are consequences for those choices."
Ald. Roberto Maldonado (26th) said officers who are refusing to get vaccinated are "violating the same oath that you took to serve and protect."
After the meeting, Tabares said she didn't view the vote as a loss and would continue to push for more information from the city surrounding the mandate and the penalties for those who don't comply.
Subscribe to Block Club Chicago, an independent, 501(c)(3), journalist-run newsroom. Every dime we make funds reporting from Chicago's neighborhoods.
Click here to support Block Club with a tax-deductible donation.