Editors note: This story contains descriptions of graphic violence and external links to footage of a fatal police shooting.
NEAR WEST SIDE —  Angela Wade-Brown said she wakes up every morning missing her son. 
A recent graduate from welding school, Turell Brown celebrated his 28th birthday in early September. Days later, a Chicago police officer fatally shot him in what department officials said stemmed from a domestic disturbance in Englewood.
"It's hard to explain how I feel. I'm hurt," Wade-Brown said at a press conference Friday afternoon on the Near West Side. "My heart is in a million pieces."
Now, with the support of state Rep. LaShawn Ford (D-8th), Brown's family is demanding accountability from the city, and want the officer responsible fired and prosecuted.
"It's my belief that when people seek justice, they shouldn't have to protest," Ford said. "We should be able to ask for justice without protesting."
The shooting happened the morning of Sept. 19 in the 6500 block of South Harvard. 
In preliminary statements, police officials said officers responded to a domestic disturbance, found Brown armed with a knife and an officer shot him. Supt. David Brown offered little more detail at a press conference the following day, saying the "sequence of events" would be left for the Civilian Office of Police Accountability to investigate. Police did not say at the time whether Turell Brown approached or threatened officers with the knife.
COPA released police body camera footage and reports on the shooting Oct. 19. 
According to the footage, two officers arrived at the Englewood residence and a woman, 27, said her boyfriend punched her "all in her face and her chest" during an argument. 
"He pulled a knife on me, too," she said, adding that she wanted him out of her house and planned to press charges.
After asking for Brown's name, the woman tells officers that he was in the back of the apartment and had a knife on him.
As the officers walked through a doorway in the apartment, Brown yelled at them to "go back that way." The officers backed away to the front door and pulled their guns. As one officer begins to radio a dispatcher, Brown can be seen emerging from a back room with a knife in his right hand.
"Put it down, put it down, put it down, dude! Put that knife down! Put it down!" an officer yelled at Brown, who waves the knife with his right hand as he continues urging the officers to stay back. 
Brown goes behind a wall in the apartment briefly while officer radioes that Brown is armed with a knife. After a few moments, Brown reemerges from behind the wall and slowly steps toward the officers. At this point, he continues trying to wave off the officers with his empty right hand. His left hand is at his side and it's not clear whether he is holding a knife. 
Brown inched forward as officers shout at him again to drop the knife. As Brown appears to reach for the apartment's front door, one officer fires his gun three times. Brown is standing several feet away when he is shot.
Brown retreats behind an apartment wall before collapsing backward to the ground, while officers alert dispatchers to call for an ambulance. One officer starts CPR on Brown as a police supervisor and several more officers arrive on scene.
Brown was pronounced dead at University of Chicago hospital. COPA's investigation into the shooting is ongoing.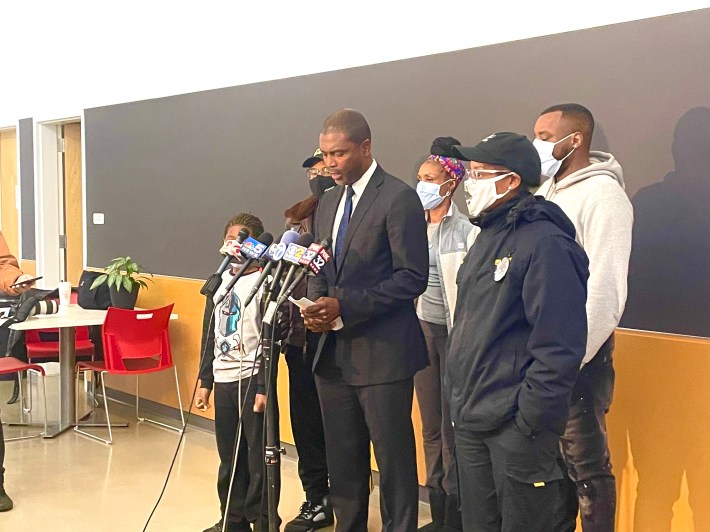 Wade-Brown said the video shows that her son was unjustly killed.
"He wasn't aggressive. He wasn't coming out of anger," she said. "He was talking calm. But they shot him, they murdered him. They murdered my son, and I want to seek justice. I want [the officers] to go to jail."
The officers involved in the shooting were put on 30-day administrative leave but have since reported back to full-time status, a spokesman for Chicago police told ABC7. Lebryant Brown, Brown's brother, said at minimum he feels they should be fired.
"We would like for them to be off the streets today," Lebryant Brown said. "There should be no way they should be able to go back out here and keep patrolling the streets."
Kaleah Brown, Brown's sister, said nothing can undo what happened to her brother. The legal system needs to apply to everyone, including officers, she said.
"His life was taken from him. His life was taken from us," she said. "We are all here heartbroken. No apologies will ever bring my brother back. But now that we are here, sadly, I want justice."
Subscribe to Block Club Chicago. Every dime we make funds reporting from Chicago's neighborhoods.
Already subscribe? Click here to support Block Club with a tax-deductible donation.