CHICAGO — The head of Chicago's largest police union took his fight against the city's vaccine mandate to City Hall Monday, leading a protest before pledging to oppose the re-election campaign of any alderperson who didn't support a move to erase the requirement.
Dozens of officers, city workers and others rallied in the rain, chanting "we will not comply," ahead of a City Council meeting where Alds. Silvana Tabares (23rd) and Anthony Napolitano (41st) introduced an ordinance to repeal Mayor Lori Lightfoot's vaccine mandate. The legislation, supported by 14 other alderpeople, proposed to retroactively give City Council control over issuing such orders.
But Lightfoot's aldermanic allies, led by Ald. James Cappleman (46th), stalled the measure by sending the ordinance to the Rules Committee, where legislation is known to die.
Ald. Raymond Lopez (15th) attempted to overrule the parliamentary maneuver, but that also was shot down, with a majority of alderpeople voting to block it.
The city has required all workers to report if they're vaccinated against COVID-19, but the Fraternal Order of Police has encouraged officers to defy the mandate and is battling the city in court to reverse the directive.
As of Monday, just over 70 percent of Police Department workers had reported whether they've been vaccinated, meaning 3,735 police employees have not complied.
RELATED: 85% Of Chicago Workers Have Reported Their Vaccination Status — But Cops Still Lag Behind
City workers could be placed on no-pay status for not reporting their vaccine status to the city. It wasn't immediately clear how many officers that affects, but as of last week, 21 police officers have been relieved of their police powers for refusing to comply.
Tabares told Block Club the ordinance was about all city workers, not just police officers, and that it's "wrong" to place any worker in a no-pay status for failing to comply with the reporting requirement.
"We're already in the public safety crisis and this mayor is just making it worse and so I'm very concerned about the city," Tabares said. "I just want to make sure that our garbage is picked up, that we have police patrolling our neighborhoods and that we have firefighters in our fire houses."
Despite being under a court-imposed gag order to not publicly encourage officers to not get vaccinated, Fraternal Order of Police President John Catanzara jumped on a concrete planter along LaSalle Street to rally supporters outside City Hall, calling Lightfoot a "dictator."
Inside City Hall, Catanzara did not directly encourage officers to not comply with the mandate, instead pressuring the alderpeople to support the ordinance.
Catanzara called on alderpeople to raise their hands if they support the ordinance, saying those who didn't would be politically targeted by the union in the upcoming municipal elections.
"We're taking a report card and anybody that does not raise their hand, you will be challenged in 2023, we are coming for every one of your damn seats," he said. 
He urged all officers willing to go into a no-pay status to report Tuesday to police headquarters, predicting "hundreds of officers" would do so.
While Catanzara spoke, alderpeople mingled on the Council floor with some looking at their phones. No one in the room raised their hands as Catanzara called for. Lightfoot briefly left her seat at the front of the chamber while he spoke.
As Tabares announced her plans last week to introduce the ordinance, Lightfoot criticized the Southwest Side alderperson as "carrying the water" for Catanzara.
"She knows very well this will never see the light of day, and the fact that she's willing to put her name on it is something really quite extraordinary and frankly, dangerous," Lightfoot said at an unrelated press conference.
Tabares said Lightfoot's comments were "divisive."
"But, I'm not surprised at all," she said. "I wanted to bring forward this ordinance because I think it's important for City Council, alderman to be engaged in the process and have a say, on the mandate."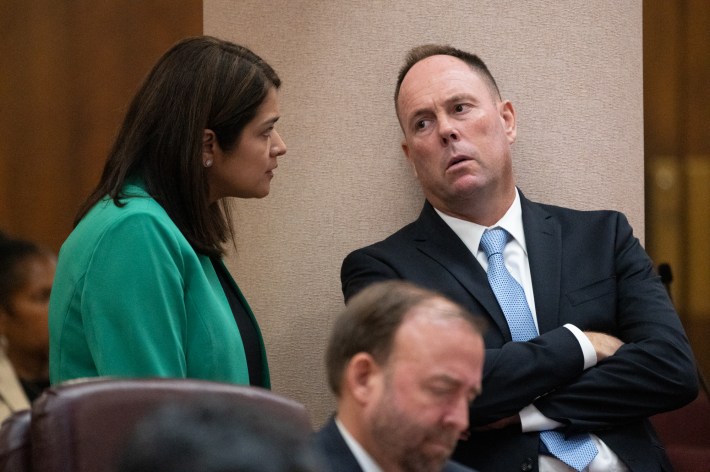 Later Monday, a Cook County judge declined to extend the temporary restraining order restricting Catanzara's public comments about the mandate.
City attorney Mike Warner said comments made by Catanzara and other union officials since the injunction was put in place "add gasoline to the fire" and "are fighting words," arguing Catanzara had potentially violated the restraining order during his comments at City Hall.
But union attorney Joel D'Alba argued "there's nothing improper" about the recent comments from union officials, saying they were protected speech under the First Amendment and labor law.
"What they're trying to do is to thwart the lodge from telling its members about the issues that arise from the vaccination policy," D'Alba said of city leaders.
In her ruling, Circuit Court Judge Cecilia Horan said that any "concern that comments by Catanzara or (union) officials will influence (union) members to violate the policy is moot since they are either already in violation or not."
The original 10-day injunction expires Monday, freeing the controversial union president to again speak freely about the issue.
Subscribe to Block Club Chicago, an independent, 501(c)(3), journalist-run newsroom. Every dime we make funds reporting from Chicago's neighborhoods.
Already subscribe? Click here to support Block Club with a tax-deductible donation. 
Listen to "It's All Good: A Block Club Chicago Podcast" here: