ALBANY PARK — City officials issued disorderly conduct citations to churches that have been hosting in-person worship services in defiance Gov. JB Pritzker's stay at home order.
At least three Chicago churches —Philadelphia Romanian Church Chicago, 1713 W. Sunnyside Ave.; Elim Romanian Pentecostal, 4850 N. Bernard St.; and Metro Praise International, 5405 W. Diversey Ave. — have been hosting in-person services this month.
All three pastors confirmed they received citations Wednesday.
"The citation they gave me is for disorderly conduct, which is pretty hilarious," said Cristian Ionescu, Elim Romanian's pastor. "It's like they think I was drunk and fighting in a bar or something."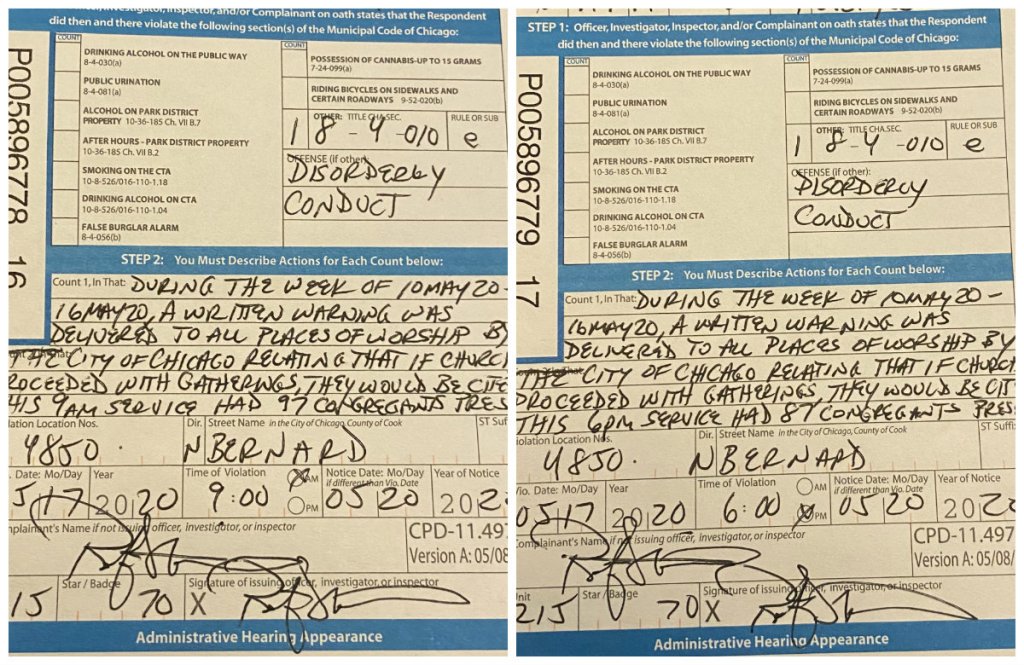 No fine amount was listed on the two citations issued to Ionescu. They require him to appear for an Aug. 12 court date.
"During the week of 10 May 20 – 16 May 20, a written warning was delivered to all places of worship by the City of Chicago relating that if churches proceeded with gatherings they would be cited," one citation read. 
The citations also said 97 people attended Sunday's morning service and 87 people attended Sunday's evening service at Elim Romanian.
"Going to church has never been breaking the law in the country before," Ionescu said. "This only strengthens my determination to continue what I'm doing. This citation is so absurd."
Pastor Joe Wyrostek from Metro Praise also confirmed he received a citation Wednesday with an Aug. 12 court date. 
"The citation didn't come with fine amount but I think a judge will decide that at the court date," Wyrostek said. "I think the city is trying to save face right now with neighbors with these based on how well the city and Illinois is doing to recover and open up again."
Later Wednesday, Pastor Florin T. Cimpean from Philadelphia Romanian confirmed he received the same citation. Cimpean also said Willie Wilson, the businessman and former mayoral candidate who spoke at the Ravenswood church over the weekend, called and pledged to pay whatever fines come from the citation.
"What I heard over the weekend is the possibly of a $500 fine," Cimpean said. "This citation had no dollar amount on it but honestly I don't think $500 will deter most churches from opening."
A spokesperson for Wilson confirmed he has offered to pay any fines on behalf of the churches.
The three churches have hosted in-person services in recent weeks, which violates the state executive order that forbids gatherings of more than 10 people. Elim Romanian is among two churches in the state that have sued Pritzker over the state order.
All of the pastors say they have implemented precautions within their churches. Ionescu said has been providing his congregants with masks, gloves and hand sanitizer, and put caution tape on the pews to ensure social distancing. He said he's also limited the number of people who can attend the services to 110 people and has been having his church professionally cleaned. 
When Wyrostek started hosting in-person services, he did not initially require parishioners to wear face masks or to stand six feet apart from one another. Since then he says he's implemented social distancing protocols similar to Ionescu.
"The CDC already put out steps for how churches to reopen for the states that are opening. We're doing more than what the CDC is recommending we do," he said.
The guidelines for faith-based organizations from the Centers For Disease Control And Prevention say "the best way to prevent COVID-19 is to avoid being exposed to the virus" and for faith leaders to "consider replacing in-person meetings with conference calls, video conferencing, or web-based seminars and postponing non-essential meetings and travel" to help limit the spread of the virus.
Mayor Lori Lightfoot instituted a street parking ban around the three churches on Sunday. Cars that violated the ban were ticketed, but Alds. Rossana Rodriguez (33rd) and Matt Martin (47th) both said residents who got parking tickets could contact their office to have them dismissed.
Rodriguez, Martin and police were also unaware of any cars that were towed by the city as a result of the ban. In Albany Park, police also attempted to block access to a bank parking lot Elim Romanian rents for its members to use. 
The mayor promised to cite any church allowing gatherings of more than 10 people, Rodriguez told Block Club on Sunday. Citations could come with a $500 fine each time a church violates the 10 person limit and can be applied retroactively to last week's services, Rodriguez said.
The mayors office did not respond to a request for comment.
RELATED
Willie Wilson Attends In-Person Church Service In Ravenswood, Defying Stay At Home Order
Albany Park Church Continues In-Person Services; Mayor Promises Fines, Bans Parking
How Do We Reopen Churches, Mosques, Temples? City Making Plans For Safe Religious Services
Judge Tosses Lawsuit From Albany Park Church Challenging Stay At Home Order
Albany Park Church Holds Sunday Services In Defiance Of Stay At Home Order: 'I'm Going To Keep Hosting Mass'
Belmont Cragin Church Brings Outsiders To Illegal Service As Mostly Latino Neighborhood Battles Thousands Of COVID-19 Cases
Belmont Cragin Neighbors To Protest Church That Held Illegal Services
Block Club Chicago's coronavirus coverage is free for all readers. Block Club is an independent, 501(c)(3), journalist-run newsroom.
Subscribe to Block Club Chicago. Every dime we make funds reporting from Chicago's neighborhoods.
Already subscribe? Click here to support Block Club with a tax-deductible donation.