RAVENSWOOD — Businessman, former mayoral candidate and potential U.S. Senate candidate Willie Wilson joined members of a Ravenswood church Sunday at an in-person worship service in defiance Gov. JB Pritzker's stay at home order.
Philadelphia Romanian Church Chicago, 1713 W. Sunnyside Ave., welcomed 80 people to a 90-minute service, according to Pastor Florin T. Cimpean. It is at least the third church in the city — alongside churches in Albany Park and Belmont Cragin — known to have flouted the executive order which bans gatherings of more than 10 people.
Philadelphia Romanian has hosted 42 online services since the stay at home order went into effect, but Cimpean says he was inspired to have an in-person service after his congregants said they needed spiritual support during the pandemic. Wilson was invited as a guest speaker.
"I'm so happy to be here. I feel like singer James Brown. I feel good," Wilson said, while wearing a black tuxedo, medical gloves and no mask. "We want to encourage you today to keep the Lord first. No matter how tough it might get, stay with the Lord."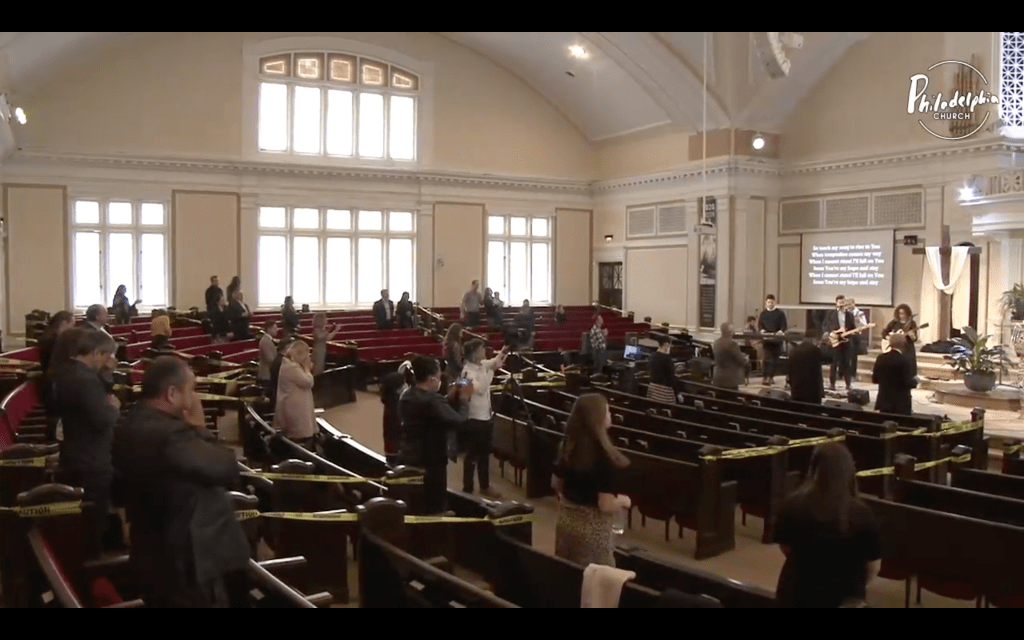 Andrew Smerczak-Zorza, president of Ravenswood Neighbors Association, found out about the services after Ald. Matt Martin (47th) posted a notice on Facebook about the Sunday parking ban in effect to deter in-person services at Philadelphia Romanian. 
"I logged onto the church's live stream and it was surreal seeing Willie Wilson there," Smerczak-Zorza said. "He was in a tuxedo and looked very sharp."
Smerczak-Zorza would rather Philadelphia Romanian go back to only hosting online services which he says appear to be very effective for other congregations.
"I really wish they wouldn't meeting in person. I'm not going to mass right now," Smerczak-Zorza said.
That said, he was impressed with the caution tape and other social distancing measures the pastor at Philadelphia Romanian put in place.
"To their credit the audience looked very spread out in there. But the bottom line is I'm not an epidemiologist," Smerczak-Zorza said. 
In his remarks, Wilson defended the church and complimented its attempts at social distancing within the building. He also asked congregants to pray for "our politicians," like Pritzker and Mayor Lori Lightfoot.
"Even with our enemies you taught us, dear Lord, we must love one another," Wilson said.
Sunday marked the church's first in-person service since March 19, Cimpean said.
"One of our members was undergoing ventilator treatments for the virus and we made sure she could tune into our online-only services every night while she was sick and after she recovered," Cimpean said. "The church is essential for people like them." 
Caution tape was set up on seats to encourage social distancing similar to Elim Romanian Pentecostal, another church that hosted in-person services Sunday.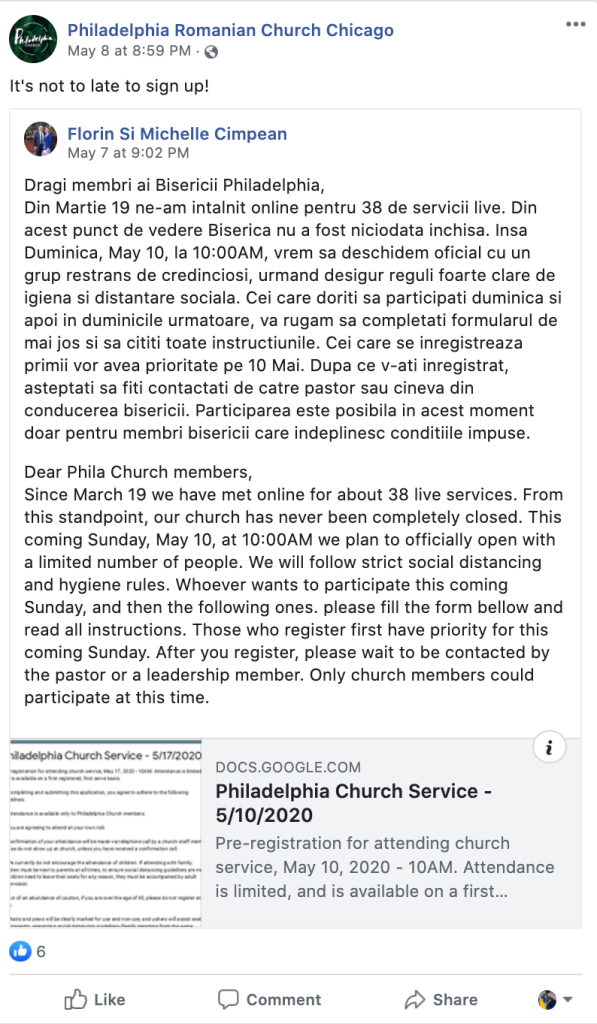 Cimpean also posted a form on the church's Facebook page for people to pre-register to Sunday's service.
Due to the seating restrictions, some church members participated in Sunday's service via a Facebook livestream. 
"We had limited seating available and wanted to make sure people who attended were younger than 65 and healthy," Cimpean said. "We politely asked the healthcare workers not to register. I think we kept everything safe as best we could."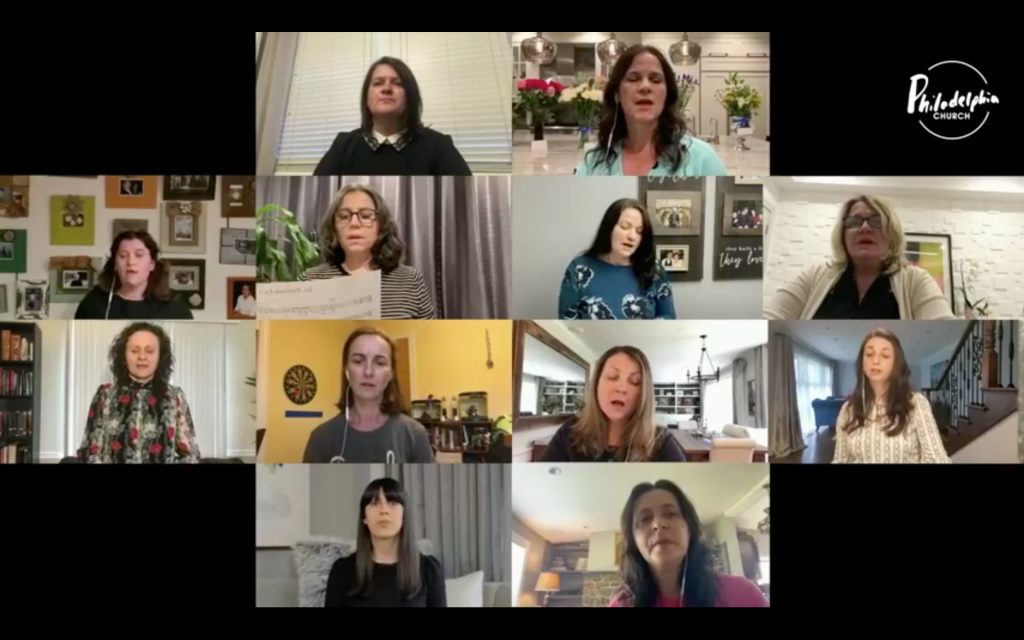 City officials have ramped up efforts to try to discourage churches from congregating in person, including parking bans and threats of fines.
Elim Romanian Pentecostal at 4850 N. Bernard St. also hosted two in-person services Sunday. The day before, Ald. Rossana Rodriguez (33rd) and Pastor Tom Terrell of Christ Lutheran Church, 3253 W. Wilson Ave., pleaded with the leader of Elim Romanian to reconsider hosting in-person services Sunday.
Laura Kehoe, president of Albany Park Neighbors, sided with Rodriguez and Terrell. In a statement she said she doesn't think Elim Romanian should be hosting in-person "until public health officials determine it is safe to do so."
The city blocked street parking on several blocks around Philadelphia Romanian from 7 a.m. to 9 p.m. Sunday to try to discourage people from participating, Cimpean said. But the church has its own lot and was able to easily accommodate the number of people who attended Sunday, Cimpean said. 
Police and Ald. Matt Martin (47th) said they were unaware of any cars that were towed during the ban. Officers knocked on neighbors' doors so they could move their car in advance of Sunday's ban. Anyone who lives in those areas and got a ticket should contact the 47th Ward's office to get it dismissed, Martin said.
"I understand this church had met virtually in previous weeks and I really wish they would go back to that. Online services are just going to have to be good enough right now for them," Martin said.
Martin said he appreciates worship is important during this pandemic, but stressed the "shared sacrifice" needed to slow the spread of the virus. 
"We're trying to keep people alive and I really wish the pastor would keep communicating with my office and other elected officials to work through this," Martin said. "But this church has decided to unilaterally violate the stay at home order and I don't think that's the way to move forward."
On Monday, Lightfoot said the parking bans were being used to "educate people in compliance" and that she'd announce which churches would be fined.
Asked about the issue Monday, Pritzker also said he would prefer not to implement fines.
"I've been extraordinarily reluctant to … interfere with a service that's ongoing. What we have tried to do is communicate and educate through the faith leaders and parishioners," Pritzker said. 
The fines are a "stupid move" and will not deter churches like his, Cimpean said. He plans to host in-person services again on May 21.
"We are not against the mayor but I think the mayor and governor are against churches and other houses of worship," Cimpean said. "We respect their authority but their rules are very discriminatory against us and I don't think they understand the spiritual magnitude of this crisis."
Smerczak-Zorza hopes the city's health department gets more involved and also doesn't think it was a good idea for the mayor to threaten the churches with fines but then not follow through immediately.  
"If you're going to use fines as a deterrent you need to demonstrate to the public you're willing to go through them," Smerczak-Zorza said. 
RELATED
Albany Park Church Continues In-Person Services; Mayor Promises Fines, Bans Parking
How Do We Reopen Churches, Mosques, Temples? City Making Plans For Safe Religious Services
Judge Tosses Lawsuit From Albany Park Church Challenging Stay At Home Order
Albany Park Church Holds Sunday Services In Defiance Of Stay At Home Order: 'I'm Going To Keep Hosting Mass'
Belmont Cragin Church Brings Outsiders To Illegal Service As Mostly Latino Neighborhood Battles Thousands Of COVID-19 Cases
Belmont Cragin Neighbors To Protest Church That Held Illegal Services
Block Club Chicago's coronavirus coverage is free for all readers. Block Club is an independent, 501(c)(3), journalist-run newsroom.
Subscribe to Block Club Chicago. Every dime we make funds reporting from Chicago's neighborhoods.
Already subscribe? Click here to support Block Club with a tax-deductible donation.