ALBANY PARK — An Albany Park church made good on its defiant promise to continue holding in-person services Sunday, despite being rebuffed in federal court and even as Mayor Lori Lightfoot dialed up her efforts to enforce the stay at home order.
"No Parking" signs were posted outside of Elim Romanian Pentecostal at 4850 N. Bernard St., blocking any parking from 7 a.m. to 9 p.m. on the entire block. The mayor also promised to cite any church allowing gatherings of more than 10 people, according to Ald. Rossana Rodriguez (33rd).
Citations come with a $500 fine each time a church violates the 10 person limit and can be applied retroactively to last week's services, Rodriguez said.
As of Sunday morning, Elim Romanian could face a total fine of $1,500 for hosting three different worship services that violate the stay at home order that limits gatherings to 10 people.
"If she's going to fine us, we will cover it from donations from the neighborhood of people who support what we're doing," Cristian Ionescu, pastor at Elim Romanian, said after Sunday's morning service.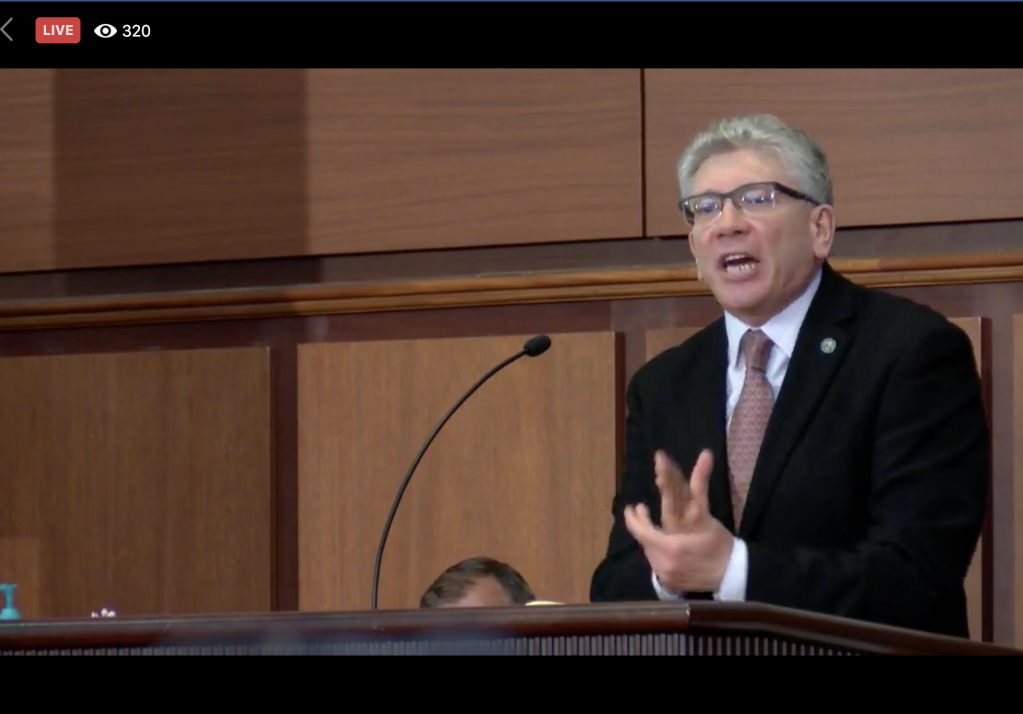 Ionescu plans to keep hosting services despite the mayor's "intimidation" tactics. 
"She should know people today donated in excess of the amount we would need to pay for just one of her fines," he said.
On Sunday, Block Club counted at least 80 people entering the church, wearing face masks and using umbrellas to shield themselves from the rain.
Between congregants, church staff and the choir, the church maxed out its seating at 110 people during Sunday's morning service again, Ionescu said. It's the maximum number of people he can allow inside due to the caution tape placed on seats to help congregants practice social distancing during the service, he said.
The "no parking" signs could be seen on nine blocks around Elim Romanian. Police cars were driving past the church before and during the morning worship service. 
The parking ban did not seem to deter congregants. The church's parking lot had at least 30 cars during this week's Sunday morning service.
The church's parking attendant confirmed members of the congregation also often park in the lot at Albany Park Bank, 3400 W. Lawrence Ave. 
The bank's lot had at least 25 cars parked there Sunday. The parking attendant said he saw members of the congregation walking over to the service from that other lot. 
"This [parking ban] does nothing against the churches because we don't park on the streets, we each have our own parking arrangements," Ionescu said in a text message before Sunday's services. "But this was done purposefully and maliciously to turn the neighbors against us."
Later Sunday, Rodriguez confirmed that Chicago police officers also blocked access to the bank's parking lot ahead of evening services. She also said she'd received unconfirmed reports of cars being towed, but a police spokesperson said the city did not tow any vehicles parked near the church Sunday.
Rodriguez said she did not agree with using "punitive measures on people who go to that church or who live in the neighborhood." 
Any cars that may have been towed Sunday would be returned to the neighborhood without penalty, she said. Owners can provide her office with the license plate number. Neighbors who got tickets can bring them to the 33rd Ward office with proof of their residency and she will have it dismissed, Rodriguez said. 
"I'm less worried about cars being towed and more worried about that church's services," Rodriguez said. "I just want them to stop hosting services. I don't think using police is the right answer. We need the department of health to get involved to prevent other churches from opening and possibly spreading this virus."
"No Parking" signs also were posted outside Metro Praise International, a church in Belmont Cragin that similarly has flouted the stay at home order by holding in-person services. More than 100 congregants came to Metro Praise International, 5405 W. Diversey Ave., between two services last weekend.
Signs banned parking at least three blocks in either direction along Diversey on Sunday morning. At least six cars parked on the block of the church had been ticketed.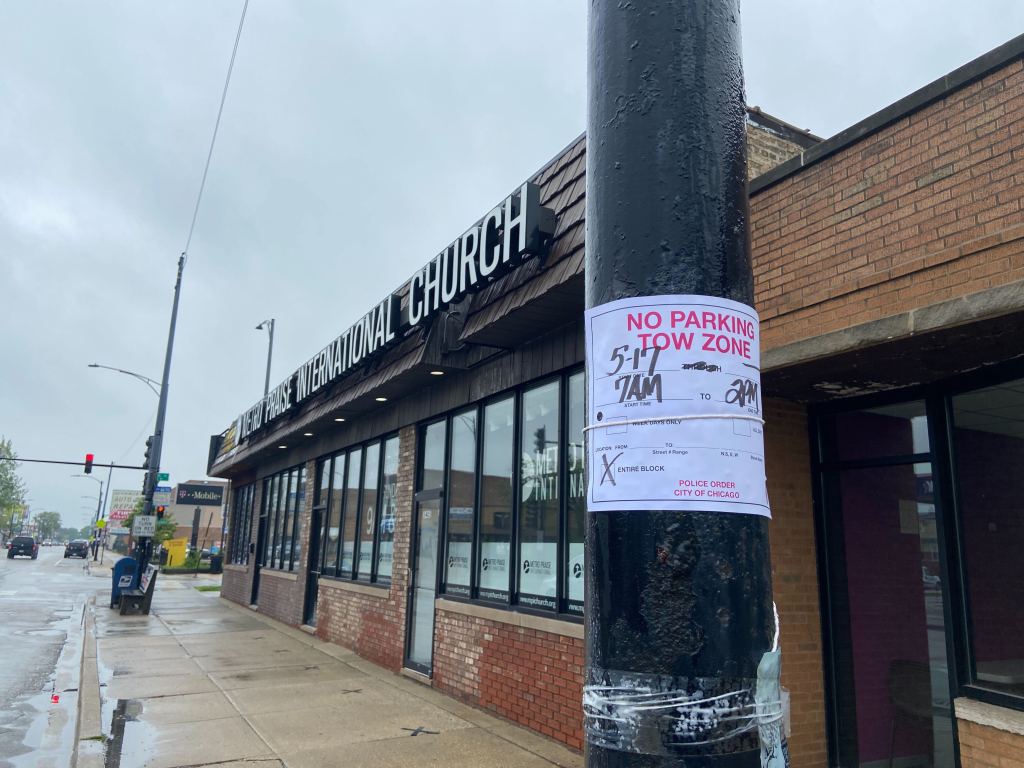 Elim Romanian is among the churches that sued Gov. JB Pritzker to try to invalidate his state ruling banning large gatherings, effectively sidelining church services.
U.S. District Judge Robert W. Gettleman threw out the complaint Wednesday, saying the churches did not establish the state's restrictions unfairly target religious services or gatherings. Ionescu's lawyer immediately filed an appeal.
Last weekend, Elim Romanian hosted morning and evening services in defiance of the stay at home order. Both were live streamed on Facebook. Cristian Ionescu said about 110 people attended each service last week, too.
Neighbor Jim Poole lives across the street from the church. Sitting on his porch during Sunday morning's rainstorm, he joked he had a front row seat to the circus happening at the church while he's sheltering at home.
The parking ban doesn't impact him but did cause neighbors in the apartment building across from the church to move their cars, Poole said.
He says Sunday's parking ban didn't change his mind about the church. 
"They didn't wear masks last week during the evening service, which I think was fairly reckless," Poole said.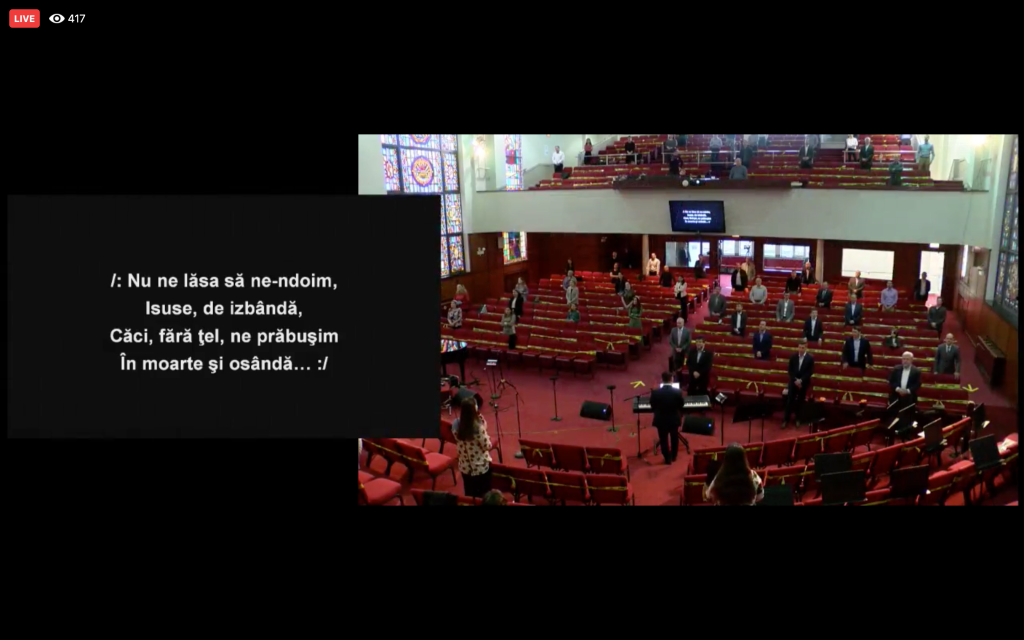 Poole also doesn't think a parking ban will stop the church from meeting due to its access to a parking lot. He said he disagrees with the pastor's characterization of the stay at home order as violating people's right to worship.
"This church is putting not just themselves at risk but also all of us and they should probably be more mindful of that. Just use Zoom, we know that works," Poole said.
Elim Romanian also sits across the street from Ambassador Nursing and Rehabilitation Center at 4900 N. Bernard St. 
Due to the pandemic, the Ambassador's website asks family and friends of its residents not to visit the center unless absolutely necessary.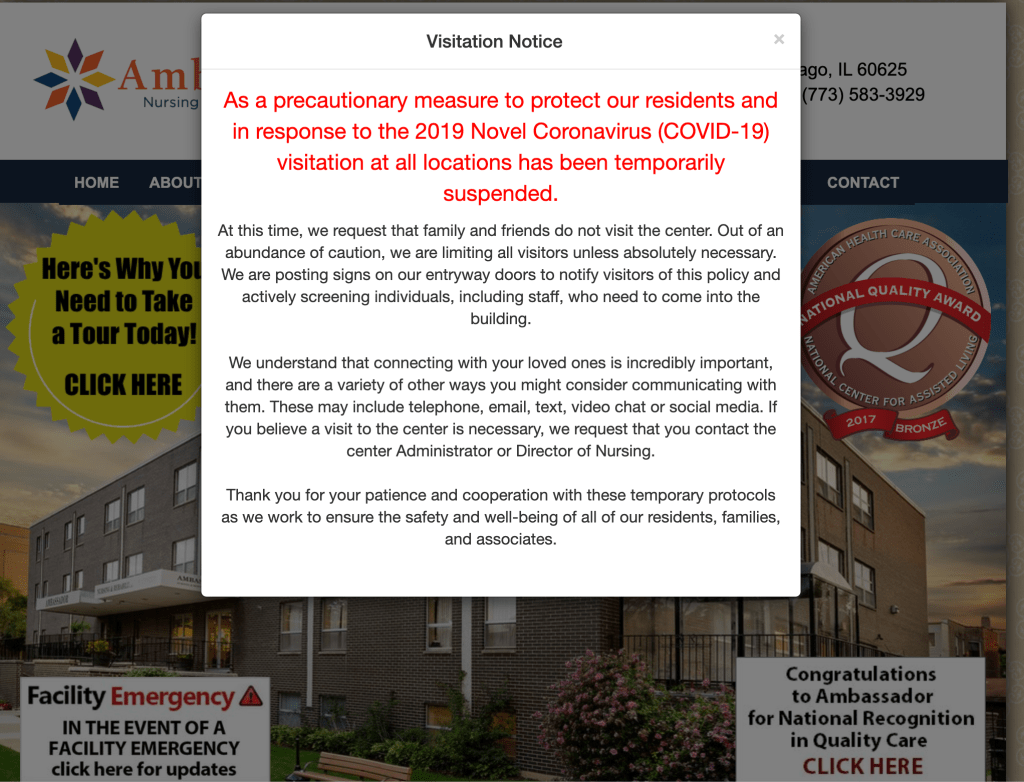 "We are posting signs on our entryway doors to notify visitors of this policy and actively screening individuals, including staff, who need to come into the building," the website's notice reads.
"We understand that connecting with your loved ones is incredibly important, and there are a variety of other ways you might consider communicating with them. These may include telephone, email, text, video chat or social media." 
A spokesperson for Ambassador Nursing and Rehabilitation Center at 4900 N. Bernard St. was not available Sunday to comment on Elim Romanian hosting in-person services.
As city officials mulled how to respond to churches insisting on meeting in person, one strategy included trying to reason with the pastors.
To that end, Rodriguez posted a letter from Pastor Tom Terrell at Christ Lutheran Church, 3253 W. Wilson Ave., to Ionescu on her Facebook page.
"Tom wrote a very beautiful letter to Pastor Ionescu that's compassionate and offers a lot of facts about the reality of why we can't safely hold in-person services right now," Rodriguez said. "I really hoped it would convince him to stop hosting in-person services. But he hosted services again anyways, so we'll have to see how we'll be addressing this moving forward."
RELATED
How Do We Reopen Churches, Mosques, Temples? City Making Plans For Safe Religious Services
Judge Tosses Lawsuit From Albany Park Church Challenging Stay At Home Order
Albany Park Church Holds Sunday Services In Defiance Of Stay At Home Order: 'I'm Going To Keep Hosting Mass'
Belmont Cragin Church Brings Outsiders To Illegal Service As Mostly Latino Neighborhood Battles Thousands Of COVID-19 Cases
Belmont Cragin Neighbors To Protest Church That Held Illegal Services
Block Club Chicago's coronavirus coverage is free for all readers. Block Club is an independent, 501(c)(3), journalist-run newsroom.
Subscribe to Block Club Chicago. Every dime we make funds reporting from Chicago's neighborhoods.
Already subscribe? Click here to support Block Club with a tax-deductible donation.