CHICAGO — Neighbors angry with the suburban pastor who held in-person church services in Belmont Cragin this past weekend are planning to block parking near the church in protest.
The protest is planned for Sunday around 8:30 a.m., a half an hour before services are set to begin, according to organizer and lifelong Belmont Cragin resident Alonso Zaragoza.
Neighbors will be asked to claim any empty parking spots within a two-block radius of the church, Metro Praise International at 5405 W. Diversey Ave.
Neighbors whose cars are already parked on the block and neighbors who don't have cars will be asked to either stand in empty spots or put chairs out and sit in them for the 30 minutes before services begin. Zaragoza said to expect some signs, but no chanting and marching.
The goal of the protest is to make it harder for churchgoers to attend the illegal in-person services, Zaragoza said.
"We don't want to harass them. We just want to make them uncomfortable in terms of parking. That's it," Zaragoza said. "If you're going to practice your First Amendment rights, we're going to practice [ours]."
West suburban pastor Joe Wyrostek held two services on Sunday at the evangelical storefront church despite the stay at home order that bans large gatherings. More than 100 congregants, many of whom are not Belmont Cragin neighbors, attended the services, Wyrostek said.
The move outraged neighbors and community leaders like Zaragoza who are scrambling for resources as COVID-19 infection and death rates soar in the predominately Latino neighborhood.
As of last week, Belmont Cragin was among a group of other predominately Latino neighborhoods that had the most coronavirus cases in the state, according to the Illinois Department of Public Health. 
In the church's 60639 ZIP code, which includes Hermosa and parts of Belmont Cragin, 1,993 people have tested positive for coronavirus. The ZIP code had a coronavirus test positivity case rate of 39.6 percent Monday, according to the Illinois Department of Public Health.
The test positivity rates in the city and region are 24.6 percent and 22.3 percent, respectively.
Wyrostek has remained defiant despite the backlash. In a Zoom interview, the pastor defended the decision to hold services, citing his First Amendment right to religious freedom and biblical "scriptures." He also contended that asymptomatic carriers of the virus only endangered other churchgoers, not residents of the surrounding community.
"Healthy people need to move on," Wyrostek previously said. "We have to get back to life [as] normal … . The church should be the front line of that."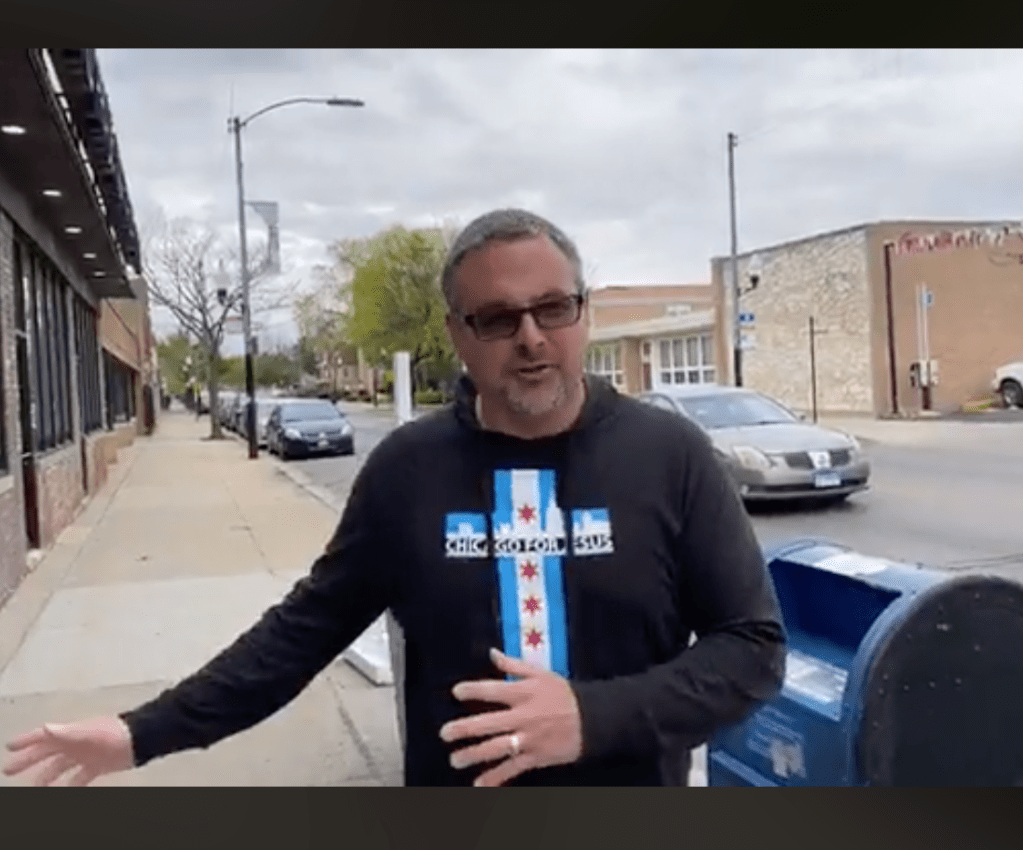 The church has not been cited for violating Gov. JB Pritkzer's stay at home order.
"My approach always is to try to bring people into compliance through education and dialogue, and I'm hopeful we'll be successful in getting there," Mayor Lori Lightfoot said at a Monday press conference. "We're not gonna send in the police to arrest parishioners. People are expressing their faith, and I understand that."
The Belmont Cragin church isn't the only church that held illegal services over the weekend — and isn't facing a fine for it.
More than 200 people attended Sunday services at Elim Romanian Pentecostal, 4850 N. Bernard St. The Albany Park church has also not been cited.
Block Club Chicago's coronavirus coverage is free for all readers. Block Club is an independent, 501(c)(3), journalist-run newsroom.
Subscribe to Block Club Chicago. Every dime we make funds reporting from Chicago's neighborhoods.
Already subscribe? Click here to support Block Club with a tax-deductible donation.