BELMONT CRAGIN — On Sunday morning, Joe Wyrostek was determined to get back to normal.
Wyrostek drove from his home in the west suburbs to Metro Praise International, an evangelical church nestled in a Belmont Cragin storefront. Before stepping inside, Wyrostek planted a white wooden cross on the sidewalk, with TV news trucks in full view.
Outside the church, community leaders have spent weeks scrambling for resources as COVID-19 infection and death rates soar in the predominately Latino neighborhood.
Inside, Wyrostek greeted his congregants, the majority of whom are not Belmont Cragin neighbors. It'd been seven weeks since there was a service, the pastor said — enough time for people to know whether they are sick or healthy.
"Gathering together is a command," Wyrostek said. 
More than 100 congregants came to Metro Praise International, 5405 W. Diversey Ave., between two services Sunday.
They weren't alone in seeking worship: More than 200 people attended Sunday services at Elim Romanian Pentecostal, 4850 N. Bernard St. in Albany Park.
Gatherings for church services are not permitted under Gov. JB Pritzker's stay at home order, but neither church was cited.
"My approach always is to try to bring people into compliance through education and dialogue, and I'm hopeful we'll be successful in getting there," Lightfoot said at a Monday press conference. "We're not gonna send in the police to arrest parishioners. People are expressing their faith, and I understand that."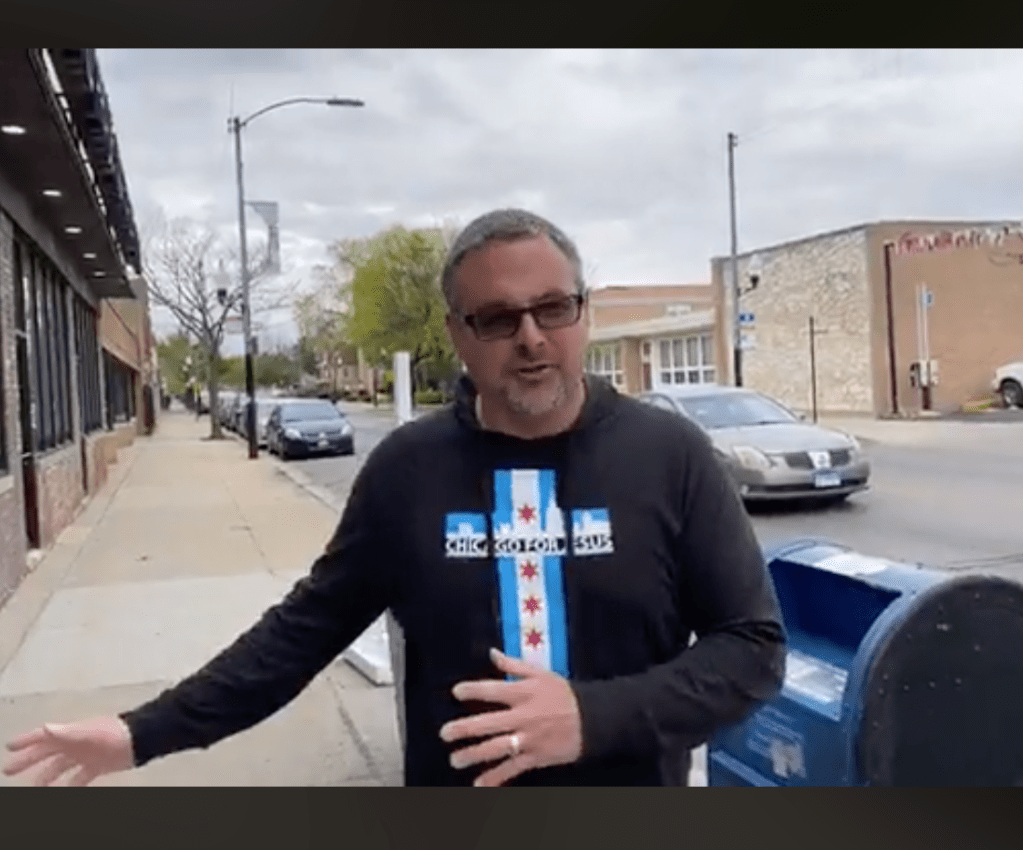 In a separate press conference, Pritzker said religious leaders who violate the stay at home order are "potentially putting hundreds of people in danger." 
"It's not just about yourself," he said. "It's highly likely, in fact, that when large groups of people are getting together right now … that there are going to be carriers among the people who are getting together."
RELATED: Albany Park Church Holds Sunday Services In Defiance Of Stay At Home Order: 'I'm Going To Keep Hosting Mass'
As of last week, Belmont Cragin was among a group of other mostly Latino neighborhoods that had the most coronavirus cases in the state, according to the Illinois Department of Public Health. 
The church's 60639 ZIP code, which includes Hermosa and parts of Belmont Cragin, has seen 1,993 people test positive for coronavirus. The ZIP code had a coronavirus test positivity case rate of 39.6 percent Monday, according to the Illinois Department of Public Health.
The test positivity rates in the city and region are 24.6 percent and 22.3 percent, respectively.
Neighbors in Belmont Cragin questioned why officials seemed to spare church leaders even though police cited a man who threw a party in Galewood and Orthodox Jews who attended a wedding in West Ridge.
RELATED: Chicago's Latino Neighborhoods Have Most Coronavirus Cases In The State. Is The City Doing Enough To Respond?
Jessica Gutierrez, a Belmont Cragin resident and the director of policy for the Puerto Rican Cultural Center, said the church service was "dangerous" and she did not understand how the city could justify not issuing citations.
"I want them to be held accountable the same way that everyone is being held accountable," Gutierrez said. "I want the mayor and the governor to see that this is part of a bigger issue here in Belmont Cragin."
'Healthy People Need To Move On'
Wyrostek defended his Sunday services in a Zoom interview. He cited his First Amendment right to religious freedom and biblical "scriptures" which, the pastor said, state only sick people should be quarantined.
Metro Praise International broadcasted the interview on Facebook Live but later deleted the video.
"Healthy people need to move on," Wyrostek said. "We have to get back to life [as] normal … . The church should be the front line of that." 
While Wyrostek does not require parishioners to wear face masks or to stand 6 feet apart, those who wish to observe such guidelines are welcome to do so, he said.
But Wyrostek later described the act of hugging as a key tenet of the Christian faith. 
Like Wyrostek, many congregants commute; the pastor estimated only 20-30 of his parishioners live in Belmont Cragin. 
Metro Praise International has 225-250 members. Less than half of attended Sunday, Wryostek said. The remainder tuned in virtually. 
Wyrostek said he did not believe he is endangering Belmont Cragin. 
It's possible the parishioners are asymptomatic carriers of COVID-19. But if they are, Wyrostek said they are only risking infecting each other — not neighbors. Outside of church, the pastor said his congregants are "practicing the protocols" of social distancing and wearing face masks.
"The science is on our side," he said.
But experts and public health officials would disagree — hence the stay at home order. Dr. Ngozi Ezike, head of the Illinois Department of Public Health, said last week meeting with people outside your household increases your risk of contracting COVID-19 and transmitting it other people.
"We warn expanding our circles will increase your risk of infection. It's that simple. The more people you're around the higher the risk of contracting the virus from someone in this new, expanded circle," Ezike said. "As you expand [your circle], you are absolutely increasing the risk of contracting the virus."
Wyrostek said he intends to continue weekly services, but he told church members on Sunday he does not intend to file or join any lawsuits.
Instead, if ordered to stop, Wyrostek said he will take the services outside, either into the church's parking lot or to nearby Humboldt Park.
In Albany Park, Cristian Ionescu is similarly defiant. His church is among those suing Pritzker to challenge his stay at home order.
"I'm going to keep hosting mass unless I'm incarcerated or the church doesn't stand with me or God takes me," Ionescu said.
Alonso Zaragoza, a lifelong resident of Belmont Cragin and a community leader, believes church members do pose a threat to the neighborhood.
"They're sweating in there, in a tight space, with lots of lights … no gloves, no masks," he said. "They go out into the neighborhood. … Leaning against flag poles, possibly going to stores, touching stuff there. They're not gonna wash their hands. Breathing isn't the only way to spread this."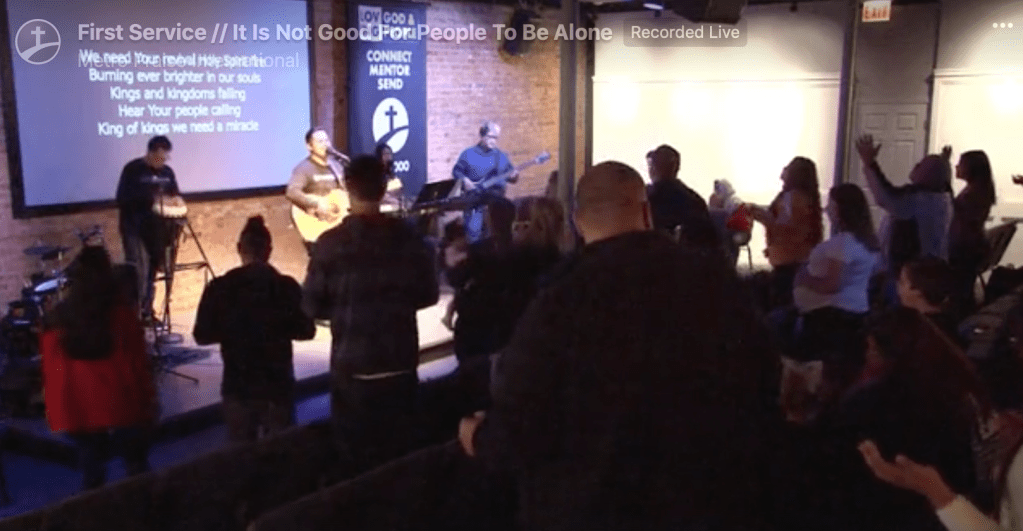 That the city would not police the church only adds insult to injury, Zaragoza said. The neighborhood only just recently got its first testing center up and running.
Neighbors are taking it upon themselves to fight coronavirus. Belmont-Cragin United has overseen the production of 430 handmade face masks. Zaragoza found a distillery in the suburbs that is making hand sanitizer and willing to sell to the neighborhood group at $31 a gallon.
"The government has really ignored us, but we're still thriving, our businesses are still surviving," he said. "Everybody is still supporting each other." 
Community members seeking information on testing and other resources can find them here: Illinoisunidos.com.
Block Club Chicago's coronavirus coverage is free for all readers. Block Club is an independent, 501(c)(3), journalist-run newsroom.
Subscribe to Block Club Chicago. Every dime we make funds reporting from Chicago's neighborhoods.
Already subscribe? Click here to support Block Club with a tax-deductible donation.