RIVER WEST — Police are urging a 30-year-old ex-Marine wanted in the murder of a young man outside a popular River West bar to turn himself in.
An arrest warrant for Thomas Hugh Tansey was issued by a Cook County judge Thursday, said Chicago Police spokesman Anthony Guglielmi. Tansey is wanted on a murder charge after Kenny Paterimos was fatally stabbed Feb. 21 outside of Richard's Bar, 491 N. Milwaukee Ave. 
Police initially arrested Tansey on the scene, but he was released without charges after claiming he killed Paterimos in self-defense. This claim infuriated Paterimos' friends and family members — including his brother, who said he caught the killer with the murder weapon and held him until officers arrived. 
Guglielmi said the call to release Tansey was a joint decision between police and the Cook County State's Attorney's Office after Tansey made the claim of self defense.
"We have to investigate that claim and rule it out or rule it in. It's not necessarily just the state's attorney's call," the police spokesman said. "If it sounds plausible, the cops have to get evidence to support it or refute it. In this case, they found evidence to refute it."
Suspects and their lawyers typically have a few days to negotiate their surrender to police, though it was not immediately clear if Tansey has done that, Guglielmi said.
If he has, he likely won't turn himself in until Tuesday since the courts are closed Monday in honor of Casmir Pulaski Day. If Tansey hasn't been arrested or turned himself in by Wednesday, police will likely change their methods for trying to take him into custody, Guglielmi said.
At 11:23 p.m. Feb. 21, Tansey — a white former Marine with a criminal record — fatally stabbed Paterimos, a gay Latino man, outside Richard's Bar after yelling homophobic slurs at the victim, witnesses and police said. Police are also investigating if the man yelled racial slurs at the bar.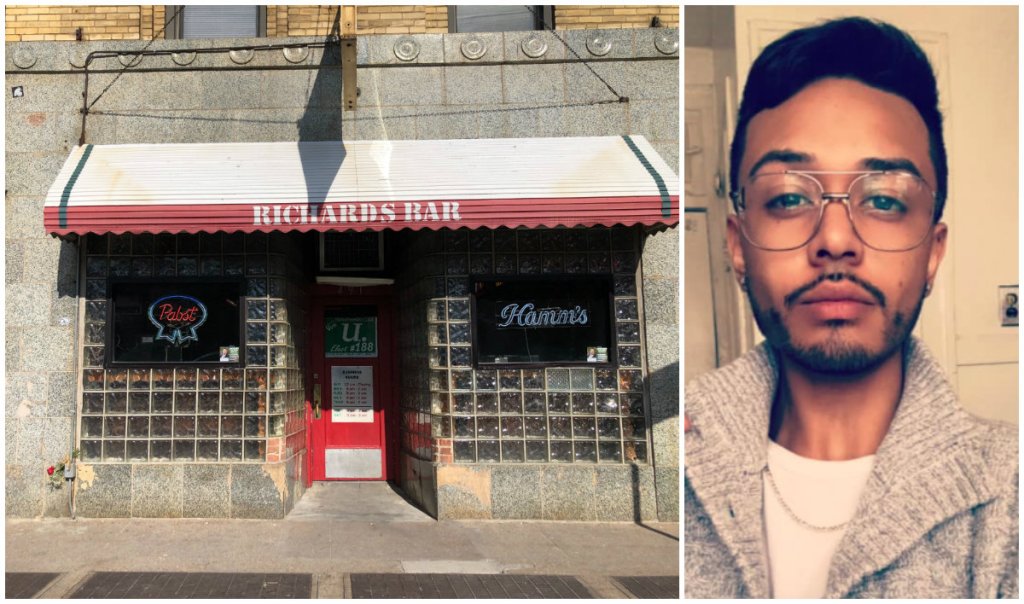 Tansey was previously found guilty of battery in 2016, records show. He was charged with a DUI in December. 
Ald. Byron Sigcho-Lopez, who represents the 25th ward where Paterimos worked, said he was upset the killer was in custody and he was let go.
"I'm deeply outraged the family did not get the answers they are asking, and that is unacceptable. We will continue to press CPD, the state's attorney and everyone else to give us answers on this case," he told Block Club Chicago.
Kenneth Paterimos, Kenny's father, told Block Club he couldn't fathom how Tansey's self-defense claim was ever deemed plausible given his son was stabbed in his back.
"My son was trying to get away," he said. "I'm supposed to trust the police and they're not doing nothing about it. I can't trust them. That's what hurts the most. … I can't get no answers from the police, the state's attorney, nobody. I don't know what's going on."
Kenny Paterimos' mother, Diona Bueno, echoed the outrage.
"You were handed the man on a silver platter, literally, in every way, shape or form. Oh, God, but you did nothing," Bueno said.
The State's Attorney's Office has declined to comment on the case.
Friends and family members of Paterimos have a protest scheduled for Tuesday outside of Richard's Bar after bar patrons mocked his death on social media. They're calling for the closure of the bar, but Ald. Walter Burnett Jr. (27th) said last week he has no plans to shut down the dive bar.
'To Hell And Back Again'
Tansey served in the Marines 2008-2013, rising to the rank of corporal in 2011, a Marines spokeswoman confirmed. He was deployed in 2012 and 2013, serving as a motor vehicle operator. Awards he received indicated he saw combat.
In a since-deleted blog post on the website First Class Fools, Tansey described a childhood growing up in a "hard working upper middle class family in the northwest suburbs." His father was a "big time operating engineer" for one of "the major road construction contractors," he wrote. His mother was a stay-at-home mom. 
"I feel like [it's] a strange combination of blue collar workers and multi million dollar mansions mixed in," he said of his hometown. 
Tansey wrote that he was accepted to a handful of colleges within Illinois. Instead of going to college, he said he pulled a "wild card" and joined the U.S. Marines. Even though he "scored so high" on entry exams he could have had "any job" he wanted, Tansey joined the infantry. 
"I felt like if I was going to experience something at that extent, I'd rather be kicking in doors and killing people instead of turning wrenches or whatever," he wrote. 
In another post, also deleted, Tansey described his time in the Philippines, where he said he would pay for sex with girls he believed to be underage and got into drunken bar fights.
"The thing about the guys in your platoon like you can beat the s–t out of each other then 2 minutes later be best friends again, so thats basically what happened."
First Class Fools is a blog, podcast and YouTube channel based in the Chicago suburbs. It's focused on music and skate culture and accepts guest posts by various authors, according to publisher Jon White.
White said Tansey reached out years ago asking to contribute, but he didn't know him personally. After he heard what Tansey was accused of, White removed the posts.
"The site has always been skateboard and music centric, with contributing writers offering a look inside their personal lives," White said. "After discovering his involvement at Richard's Bar, I didn't feel the need to include him with the website. The whole thing is very violent and sad. I hope he is brought to justice for what he did."
Tansey has not returned voicemail messages or messages sent to his public profile on LetGo, a resale app. 
Tansey listed several items for sale four months ago, including a knife sharpener and a U.S. Marines knife. 
'He Will Pay For This'
Paterimos' older brother, Santiago "Julian" Bueno, said he noticed Tansey fighting with his brother in the bar prior to the stabbing and personally removed him after bar staff failed to intervene. Shortly after Bueno kicked the man out, Paterimos went outside. Within minutes, Bueno said his brother stumbled back inside the bar bleeding profusely. He'd been stabbed eight times and died on the floor of Richard's Bar. 
Bueno said he chased the attacker, who was walking away from the scene with the box cutter in his hand, and pinned him to the ground until police arrived. 
Tansey, who was injured when police arrived, told investigators he stabbed Paterimos in self-defense. But Bueno said he was the one who beat the man — but only after he had stabbed the 127-pound Paterimos to death.
Paterimos was stabbed eight times: once to his left ear, three times to the back of his head, twice to his right arm, once to his chest and once to his collarbone, Guglielmi said.
"I don't believe for one second this guy [thought he] was ever in danger," Bueno said. "This isn't a story about self defense. This is a story about someone who knew what they were doing … found his victim to bully … and then tried to walk off like nothing happened." 
Tansey, 30, was previously convicted of battery in Arlington Heights in December 2016, according to public records. 
In that incident, the ex-Marine — who reportedly suffered from PTSD — unlawfully carried a pistol and attempted to hit a man with the gun before knocking him down and injuring him, the Sun-Times reported.
The following year, he pled guilty to battery and was sentenced to 18 months probation and counseling, according to the Sun-Times.
This December, Tansey was charged with a DUI in Arlington Heights, records show. 
Paterimos, who worked as a barista at Step Down Cafe in Pilsen, was an "old soul" with a big personality who loved his family and meeting people, his mother said. 
She called the attacker a "loser" and a "coward," someone who will "remain a stranger." She said she knew her son's alleged killer awaited higher judgment.
"I leave it in God's hands and karma," she said. "He will pay for this. His soul will forever burn and nobody will know the pain that he will endure because he will be in hell."
Paterimos' wake was held Friday.
One by one, mourners approached the casket where Paterimos' body laid before turning to embrace Bueno, who sat in the front pew. Her sobs and cries pierced the otherwise silent funeral home.
Santiago "Julian" Bueno, the eldest of Paterimos' siblings, said he would have wanted the family to stay as positive as possible.
Kenneth Paterimos', Kenny's father, said he suffers from severe diabetes. He won't be at Tuesday's rally but hopes Tansey is arrested soon.
"I know I don't have much longer to live," he said. "But I'd like to know something before something happens to me."
RELATED COVERAGE
Warrant Issued For Man Who Killed Pilsen Barista Outside Richard's Bar, Police Say
'Justice For Kenny' Protest Planned Outside Richard's Bar, Where Barista Was Stabbed To Death
Brother Of Slain Barista Tackled Killer After He Stabbed His Little Brother: 'This Isn't … Self Defense'
Homophobic Slur Yelled At Stabbing Victim Before He Was Attacked At Richard's Bar, Police Say
Do stories like this matter to you? Subscribe to Block Club Chicago. Every dime we make funds reporting from Chicago's neighborhoods.
Already subscribe? Click here to support Block Club with a tax-deductible donation.