BRIGHTON PARK — The brother of a 23-year-old gay man who was stabbed to death outside a popular River West bar is disputing the self-defense account the attacker told police, saying he only struck his brother's killer after the slaying.
Five days after Kenneth "Kenny" Paterimos was stabbed eight times with a box cutter outside Richard's Bar, his family continues to pray for solace — but is now also seeking justice. The 30-year-old attacker was arrested at the scene Friday night but was released Sunday without being charged, police said.
The man suspected in Paterimos' killing said he acted in self defense, saying the 127-pound Paterimos beat him, according to police. But witnesses told detectives they overheard the man yell a homophobic slur at Paterimos before the attack and the victim's brother said he beat up the attacker as he tried to flee the scene of the slaying.
By Tuesday evening, a website was launched calling on Chicago officials to charge the man believed to have killed Paterimos. A GoFundMe created to help the family with funeral costs had raised nearly $10,000.
RELATED: Homophobic Slur Yelled At Stabbing Victim Before He Was Attacked At Richard's Bar, Police Say
Paterimos' older brother, Santiago "Julian" Bueno, 29, a tactical and mixed martial arts fighter, was with Paterimos Friday night at Richard's Bar, 491 N. Milwaukee Ave.
Bueno pinned down his brother's killer outside the bar in an effort to keep him from running away from police after his younger brother was stabbed eight times and bled out in the bar, he said.
The attacker's self-defense claim is angering, Bueno said. He described the 30-year-old man as at least 220 pounds. Paterimos, a Latino man, was about 5-foot-7 and 127 pounds, his family said. The 30-year-old white man served in the military, a police source said.
Any injuries to the attacker, Bueno said, happened after the stabbing. That's when Bueno beat him and pinned him for police.
"I don't believe for one second this guy [thought he] was ever in danger," Bueno said. "This isn't a story about self defense. This is a story about someone who knew what they were doing … found his victim to bully …and then tried to walk off like nothing happened." 
Ald. Walter Burnett Jr., whose 27th Ward includes Richard's Bar, said police told him the 30-year-old attacker was allegedly "beat to a pulp," with his arm broken and face "messed up." 
Bueno said he, a professional fighter, hurt the man because he was trying to stab him, too.
After finding Paterimos stabbed, Bueno tackled the 30-year-old man outside the bar, he said. The man lifted his right arm in an attempt to stab Bueno with the box cutter, but Bueno slammed the man's shoulder to the ground, he said.
"I thought that I broke his arm because that arm came up toward me with a knife," Bueno said.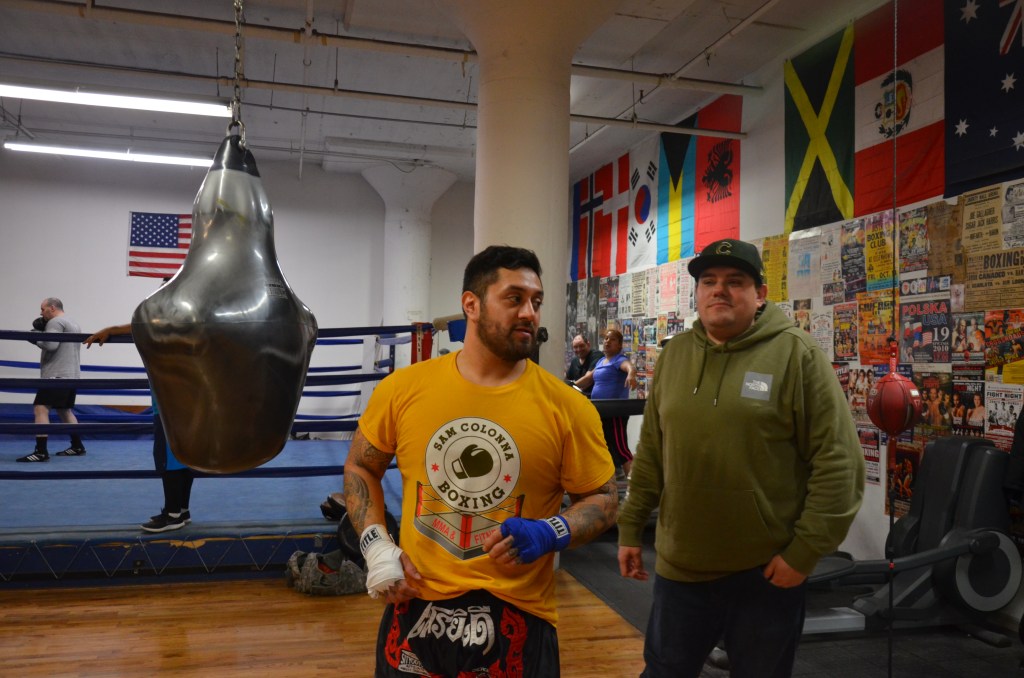 Burnett later said he doubted Paterimos could've broken anyone's arm.
"I feel bad for him and the family," he said.
Early Tuesday evening, Bueno hopped on a treadmill at his Brighton Park gym, 2600 W. 35th St. His brother, Anthony Paterimos, came by with his girlfriend. An uncle and a family friend showed up, too.
Bueno said he decided to come to the gym because he thought his brother would have wanted him to continue living his life.
But he is angry his brother's killer remains at large, he said.
"In the state of Illinois, in Chicago, we have a lot of murderers," Bueno said. "We're not gonna let this guy get away. … We caught him. Justice needs to be served, for humanity, for our state and for the sake of my family." 
A life cut short
After leaving his shift at Step Down Cafe in Pilsen on Friday, Paterimos ventured to Richard's Bar, 491 N. Milwaukee Ave. in River West.
The storied dive bar was a favorite of the family because it was "an older crowd and it was just safer, friendly," his mother Diona Bueno said. 
On Friday evening, Paterimos hung out by himself at the bar — a typical night, his brother said. He sent Bueno a Snapchat message asking him to meet. 
Bueno, who does not smoke, typically stays away from the notoriously smoke-filled dive, he said. But he had "amazing news" to share after receiving a slew of job offers, including an opportunity to work at Floyd Mayweather's new River North gym.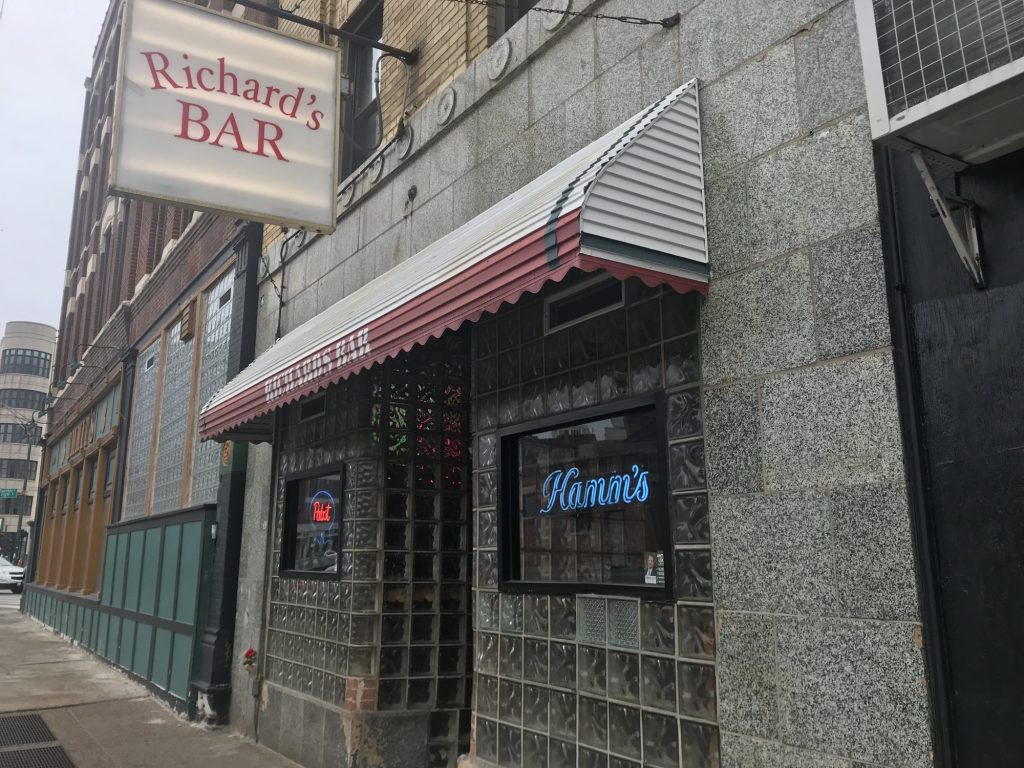 Bueno arrived at the bar at about 10:30 p.m., he said. Paterimos greeted his brother with a shot of tequila. Bueno said he rejected the shot in favor of a beer. 
When Paterimos learned the news about the job offers, he kissed his brother on the cheek. Then he hugged him. They agreed to leave Richard's Bar to have a late celebratory dinner at Bueno's home, Bueno said.
"I said, 'Let's just go to my house,'" Bueno said. "He said, 'Yes. [But first], how about another one?' And then before I even got to answer, he [shouts], 'Oh, my song!' And he just started dancing." 
Paterimos sipped his Miller Lite and then proceeded to dance with a regular he befriended over the years, according to Bueno. The woman was elderly and was experiencing homelessness. Paterimos often bought her dinner at the neighborhood 7-Eleven, Bueno said.
The woman and Paterimos danced to a '70s dance song, which blared from the bar's jukebox, Bueno said.
Moments later, Bueno turned his head and noticed Paterimos on the ground. A much larger man was on top of him, holding him down, he said.
Without hesitation, Bueno said he lunged toward the man, grabbed him and pinned him against the jukebox. Bueno — a former bouncer himself — threw the man out the back door, onto Milwaukee Avenue, he said.
The man was a stranger, no one the family recognized — even though they had frequented Richard's for years, Bueno said. The man wore a blue jacket with a yellow logo, blue jeans and boots. Brown sideburns distinguished an otherwise "clean shaven" face, according to Bueno.
When Bueno asked his brother if he was OK, Paterimos said he'd be ready to leave the bar after having a cigarette outside, Bueno said.
Bueno paid the tab. But as he walked toward the bar's exit, he saw the back door slam open and Paterimos' body fall to the floor, Bueno said.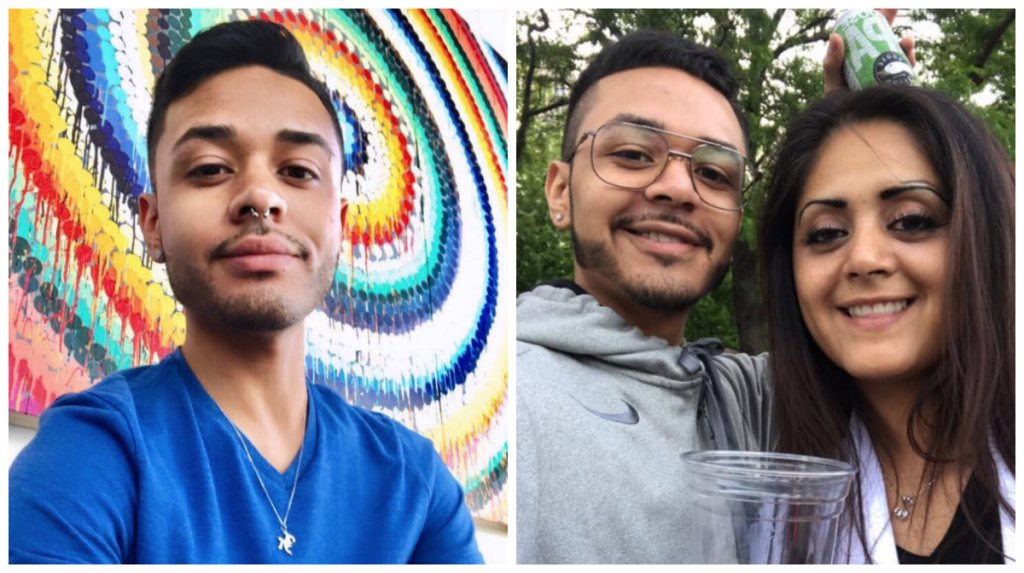 Blood gushed onto the tile floors and Paterimos' face lost its color, Bueno remembered. Bueno's clothes became blood-soaked as he held his brother and screamed, "What happened?"
Paterimos could not speak, Bueno said. At that moment, Bueno said his "fight or flight response" kicked in, he said.
Instead of holding and comforting his brother in his final moments, Bueno ran out the door after Paterimos' attacker, he said.
He saw a man walking down Milwaukee Avenue at an "aggressive pace." Bueno recognized the man's blue jacket with the yellow logo. A knife was in the man's right hand, Bueno said.  
Bueno tackled the man from behind and pinned him to the ground. The man then attempted to stab Bueno, but the trained fighter slammed the man's right arm and shoulder to the ground instead, Bueno said.
"I'm not sure how long I had him on the ground," he said. "It felt like a long time because I was screaming." 
Police arrived and took the man away. A knife was also found at the scene, according to a police source.
Paterimos had been slashed eight times: once to the left ear, three times to the back of the head, twice to the right arm, once to the chest and once to the collarbone, Chicago Police Department spokesman Anthony Guglielmi said.
The Cook County Medical Examiner's office ruled the death a homicide.
The man claimed self-defense, though there was nothing in police reports indicating Paterimos was armed, Guglielmi said. 
Workers at Richard's Bar declined to comment Monday.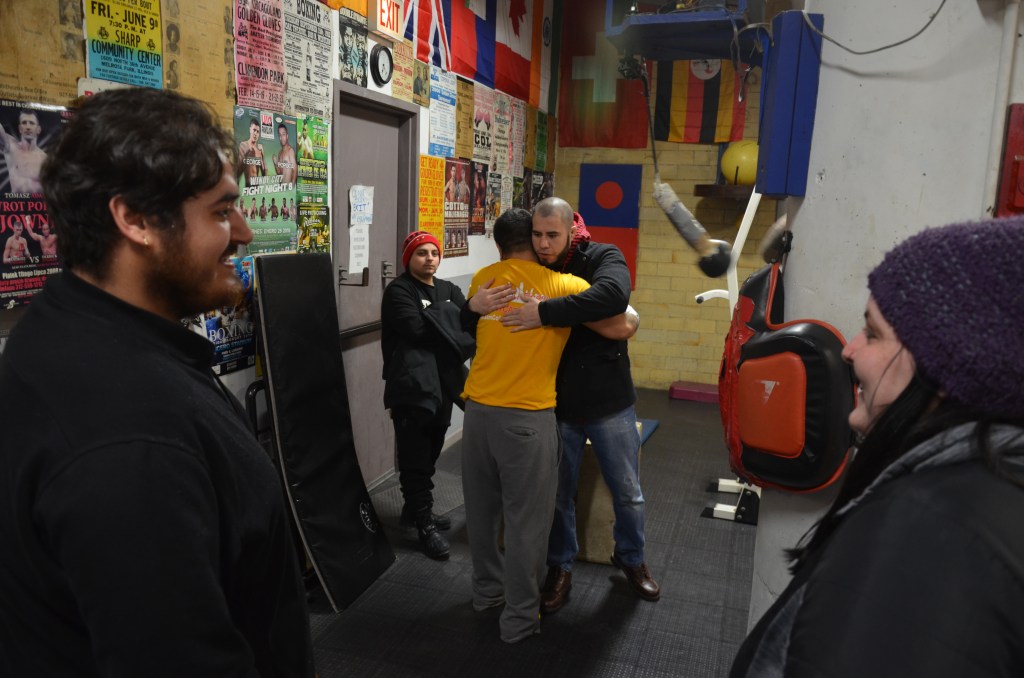 Questioned by police
That night, Bueno said he received maybe one hour of sleep, at the most. The police brought him in for questioning the next day.
Almost immediately, Bueno said he felt the detectives were not on his side, he said.
One detective told him he needed to "find a witness," an instruction Bueno found odd. Another detective told him that if he could not find a witness, the suspect would walk free, Bueno said.
Bueno returned to Richard's Bar, where he recognized the same bar staff from the night before. They hugged him. They apologized. But none of them were willing to speak as witnesses, according to Bueno.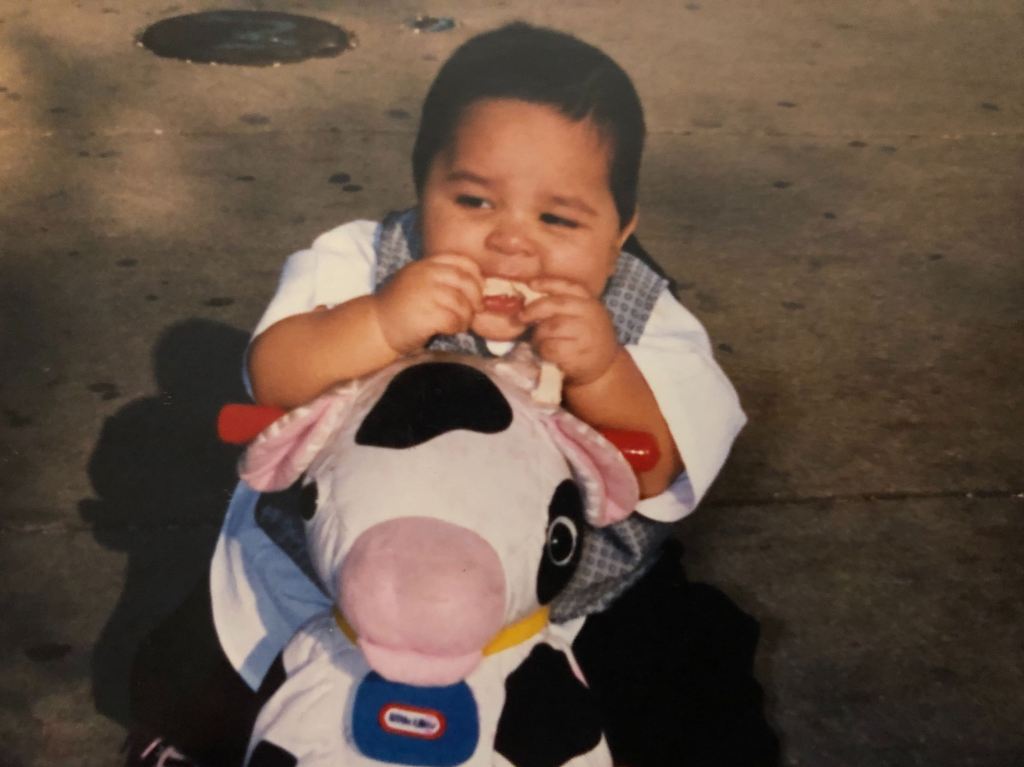 "My brother was just murdered and that plays a role in your head," he said. "It hurts, it f—— hurts. And I went back [to the bar] … even though that looks very shady, asking, 'Who's this person? Who's that? Did anyone see anything?' No one's talking. No one at all." 
On Sunday, detectives called Bueno's mother, Diona Bueno, and demanded her eldest son return to the station for further questioning. If he didn't, they said, the suspect would be released, Bueno said.
Diona Bueno described her ensuing interactions with detectives on the case as frustrating — akin to "mind games."
She said she asked detectives why the suspect would be released when they had the "murder weapon," the killer and other witnesses. 
She questioned why Richard's Bar, the place where her son took his last breath, remained open.
"You were handed the man on a silver platter, literally, in every way, shape, or form. Oh, God but you did nothing," Bueno said of the state's attorney's office responsible for charging.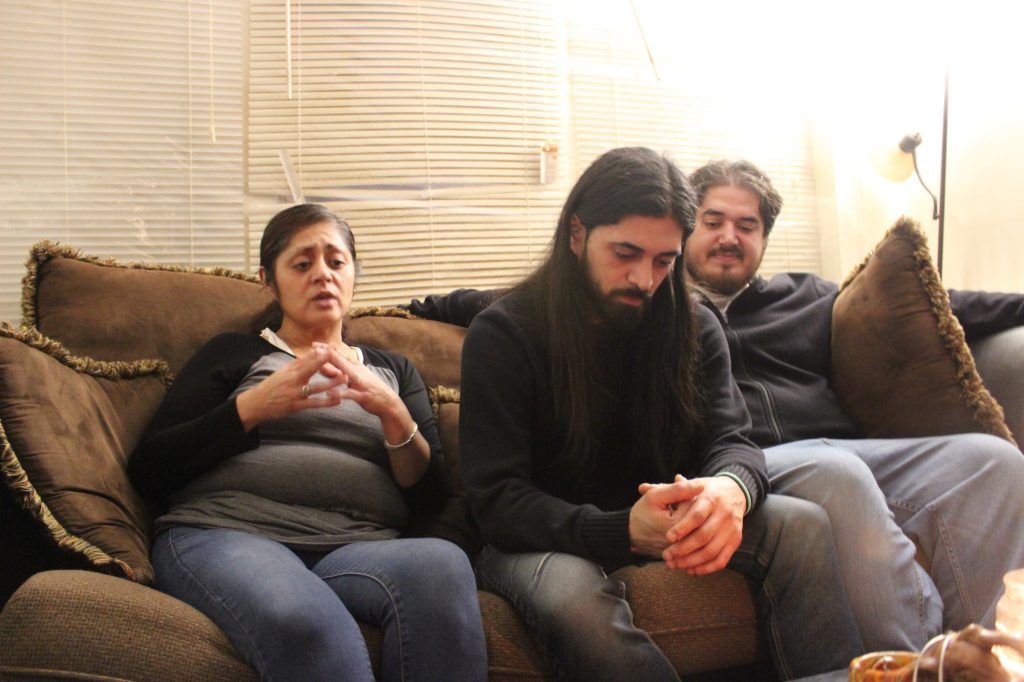 Burnett, the 27th Ward alderman, told Block Club police told him they still expect the 30-year-old man will be charged. 
"Cops give me the impression he will be charged," he said. 
Burnett won't push for Richard's to close
Burnett has represented the ward Richard's Bar is located in for 25 years. The popular late-night dive, known for its smoky atmosphere, which persists despite the smoking ban, opened in 1926. 
As of 2015, the bar was owned by Susan Dominic, sister of Robert "Bobby" Dominic, who at one time was classified by law enforcement officials as a mob associate, according to the Sun-Times. 
Burnett has lobbied in the past to have problem bars closed.
At least four bars in and near the West Loop — all located in Burnett's ward — have been forced to shutter in recent years because of fights and shootings. 
In fact, two shootings right around the corner, at Funky Buddha Lounge in November 2014, prompted the longtime River West bar at 728 W. Grand Ave. to close. In one of the incidents, the shooter worked at the bar, authorities alleged.
Others he supported closing include Sawtooth, Red Kiva and DrinkHaus, which catered to Black customers.  
But Burnett said he won't push Richard's to close. 
"Richard's has been around for a long time," he said, calling the stabbing death an isolated incident. "Two people got into an altercation, they took it outside. It wasn't gang related and there was no shooting involved." 
In Funky Buddha's case, neighbors overwhelmingly pressured Burnett to close the bar, he said — "the whole community complained about it." No one has complained to his office about Richard's, he said. 
The veteran alderman said he did ask police if they thought Richard's was a problem or needed to close.
"They told me nawww," Burnett said. The bar itself wasn't a contributing factor, he said.
"It's not the only bar in our ward that someone's got hurt at," Burnett said.
In an email, Isaac Reichman, a spokesman for the city's Department of Business and Consumer Affairs, said the incident was still actively being investigated by police.  
"After that investigation is complete, any license violations will be reviewed for potential license discipline," Reichman said
Burnett said he plans to call the Cook County State's Attorney's office to find out why the arrested man was not charged. His office has received two calls from concerned family members of the victim. 
"The plot is thickening with this thing. It's not going to go away," Burnett said.
Do stories like this matter to you? Subscribe to Block Club Chicago. Every dime we make funds reporting from Chicago's neighborhoods.
Already subscribe? Click here to support Block Club with a tax-deductible donation.