AUSTIN — On daily transfers from the Green Line to the Pink Line at the Ashland Station on the Near West Side, Kenneth Paterimos would stand on the train platform and faithfully snap a photo of the Chicago skyline.
The 23-year-old barista had a deep love for his city. He even got a tattoo of the skyline on his ribs in November 2016. 
He would often get on the phone with a friend from New York City to argue how Chicago was superior, his mother Diona Bueno said.
"He loved this city. … He loved the people in this city. This was his city," she said. 
On Monday evening, Paterimos' friends and family packed his and his mother's apartment in Austin, near the corner of Madison Street and Latrobe Avenue, to remember their "Kenny," who was stabbed to death Friday, allegedly by a drunken man who had just been kicked out of a River West bar.
Joining Bueno were her three sons, Cruzito Bueno, Anthony Paterimos and Santiago "Julian" Bueno; her mother, Denise Aguirre; her nephew, Roman Delgado; and many more friends and family members.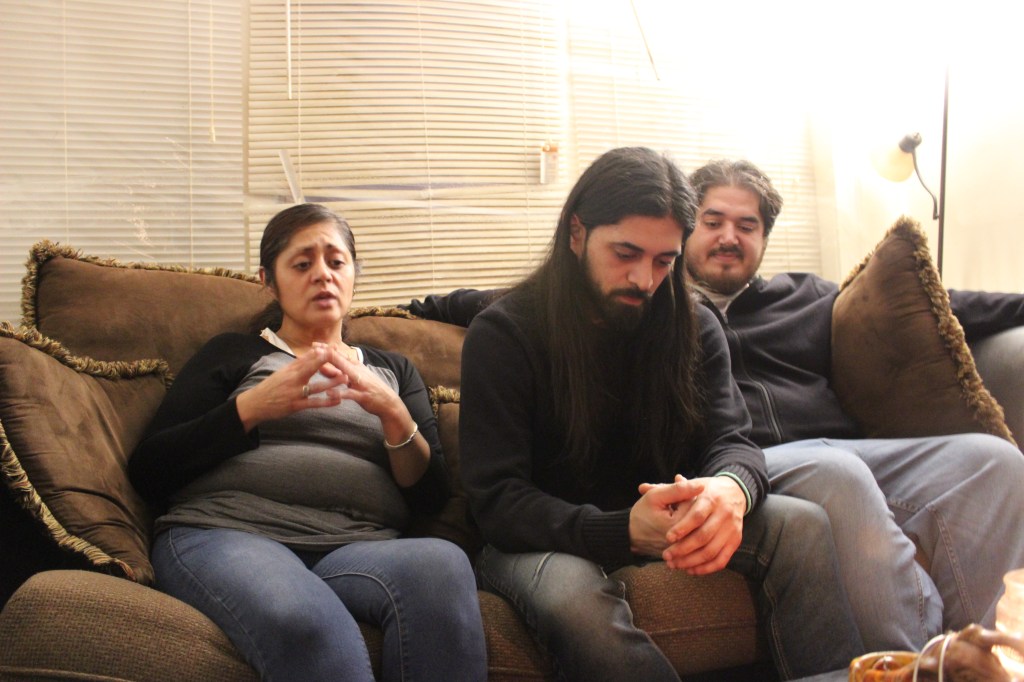 They described Paterimos as an "old soul" with a big personality who loved his family and meeting people.
Her son had a genuine interest in getting to know people and "made you feel comfortable," Diona Bueno said.
He had a way of making strangers feel as though they had known him forever, Diona Bueno said.
"He made me feel special, and that was just like, it takes a special person to make you feel that special," Bueno said. "He had an energy like you wouldn't believe." 
Richard's Bar
On Friday, Paterimos and his brother, Julian Bueno, 29, went to Richard's Bar — a favorite of the family because it was "an older crowd and it was just safer, friendly," his mother said. 
Everyone who knew Paterimos said he never met a stranger he couldn't befriend.
But that night, in a place Paterimos felt safe, a stranger brutally took his life.
At 11:23 p.m., a 30-year-old got into an argument with Paterimos outside the bar at 491 N. Milwaukee Ave. Some witnesses told police the man had yelled a homophobic slur at Paterimos, Chicago Police Department spokesman Anthony Guglielmi confirmed Tuesday.
A bouncer kicked the man out of the bar and Paterimos later walked outside to smoke a cigarette, Guglielmi said. The man confronted Paterimos, pulled out a box cutter and slashed Paterimos three times: once to the left ear, three times to the back of the head, twice to the right arm, once to the chest and once to the collarbone, Guglielmi said.
The man claimed self-defense, though there was nothing in police reports indicating Paterimos was armed, Guglielmi said. 
Paterimos recently told his mother and three brothers he was bisexual, his family said.
Paterimos was taken to Stroger Hospital, where he was later pronounced dead. The Medical Examiner's Office ruled Paterimos' death a homicide.
The 30-year-old attacker, who served in the military, was taken into custody at the scene, where a knife was also found, a police source said. The Tribune reported it was a box cutter.
After the stabbing, Paterimos stumbled inside the bar, where Julian Bueno saw him fall to the ground. Bueno described his brother's attacker as someone who was "looking for a fight." The attacker wore a union jacket and had brown hair, had a "clean shaven" look, stood about 5-foot-8 and weighed at least 220 pounds, he said. 
Charges have yet to be filed against the 30-year-old who was released Sunday night. The man is saying he acted out of self-defense, a police source said.
The Chicago Police Department was still investigating the case on Monday, spokeswoman Kellie Bartoli said. 
"We can not speculate on any potential charges as detectives are still investigating and working to corroborate statements made during initial interrogations," he said.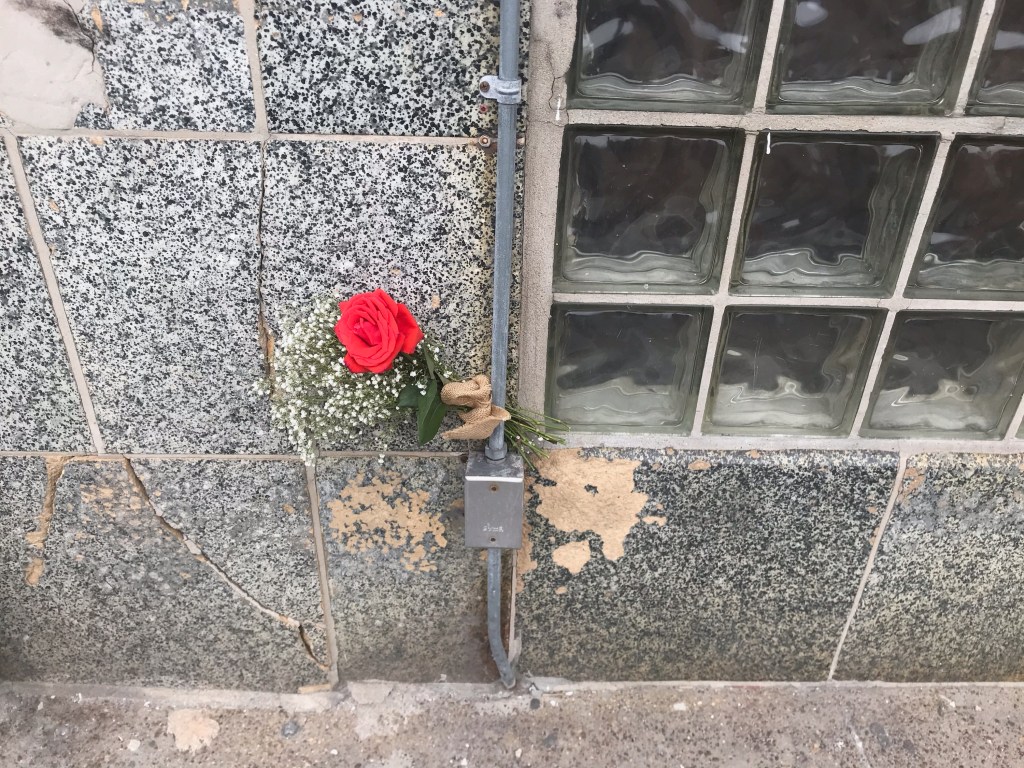 The department declined to provide any further details. A spokesperson with the Cook County State's Attorney's Office referred a reporter to the Police Department. 
Staff of Richard's Bar declined to comment. 
Paterimos' family learned about the unidentified suspect's release from new reports. As of Monday night, Diona Bueno had not heard from the detective working her son's case.
She called the attacker a "loser" and a "coward," someone who will "remain a stranger." She said she knew her son's alleged killer awaited higher judgment.
"I leave it in God's hands and karma," she said. "He will pay for this. His soul will forever burn and nobody will know the pain that he will endure because he will be in hell."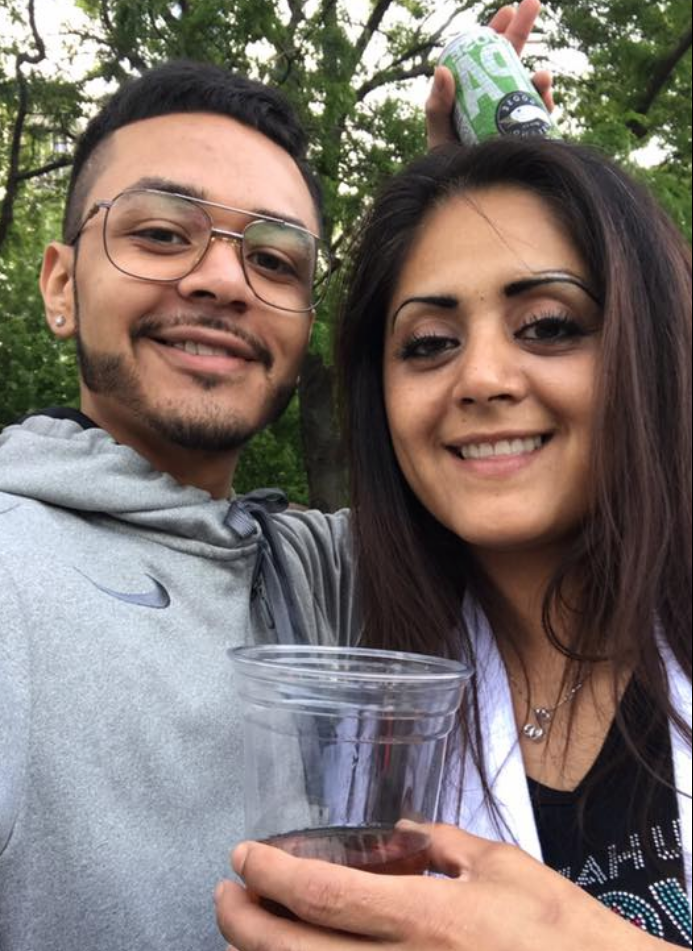 In a GoFundMe page to raise money for memorial services, Diona Bueno said the attack of her son was a "nightmare."
"It is extremely difficult to cope with the loss of my son. He was a hard worker, always helping someone," she wrote.
"The bright light of my family, the one who ties us together is gone. … I never thought I would have to bury my child."
'This charming man'
Bueno raised her sons initially in Pilsen, then in suburban Hickory Hills. For a few years Kenny "Junior" and Anthony lived in Kankakee with their father, Kenneth Paterimos Sr. Eventually, Kenny moved in with his mother at her Austin apartment. 
There, the boys became part of the community, becoming friends with their neighbors and learning the bus routes and Green Line train schedule.
Friends often asked Kenny if he felt safe in Austin, to which he always said "yes," his mother said. 
"This was his neighborhood. This is where he called home. This is where he said he belonged," she said.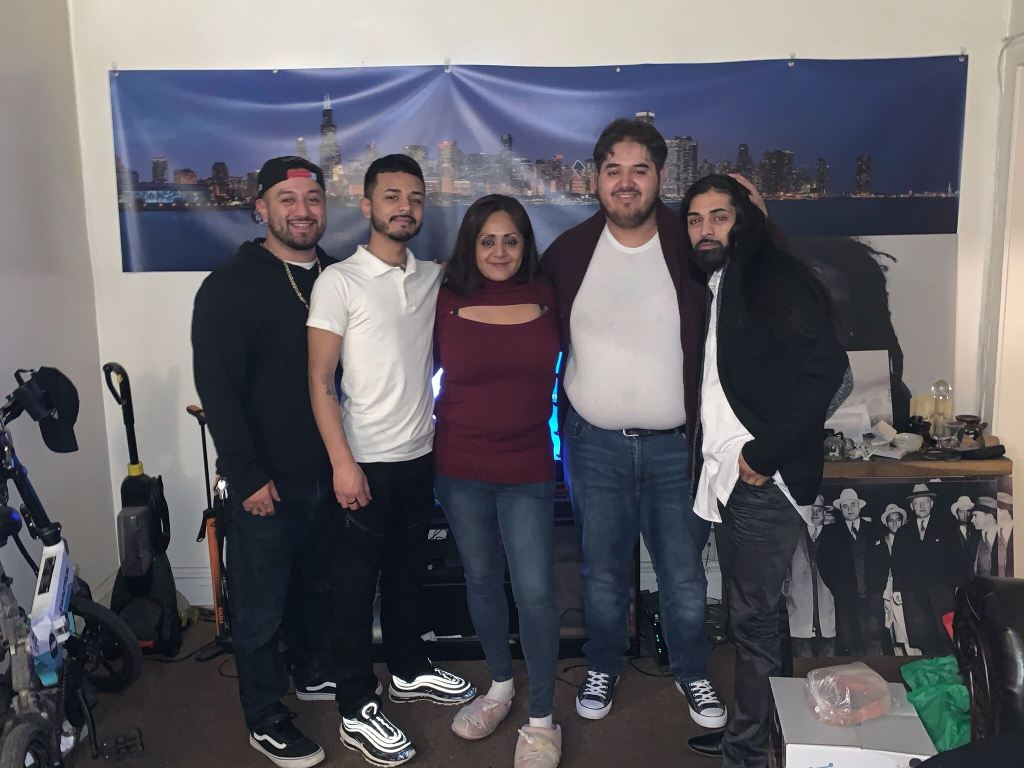 Paterimos and his brothers began working at young ages, helping their mother at her job at Color Image, 461 N. Milwaukee Ave. The printing company is next door to Richard's Bar, where the family often gathered for drinks and danced to the Bee Gees. 
Later, Paterimos worked at a grocery store called Fairplay Foods, his mother said. Most recently he worked as a barista at Starbucks and L'Ours Bakery Cafe in Little Italy before going to work at Step Down Cafe in Pilsen. 
Krystal Peña, a co-worker at Step Down Cafe in Pilsen, said Paterimos had a clear passion for cooking and experimenting with coffee drinks. 
"You envisioned him opening his own coffee shop one day — making his own drinks and food," Peña said.
Paterimos' mother said that was her son's eventual dream: He wanted to get his own beans and make his own roasts. He even had the "vibe" planned out, she added. 
"He was just like, 'I want to have like poetry and you know, sessions like that, you know,'" she said. "And I was just like, 'Oh, that boy, you know what you're talking about.' … Back in the days that was like, where people were walking around with those black beanies on their head and turtlenecks and glasses, smoking cigarettes." 
When Bueno made the comparison between her son's vision and the Beatnik generation, Paterimos replied, "Yeah, you're stupid."
That kind of dry humor exemplified Paterimos, his family said. His favorite movies included "Happy Gilmore," "Billy Madison," "Half Baked" and "Friday."
He had a sense of "dark humor," his mother said. And though he was known for his outgoing and friendly nature, he wasn't without his own internal struggles.
In addition to the skyline tattoo, Paterimos had a semi-colon tattooed on his wrist, a reference to his battle with depression. Another tattoo depicted a Mayan tiger — a symbol of his "strength," said Cruzito Bueno, one of his brothers.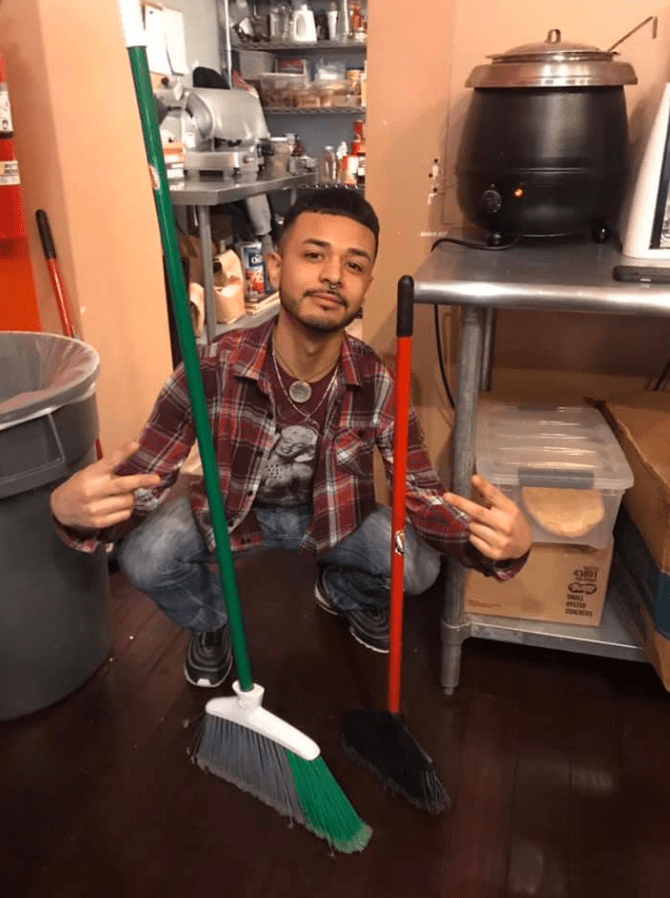 Anthony Paterimos, 21, said his brother loved music. In 2014, after J. Cole's "Forest Hills Drive" was released, Kenny made his brother sit on the bed and listen to the album from start to finish. 
But if there was one song that personified Paterimos, it was The Smith's "This Charming Man," his family said. 
His brothers relied on Paterimos for fashion advice, often calling him via FaceTime while shopping for themselves. 
And when Paterimos didn't approve of an outfit, he let his brothers know. He joked often with his brothers, calling them names and pretending to get mad at them. But he always said "I love you" before leaving the house. 
"Like you can't even get mad at him," Cruzito Bueno said. "So creative thinking, it's like, you can't even think of the stuff. … That boy was good just for filling the moment, silence and everything." 
Despite his knack for fiesty one-liners, Paterimos was deeply generous, his family said.
One summer, shortly after receiving a big paycheck, he took his cousins and their friends to Millennium Park and to Lake Michigan beach for the first time. Some of the young boys had never seen the Bean or Buckingham Fountain. 
On that day, Paterimos went to Target and bought his cousin's friend a pair of shoes. 
He was known as "guncle" — a great uncle — by his niece, Cruz's daughter. He took her shopping and bought matching outfits for the two to wear. One day, he took his niece Downtown and was gone 2-11:30 p.m. The pair returned with a new American Girl doll.
His niece "was his baby," Cruzito Bueno said. "He made her feel really special."
'One of the hardest workers I had'
Paterimos' commute to Step Down Cafe — nearly an hour each way — was what initially gave Leonel "Leo" Rodriguez pause about hiring Paterimos. The owner of Step Down Cafe worried the then-22-year-old would be late to work.  
"He was here on time, every day. All the time he was here," Rodriguez said. "He never called in sick, [was] never late." 
In addition to punctuality, Paterimos had all the characteristics of a model employee.
While most new workers require at least two days' training, Paterimos was able to start work on day one. When Rodriguez asked the staff to watch a video regarding steaming processes, Paterimos had already memorized temperatures and times. 
When Paterimos wasn't laughing with customers, he was joking around with his coworkers, barista Janeth Diaz said.
"He would always say he was so happy working here," Diaz said. "I think he felt appreciated here and he liked the community we created in the cafe, even though we were a very small staff." 
Paterimos was known for his love of Chicago house music, which he often played despite Rodriguez's request for "soft" music. He was "obsessed" with the Italian food from Chicago restaurant Ricobene's, Diaz said. 
More than anything, he talked about his love for his family, she said.
"He just really liked spending time with his family. That was his main support system," Diaz said. Paterimos told her, "'If something was to ever happen to my mom … I would take her place.'"
Lorena Rodriguez, 19, worked for her father at Step Down. While her shifts never overlapped with Paterimos, she and her co-worker became fast friends, bonding over their mutual love for musician J. Cole.
Paterimos recently joked with Rodriguez by writing J. Cole's birthday, Feb. 28, on a stack of cheese slices. 
"He was an easy person to get along with," Rodriguez said. "I don't think he would be in a bad situation with anybody unless they provoked him first. He was a big people person." 
Within a short amount of time the Rodriguez family came to trust Paterimos. In fact, Leo Rodriguez considered promoting the 23-year-old to a managerial position. 
When Rodriguez left town last week for a weeklong trip to Mexico, he entrusted Paterimos — not his daughter or another staffer — with preparing the cafe's tuna and pasta salads.
He later learned Paterimos had been carrying around the recipes, written on a Post-It note. 
"I know he cared about the restaurant, making it better," Rodriguez said. "He would say, 'Leo, we need this, we need that.' … He was one of the hardest workers I had." 
Denise Aguirre, Paterimos' grandmother, is a former Pilsen resident who now lives in suburban Worth and commutes to her job in Pilsen on Halsted Street. 
Paterimos would call Aguirre during his shifts at Step Down Cafe to remind her to pick up her lunch on her way to work. Now, she said, she'll have to find a new, less painful route to work. 
With Paterimos' death, Chicago lost a "one-of-a-kind guy," said his cousin, Roman Delgado. 
"He is always going to be that spark in the family," he said. 
He, too, hoped the police would continue to investigate the case. 
"It just kills me that he's … that this guy … robbed my cousin of his life and now that he walks free," he said. "It's hard knowing he's gone forever." 
"Chicago lost one of its shining stars," his mother said. "I can't describe [anything] else but he's just charming. … I know I hear everybody say that about their loved ones. … Everybody under the sun said that about my son. … It takes a special person to make you feel that special."
The family will be celebrating Paterimos' life during a visitation and memorial service this weekend. They plan to get matching tattoos that say, "My brother's keeper."
You can donate to Kenneth Paterimos GoFundMe here.