DOWNTOWN — A man who became the friendly face of a Downtown street corner is being remembered with fundraising campaigns to help people who are homeless.
Daniel Dashner was known for sitting with his cat, Casper, outside at Clark and Adams streets. The inseparable duo became a familiar sight, with Casper perched on Dashner's lap while he spoke with those passing by them. But Dashner died on Feb. 5 at age 39.
Since then, passersby have posted multiple memorials near where Dashner and Casper would sit. Dashner's family has asked that donations be sent in his memory to the Night Ministry, which will use the money to provide access to basic medical care, among other things, to people who are homeless.
"He was such a special human being," said Caroline Kwak, a friend of Dashner's who has been in touch with his family. "There was just something about him where you wanted to know more about him, you wanted to see him every day."
Kwak met Dashner in late spring or early summer 2019 when, while walking to the Red Line, Casper came up to her and rolled around her feet. She spoke with Dashner that night and the two eventually became friends, she said.
A "lovely human being," Dashner stood out to people because of his genuine kindness, and many have reached out to Kwak to talk about how sad they are to lose him, she said. When passersby would tell Dashner to have a nice day, he'd tell, "I hope you have a better one!" — and he'd mean it, Kwak said.
"That's him. He didn't have a house or a dollar to his name but always had a kind word for every single person who passed by him on the street," Kwak said. "He always had a smile on his face when he saw you."
Elizabeth Feldhausen, who met Dashner at his corner and previously raised money to help him, has launched a GoFundMe campaign in his memory.
"He was super caring. He took really good care of his cat," Feldhausen said. "Even with what little he had, he was still putting his cat first."
The GoFundMe has raised more than $1,000 so far but Feldhausen hopes to get at least $3,000. She'll work with a local group to use the money to distribute medical supplies to people experiencing homelessness, and she hopes to also pass out gift cards for food.
Dashner "was just such an amazing person and I don't think that a lot of people take the time to get to know the people who are homeless on the streets and learn their story," Seldhusen said. "He would have been capable of a lot had he had just a little bit more help, and especially if he would have had medical care."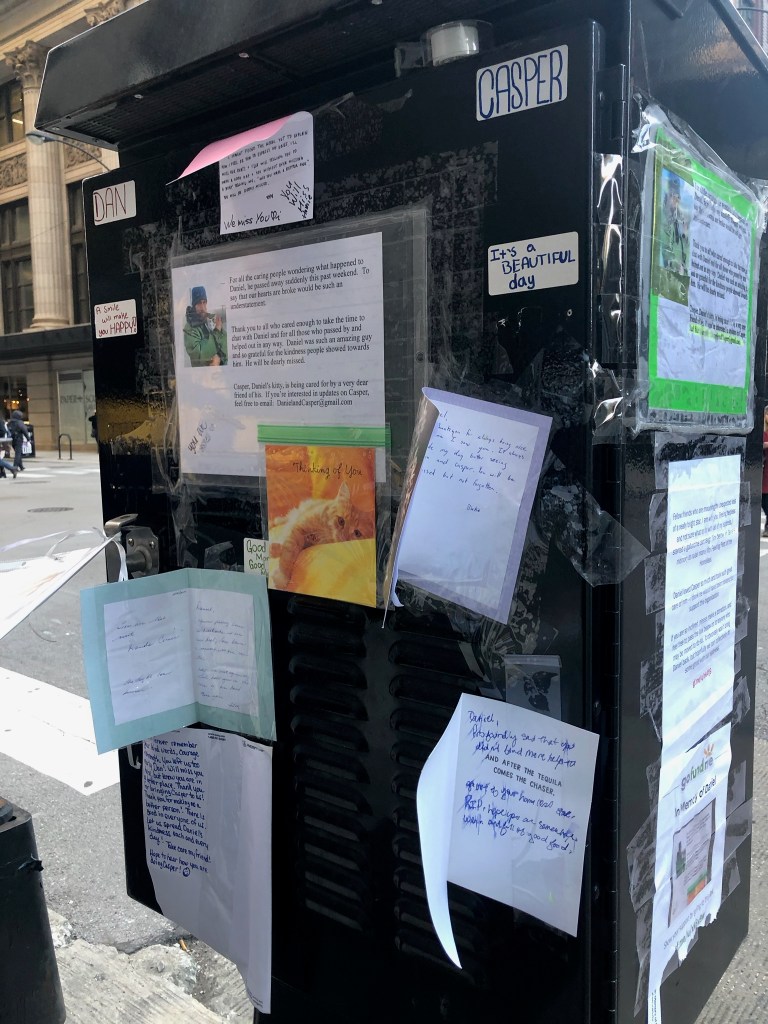 Feldhausen, who runs a sanctuary for cats in Green Bay, Wisconsin, met Dashner in October while traveling to Chicago. She was touched by the way he cared for his cat — getting Casper regular veterinary checkups even while experiencing homelessness — and raised money for him. She also offered to help him get work with cats through her nonprofit.
"If you ever need anything, call," Feldhausen told him. "We'll get you, get you a job and place to stay."
At the time, Dashner was recovering from an infection in his foot that had made him seriously ill. He'd been hospitalized and treated for the infection, but he told Feldhausen when they met his foot still hurt and wasn't fully healed.
Then, in mid-February, Feldhausen learned of Dashner's death.
A woman who was friends with Dashner took in Casper, who is "doing really well" and has adapted to his new home, Feldhausen said.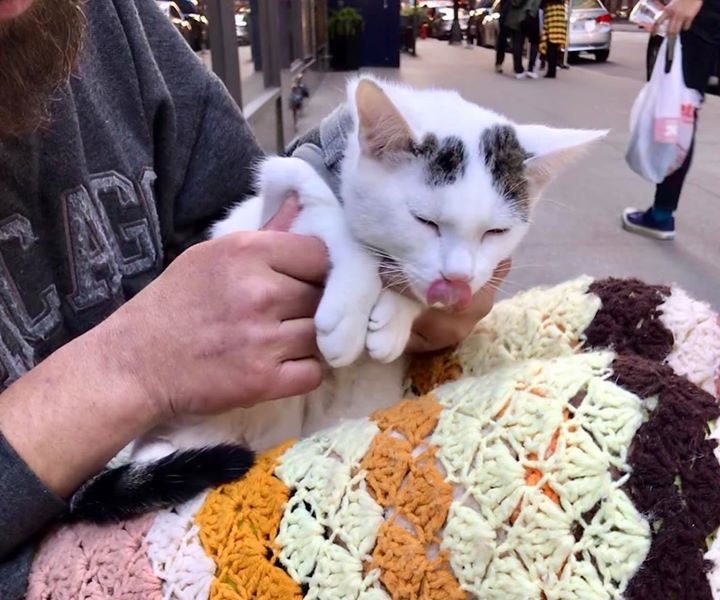 And those who'd come to know and care for Dashner have plastered the corner where he stayed with notes and cards saying how much they miss him. Some have even left flowers and a stuffed toy cat.
The day after Dashner's death, Feldhausen started the GoFundMe campaign in his memory. She hopes to come to Chicago and distribute medical kits in March. The kit will contain basic First Aid supplies that can be easily carried by people experiencing homelessness.
"I just wish he would have taken me up on the offer and come [to Wisconsin] because I don't think he would be dead right now," Feldhausen said. "Had he had a little bit more help, I don't think Daniel would be dead right now.
"It would be nice if we could help some people before it's too late for them."