LOGAN SQUARE — The city's only circus has officially arrived in Logan Square.
Aloft Circus Arts, housed in the 111-year-old church at 3324 W. Wrightwood Ave., has offered up classes on everything from trapeze to trampolines since 2015. Recently, Aloft's owners have been waiting to hear from the city on whether it would become the only permanent, legal circus-specific venue in Chicago.
Finally in late January, Aloft founder Shayna Swanson said her wish has come true — and she has big plans to entertain locals and tourists alike.
"I'm so happy, I've been wanting this for so long," Swanson said of the license. "It makes me feel like we can actually capitalize on it and hopefully get more shows going, more income and sustain ourselves a little bit better and also help sustain an art form that doesn't have a lot of venues to turn to."
Applying for the venue license was always on Swanson's mind, but it seemed like a daunting and expensive process, she said. Then in October, the school was hit with a city fine for hosting a show with more than 100 people without a proper license, and she knew it was time to apply.
She set to work, researching all the steps and paperwork needed by the city in order to get the license. She said she was surprised to know there wasn't much that needed to be changed at the old church, besides small things such as rewiring exit signs, upgrading the staircase and adding ventilation to the performance area.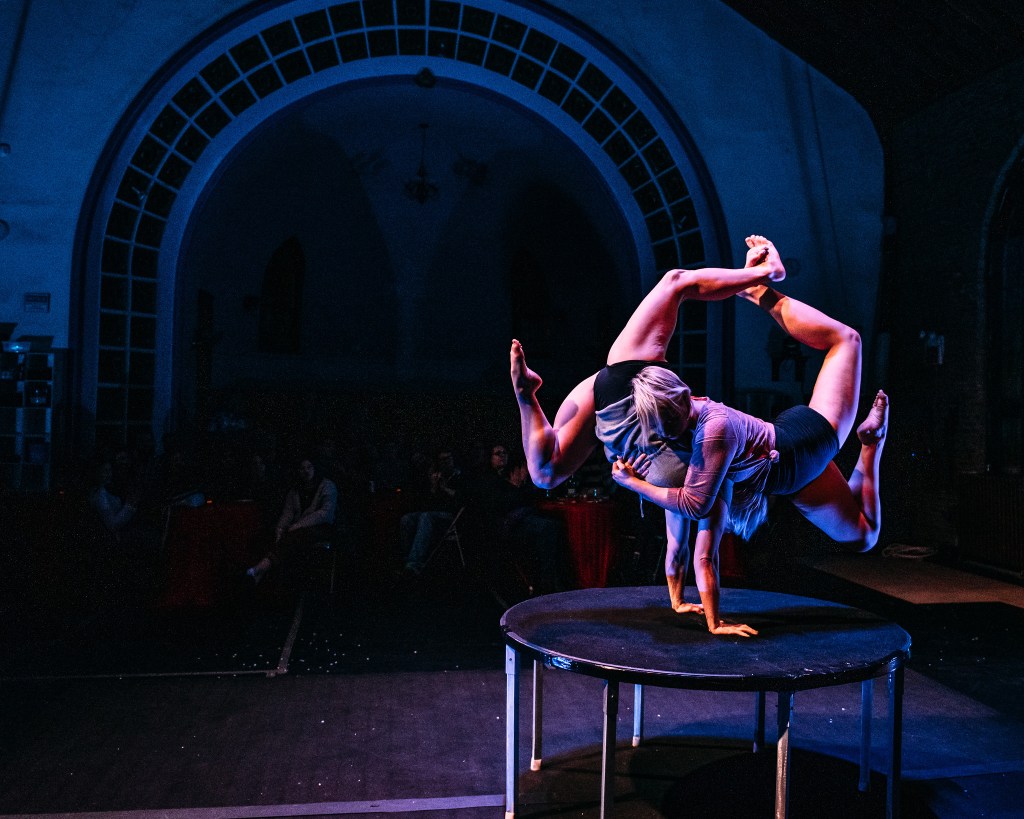 Founded in 2005, Aloft has popped up around the city and has been based in the old church since late 2015. During that time, the school would host free and donation-based shows, but because it was not an official performing arts venue, it could not sell tickets or have over 100 people in the space.  
The new license clears those problems out of the way. Performing arts venues can charge for tickets and have as many people as the space permits, according to the City of Chicago's Department of Cultural Affairs and Special Events' venue licensing toolkit.
The circus school will now be able to host 200 people in its performing space, which has retained much of the church's character and is adorned with historic stained glass windows, old colorful arches and high ceilings.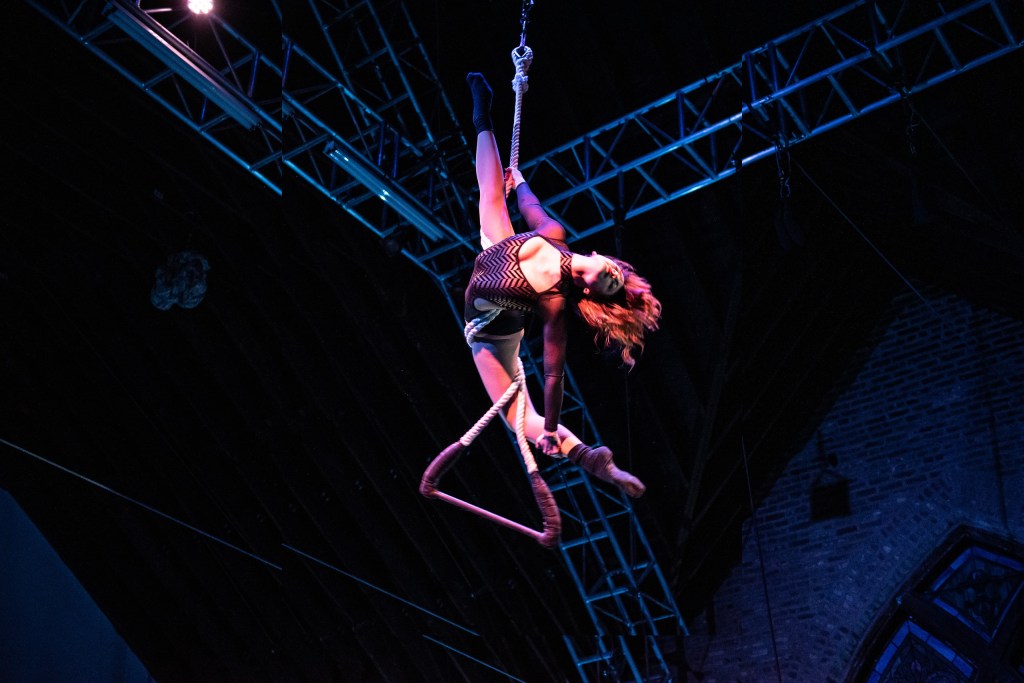 The company will also be able to host touring DIY circus schools and provide more safety and accessibility for the art form, which Swanson is especially excited about. 
"People do circus wherever they can and often, those places are perhaps not as safe as they could be," she said. "We want to make it so that smaller circus companies can come to Chicago and have a place to perform that isn't so expensive." 
She said Aloft has performed at other theaters around the city and country but those venues are often not fully equipped — or completely safe — for circus performances. Using other venues also requires companies to bring all their own rigging and equipment, which can be difficult to fit into a theater space and means the show could change, she said. 
"Normally circus requires a lot of space. And so it requires a bigger theater and that sort of thing can be so expensive for a small company," Swanson said.
Zoe Sheppard, the studio manager and stage manager at Aloft, said having the license and allowing touring companies to use the school is important for the growth of circus culture. Over the summer, the company performed in theaters around the country and Sheppard said she was stunned by how difficult it was to find adequate and safe circus performing spaces. 
She is grateful for the safety and camaraderie Aloft offers Chicago performers.
"As circus folk, we're traditionally like families and even if [we] weren't really related, [we] became related, just like traveling with each other," Sheppard said. 
Swanson said the new license affirms Chicago's vibrant circus scene and shows the art form is expanding and gaining more mainstream attention.
"Chicago has a pretty good circus culture because it's not that expensive to live here, compared to San Francisco, Los Angeles or New York," Swanson said. "And then the architecture of the city lends itself to being able to do circus. There's buildings that still have really high ceilings."
Swanson said after Aloft got their new license, she began sharing her experience to smaller companies around the country wanting to go down the same route. 
Sheppard said while the venue was awaiting the new license, students practicing all year had to postpone their final performances. But now, they can get back to work creating the annual student showcase that will be seen by more people than ever before. 
"Our entire student body is very excited that we have a [venue] license because now they get to perform," she said.
To celebrate the venue's new license and upgraded performance capabilities, the company is also reviving its 2017 punk-rock caberet show "Sanctuary," which premieres March 7 and will run every first Saturday of the month.
The company will continue to host occasional free shows to the community. 
Do stories like this matter to you? Subscribe to Block Club Chicago. Every dime we make funds reporting from Chicago's neighborhoods.
Already subscribe? Click here to support Block Club with a tax-deductible donation.