LINCOLN SQUARE — The chair of the City Council's Committee on Immigrant and Refugee Rights has launched a data portal to provide updates on efforts to help asylum seekers living in and continuing to arrive to Chicago. 
Ald. Andre Vasquez (40th) announced the new website, WelcometoChicago.org, on Friday.
The website will provide weekly updates on the number of migrants in the city, new arrivals, shelter locations and other data, as well as efforts by Mayor Brandon Johnson's administration and city departments to address the ongoing humanitarian crisis, Vasquez said. The data includes how many migrants are staying in each shelter, in police stations and other locations.
"WelcometoChicago.org will ensure that the public gets as much relevant detail and data as we do regarding the status of our current challenges," Vasquez said in a statement. "By doing so, it is my belief that the public will better understand the hurdles, leading to better outcomes for Chicago as we take on the challenges head on, and together." 
Ald. Andre Vasquez (40th) became chair of the Committee on Immigration and Refugee Rights in May, succeeding now-retired Ald. Ariel Reboyras (31st). 
Under Reboyras' tenure, the committee tasked with overseeing immigration issues didn't meet for more than a year, as the arrival of asylum seekers began to overwhelm Chicago's social service systems. 
Since taking over the committee Vasquez said he's been working to break the committee's stagnation by meeting once a month to address the ongoing crisis.
In June, the Mayor's Office began hosting a weekly briefing for City Council members to summarize ongoing advocacy efforts and update them with data on migrants, Vasquez said.
The committee compiled this information for the public and Vasquez started releasing weekly reports in August via his ward newsletter, detailing the city's response to the growing number of asylum seekers that continue to arrive.
The new website is an extension of Vasquez's newsletter updates.
"We are launching this page in recognition that it is of the utmost importance that in our function as the committee, independent from the Johnson Administration and [city] departments, we provide the necessary transparency during this crisis," Vasquez said. "WelcometoChicago.org provides the accessibility and accountability that are vital to good governance, in a way that is convenient for every Chicagoan to understand the scale of what our city is facing at this moment."
A year after the first buses arrived, Chicago is still struggling to find long-term solutions to secure housing, resources and more for thousands of asylum seekers. The city's stopgap solutions are failing, volunteers have said.
RELATED: One Year After First Migrant Buses Sent To Chicago, City Still Unprepared To Tackle Crisis: 'There Is No Over For This'
Lori Ann Lypson, deputy mayor of infrastructure, previously said the city is at "max capacity" for asylum seekers and is "desperate" for more space to house people, especially families.
More than 13,500 asylum seekers have arrived in Chicago since August 2022. About 6,600 people are being housed in city-run shelters, and another 2,000 are living in police stations and airports, officials said.
This week, Johnson said the city is planning to move 1,600 migrants out of Chicago police stations and into "winterized base camps," a move Vasquez said will "look like refugee camps."
RELATED: 'Refugee Camps' In Chicago? Mayor Proposes Tent Cities For Migrants, Report Says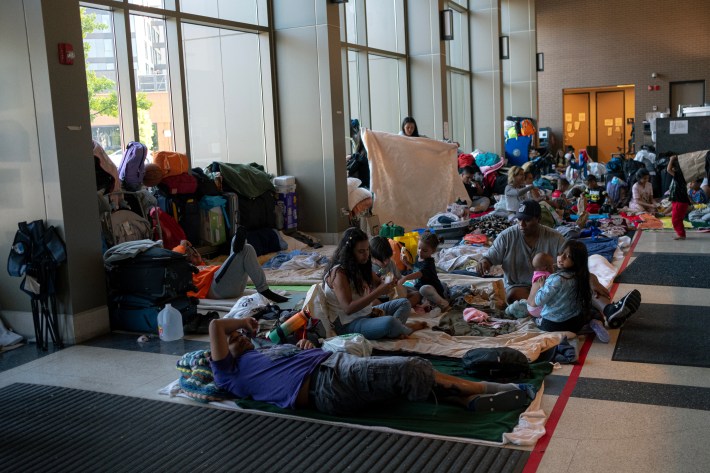 Watch our "On The Block" TV show on The U, CW26 and MeTV.
Listen to "It's All Good: A Block Club Chicago Podcast":