NORTH PARK — City officials aim to buy a North Park property formerly used by the U.S. Marine Corps and convert it into a shelter to house more than 500 migrants. 
The City Council's Committee on Housing And Real Estate signed off Monday on a measure to buy the 10.7-acre property at 3034 W. Foster Ave. using $1.5 million in funding from the Lawrence and Kedzie Tax-Increment Financing (TIF) District. 
The full City Council is expected to vote on the proposal next month. 
The riverfront property sits next to the North Shore Channel between Foster and Bryn Mawr avenues. It's also near a CTA yard and across from River Park. 
After the city buys and repairs the property, it could house an estimated 550 people, said Lori Ann Lypson, deputy mayor of infrastructure. 
RELATED: North Park Marines Building Could Become Migrant Shelter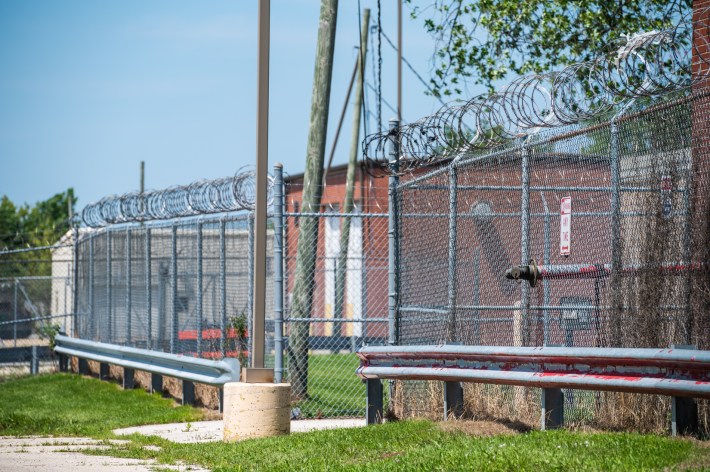 The Metropolitan Water Reclamation District previously owned the property and leased it to the Marine Corps through 2053. The district's board approved a proposal to sell the property to the city of Chicago at its Aug. 10 meeting, officials said.
U.S. Marine spokesman Adam Bashaw previously told Block Club they are in the process of terminating their lease. They haven't used the building since June 2021, Bashaw said.
The campus is in Ald. Samantha Nugent's 39th Ward but close to the 40th and 33rd wards, overseen by Alds. Andre Vasquez and Rossana Rodriguez-Sanchez respectively.
The property's ventilation system needs repairs, but the building's plumbing, roof and exterior facade are all in good shape, said Lypson said. Getting the facilities ready for move-in could take three weeks because the building is already outfitted with showers, a mess hall and other amenities, she said.
"The facility is up to par, it's not a lot of construction work we need to do to get in the building," Lypson said.
Ald. Jeanette Taylor (20th) raised concerns about the price Monday. She noted the $1.5 million is just to buy the property, and asked how much repairs and ongoing maintenance would cost. 
When the property was leased to the U.S. Marines, the agency spent $43,000 a year on upkeep, Lypson said.
"We'll then be working with the budget office on coming up with maintenance costs," said Michelle Wood, a deputy commissioner with the city's Department of Assets Information and Services. "We'll have to work with the budget office and Ald. Nugent on coming up with a development plan, because that will cost money, as well."
Once the property is set up as a migrant shelter, it's "unknown" for how long it'll serve that use, Wood said. Its proximity to the river could make it a good option for educational and recreation programs from the city, Chicago Park District and CPS, Wood said. 
"We anticipate significant beneficial uses with the long-term development of the parcel and will be working with Ald. Nugent to determine the ultimate, best use," Wood said. "It's a great riverfront development option."
In a statement to Block Club after the meeting, Nugent said acquiring the Marine Corps property "could be an asset to the city" and that in addition to the uses Wood described, the property's garages and storage facilities could be used by other city departments as well.
Officials considering the property as a temporary shelter comes amid increasing concerns about the safety of asylum seekers who have been staying inside police stations.
More than 13,000 migrants, most from Central and South America, have arrived since August 2022, and buses are still arriving daily. 
"We are at max capacity. And we are desperate for places so families … especially children who started school last week, that they have shelter and are not sleeping outside," Lypson said.
People have come from several countries, but a majority are fleeing political and economic upheaval in Venezuela. Many of them were sent to Chicago on buses by Texas Gov. Greg Abbott and other border-state Republican governors.
About 4,500 people are staying in city-run temporary shelters. Hundreds more are staying in police stations, sleeping on crowded floors and relying on donations from neighbors while they wait for shelter space to become available.
Citing the growing need for shelter space, city officials quietly allowed asylum seekrs to shelter inside police stations on the West and North sides, where migrants had been removed following allegations of sexual misconduct against officers.
In a recent interview with Block Club, Mayor Brandon Johnson said he is "still very much committed to removing people from police stations and putting them into more sustainable, suitable shelters." He declined to say when the city might have a plan for moving people out of police stations.
With city services stretched thin, many neighbors, groups and churches have stepped up to provide migrants food, clothing, toiletries and even set them up in community-run shelters.
Watch our "On The Block" TV show on The U, CW26 and MeTV.
Listen to "It's All Good: A Block Club Chicago Podcast":